Published March 8, 2022 / Updated June 2, 2023
Signs of Overthinking and How to Deal with It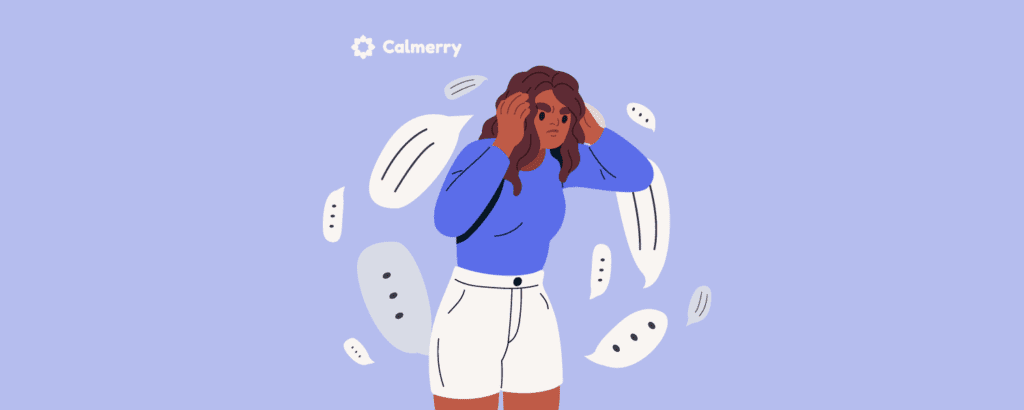 Reading Time:
6
minutes
Do you feel like you'd be happier if you could turn off your mind sometimes? Do you waste a lot of time dealing with negative thoughts that impact your mental health?
If you tend to overanalyze everything, you aren't alone. Studies show that 73% of young adults and 52% of middle-aged people are overthinkers.
In this article, you'll find out what overthinking means, see if you identify yourself with any signs, and learn strategies to reduce it.
Types of overthinking
The first type of overthinking is rumination. It might involve constantly replaying events from the past in your mind, experiencing negative thoughts about things that might or not happen, and dwelling on how bad a lack of control makes you feel.
The second type of overthinking is catastrophizing, which refers to coming up with worst-case scenarios and analyzing the impact they might have on your life.
Is overthinking always a bad thing?
While it's natural to worry about the future and think about the past from time to time, frequently engaging in overthinking is mentally draining and can lead to so-called "analysis paralysis," which prevents you from making decisions.
Even though it might seem that overthinking can prepare you well for what's to come and allows you to achieve your goals, in reality, it's very different from self-reflection.

Signs that you're an overthinker
Signs you're overthinking can be easy to miss, especially if it's been your default state for a while. Here's what can indicate that you're an overthinker:
You analyze past conversations
Do you ever feel like you're stuck in the past because you spend a lot of time relieving previous events? It's almost like in that Black Mirror's episode in which people have a memory implant that allows them to view everything they did, except this is your reality, and overthinking isn't something you can just turn off.
People who suffer from anxiety are especially prone to ruminating on conversations they had with others as an attempt to make sure they're better prepared next time. Unfortunately, once you've started analyzing, it's difficult to stop, and you might find yourself drowning in negative thoughts that only further fuel your distress.
You can't stop worrying
If you tend to feel on edge, it might be a sign that you can't stop overthinking. Just like you struggle to let go of the past, you might be excessively concerned about your future. As a result, whenever you think of important upcoming events, your brain might come up with worst-case scenarios.
You can't shut off your brain
Does it feel like your brain never tires, and you can't relax no matter how hard you try? Overthinkers commonly struggle with chronic stress and sleep problems because worrying about the past and the future makes them tense and keeps them up at night.
Another problem with not being able to empty your mind is finding it difficult to live in solitude. If you frequently overanalyze everything and wonder if you made the right choices, you might find it too tiring and terrifying to cope on your own.

You struggle to live in the present
Just like you tend to overanalyze your past conversations, you might exhaust yourself by looking back on your past decisions and wondering if you made the right choice. You might frequently ask yourself, "What if…?", feel insecure about the direction your life is going, and fixate on things that can't be changed.
This might put you under constant stress and make it difficult for you to focus on the present moment and, consequently, work towards achieving your goals.
You're indecisive
People who overthink struggle to make decisions because they focus on analyzing the possible pitfalls and options instead of engaging in problem-solving. You might often delay decision-making, even if the outcome isn't likely to impact your life much.
How to stop overthinking
The bad news is that you can't just shut off your brain and live completely worries-free. The good news is that you can develop a set of coping skills that will bring you peace and allow you to focus on living in the present.
Here's what you can do to stop overthinking:
Keep a journal
Writing down your worries is an excellent way to relieve some of the stress you're experiencing and clear your mind. Journaling can also help you acknowledge your emotions and find the root of the problem.
For example, if you worry whether your past decisions were right and fear the future, it might indicate that you don't trust yourself and have low self-esteem.
Schedule worry time
Even though overthinking can be caused by mental health issues, such as depression or anxiety, many people are simply more prone to being worriers than others. This is why you shouldn't expect yourself just to switch it off completely, especially since there's nothing wrong with worrying from time to time.
A good method to find the balance between reducing a bad habit and developing healthier coping skills is to schedule time for worrying.

According to a study published in the Journal of Psychotherapy and Psychosomatics, using this worry reduction technique is associated with lowered anxiety levels.
Try positive affirmations
One of the best ways to stop worrying about what's to come and feel more confident about your choices is by practicing positive affirmations. These are statements that can be repeated daily to shift your mindset and improve your self-esteem.
Affirmations to stop overthinking can look like:
"I'm in charge of my life."
"I'll deal with whatever comes my way."
"I'm good enough."
Remember that thoughts aren't facts, and they don't necessarily have to mean anything.
Practice mindfulness
Mindfulness is a technique that allows you to observe your thoughts without judgment and without becoming too overwhelmed. Studies show that mindfulness can help you control worrying by allowing you to shift your attention back to the mindful state.
Learning how to be in the present and recognizing when you're stuck in your head can help you identify unhelpful thoughts before they get out of control. The easiest place to start is to train yourself to focus on the surroundings while attending to daily tasks.
For example, you can observe nature as you walk to the store or concentrate on the sensations while cleaning the house. All you have to do is pay attention to whatever you're doing at a given moment.
Another great thing about mindfulness is that it can help you accept things you can't change and let go of the past. Instead of worrying about how your life would look like now if you'd done things differently, focus on here and now.
To facilitate that, keep a gratitude diary in which you list everything you're grateful for. It will help you appreciate the present moment more. You might not feel proud about your past, but you can still be happy about your future.
Train yourself to look for solutions
Whenever you find yourself ruminating about the future, try to come up with solutions that can decrease your worries. The goal is to channel your negative thoughts into something productive.
For example, if you're distressed when thinking about your future because you haven't found your purpose yet, come up with things you can do to get yourself on the right track. If you worry about a job interview, make sure you prepare in advance, and so on.
Practice self-compassion
Overthinking might often stem from perfectionism. If you always try to be perfect, you might also analyze everything you do and beat yourself up for making a mistake.
The easiest way to overcome perfectionism is to give yourself encouragement, even when you don't live up to your expectations. Imagine it's your friend who's struggling, and try to comfort yourself the way you'd comfort them.

Distract yourself
Sometimes the only way to ease worries is to turn your attention elsewhere. Whenever you find yourself engaging in ruminations, try to occupy your mind with something else.
One of the most effective ways is exercising, as it additionally boosts your mood, but you can do anything that brings you joy: having a bath, watching TV, talking to a friend, etc.
Subscribe
to our mental health digest
Let us support you on the way to better mental well-being. Get expert tips and insights on mental health delivered to your inbox monthly.
Consider therapy
If you can't stop overthinking, regardless of how well things are going in your life, it might mean that it's part of a bigger issue.
For example, if you overanalyze social interactions, it might be a sign that you suffer from social anxiety. If your habit resembles more an obsession than just thinking too much or if it simply affects your well-being, it might be time to seek professional help from a therapist.
One of the most effective treatment options is cognitive-behavioral therapy. It helps reduce overthinking by teaching you to challenge unhelpful thought patterns and replace them with more positive, realistic statements.
For example, whenever you catastrophize, you'll be able to reframe your thinking by telling yourself something like, "Even if things go wrong, I'll be okay," or "Even if I fail, everyone sometimes does."
The more you practice, the more you'll start relying on your new coping skills instead of overthinking. And you can gain them with the help of a licensed and trained therapist online, on Calmerry.
Сheck your mental well-being for free: