Published September 29, 2022 / Updated March 16, 2023
What is Chronic Self-Sacrifice? Is Self-Sacrifice Schema a Bad Thing?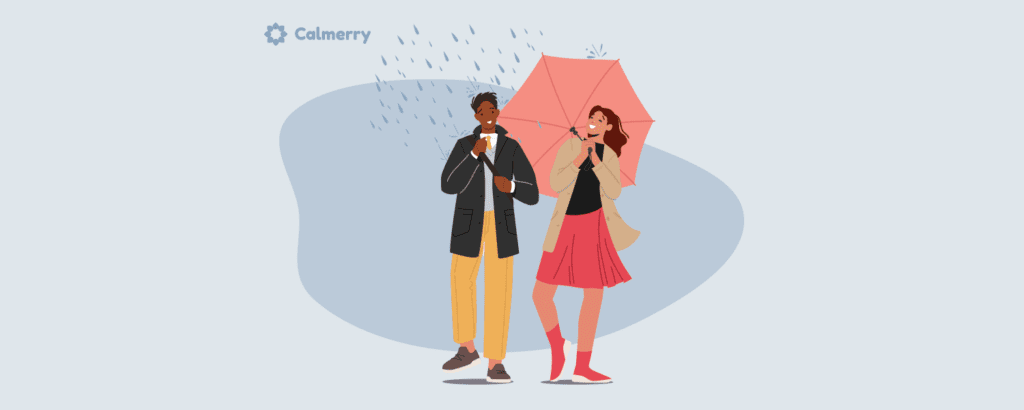 Reading Time:
6
minutes
On the surface, self-sacrifice seems like a positive thing. When you sacrifice yourself, you help others. In addition to this, you're considered kind, generous, and selfless. For this reason, many people have a hard time understanding why self-sacrifice isn't always a good thing.
While there's nothing wrong with being generous and coming to the aid of those you love, there's a limit. And when you give yourself up to others, you could be suffering from chronic self-sacrifice. Psychology defines self-sacrifice as abandoning your personal interests for someone else's well-being.
You deny yourself certain needs and personal wants, repress your emotions or ignore your feelings, which means you're giving an important part of yourself away. You value others much more than yourself. That comes at the expense of your own physical and mental well-being and will eventually wear you out.
People who have a "self-sacrifice" schema are constantly busy and preoccupied with others, so they live under constant stress. As a result, they tend to struggle with anxiety, depression, feelings of resentment, and burnout.
Chronic self-sacrifice ends up becoming an extreme form of altruism. Therefore, although self-sacrifice is perceived positively by society, when it becomes dysfunctional or disruptive, it's not good for you.
When can self-sacrifice become pathological altruism?
Examples of self-sacrifice are all around us. A mother gives up her career to stay home and take care of her family. A soldier lays his life for his country. Children sacrifice their own wants and desires to take care of their aging parents.
But there's a difference between these examples and chronic self-sacrifice. Many of the behaviors when people self-sacrifice themselves aren't problematic. There are situations when they can be considered normal and even ordinary.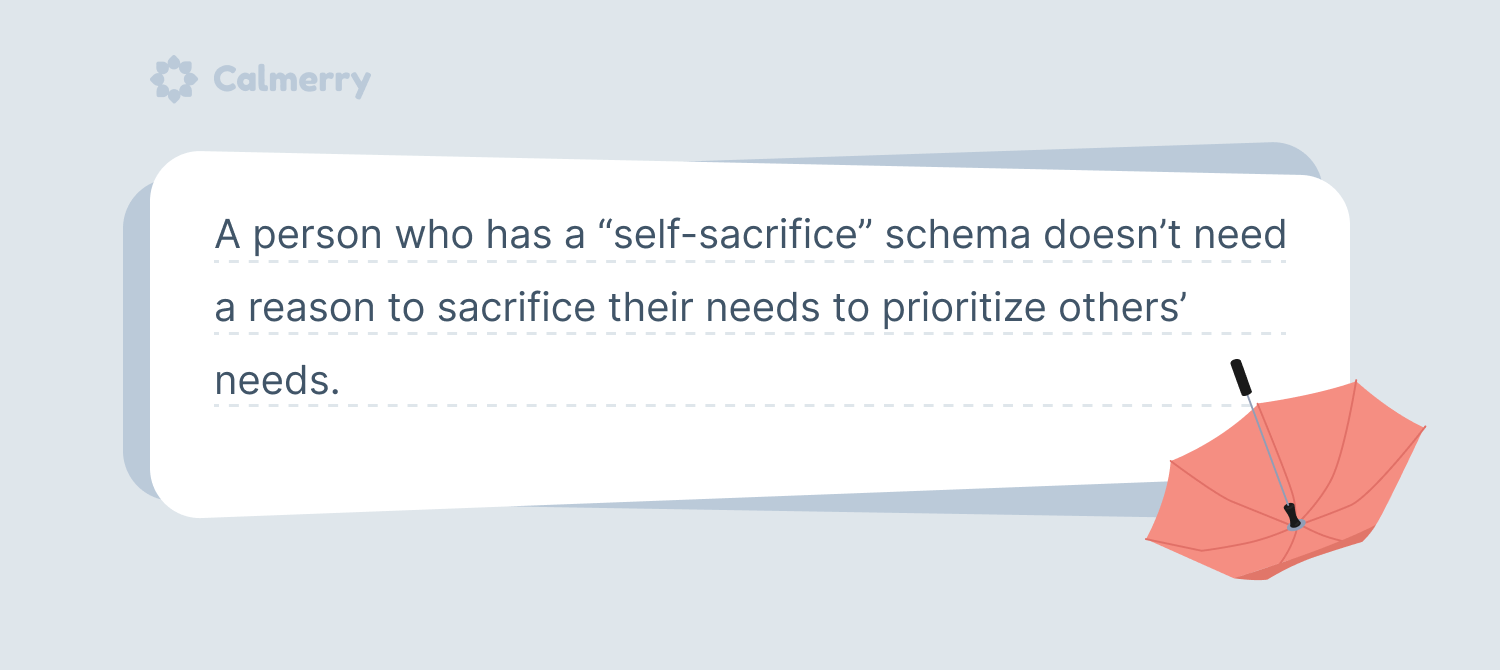 A person who has a "self-sacrifice" schema doesn't need a reason to sacrifice their needs to prioritize others' needs. They do it because they undervalue themselves, and it is a pathological situation. Such a person strongly believes that they are not worthy of being a priority and stops paying attention to themselves.
As a result, they never satisfy their own needs and deny things that can make them happy and fulfilled. Such people may fail to think rationally, can lose their values, and typically have low self-esteem.
How can you tell if you are giving too much?
We're taught to be kind, helpful, generous, and caring. Therefore, to some degree, we all sacrifice ourselves for others at some point. In fact, close relationships require sacrifice, and although it's not always easy, it can potentially increase trust and happiness if it takes the form of compromises.
Research has revealed that couples are more likely to remain in their relationships if both partners are willing to sacrifice for each other. Sacrifice in a relationship for someone you love may show them you really care and may even make you feel good about yourself.
But when is it too much? How can you tell if you give away too much of yourself? If you answer "yes" to most of the following questions, you probably have a tendency to self-sacrifice yourself.
Do you feel selfish or guilty when you prioritize your needs and desires over others'?
Do you claim responsibility for other people's behavior?
Do you feel a great emotional void?
Do you lack the time, energy, and resources to take care of yourself because you're depleting them on others?
Do you believe your self-sacrifice is more of an obligation and not a voluntary action?
Do the people around you seem entitled to your self-sacrifice tendencies?
Do you say "yes" to everything even when the appropriate answer is "no"?
Do most of your relationships involve you giving more than you receive?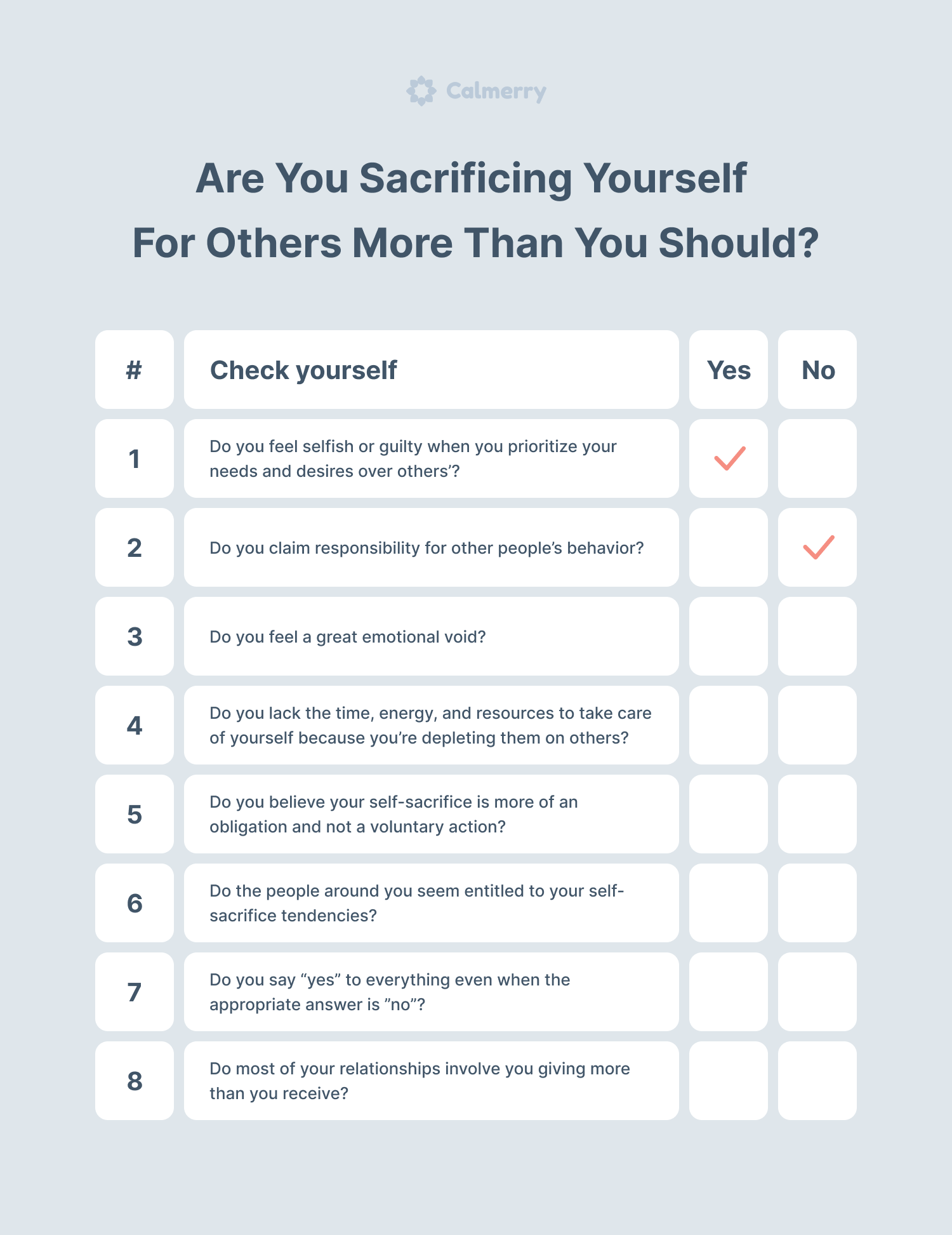 What are the reasons you sacrifice your needs for others?
If you identify with the "chronic self-sacrifice" schema and you believe you have this pattern of behavior, you're probably wondering how you got there. Chances are you've also tried to stop this chronic habit without any luck.
You're not alone because it's not easy to give up the chronic behavior that you have learned over time. But don't be disheartened, and consider therapy. It has been shown to be effective in reducing the strength of our schemas. A therapist can help you convince yourself that you have the right to feel worthy and that nobody is more important than you.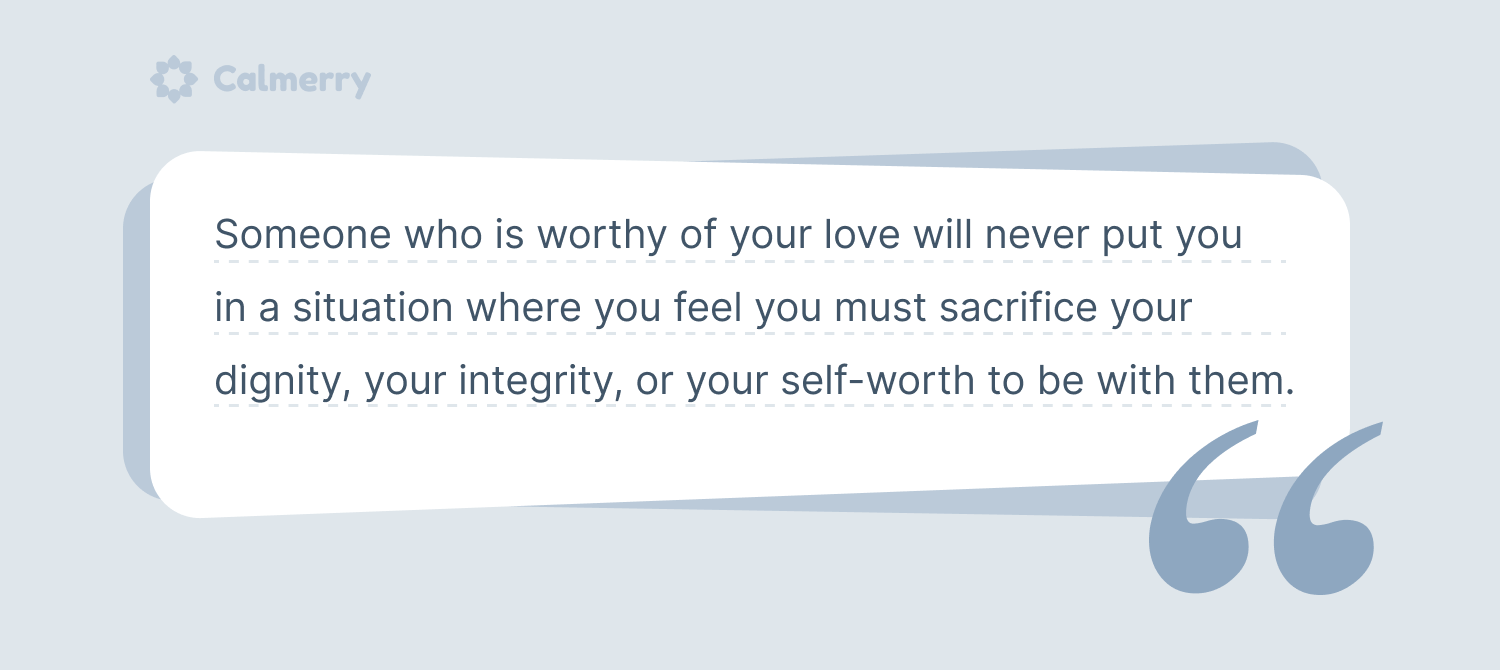 People develop self-sacrifice tendencies due to different reasons. Here are some of them.
You were forced into the habit by circumstances
Some people find themselves in a situation where they inevitably develop self-sacrificing behavior. It all starts in childhood. Maybe you had to take care of your disabled parent or a younger sibling from a young age. Being a child, you had to take over adult responsibilities, entering the role of caregiver.
Gradually, you began to associate your self-worth and value with helping others. You came to believe you always had to put others first and that your needs and wants were not as important as other people's.
It makes you feel good
Self-sacrificing behavior often seems to be linked with anxiety that could be associated with the fear of being viewed as selfish. Such people are worried about putting their needs first or fear that they may be rejected when they are not serving others. Often the self-sacrificers just need to feel that their efforts are valued and appreciated.
Helping others even when you're sacrificing yourself makes you feel good. You feel like you've fulfilled or added to their life. Most importantly, you feel like a "good person." And when you focus on your own needs, you often feel selfish, guilty, and self-centered.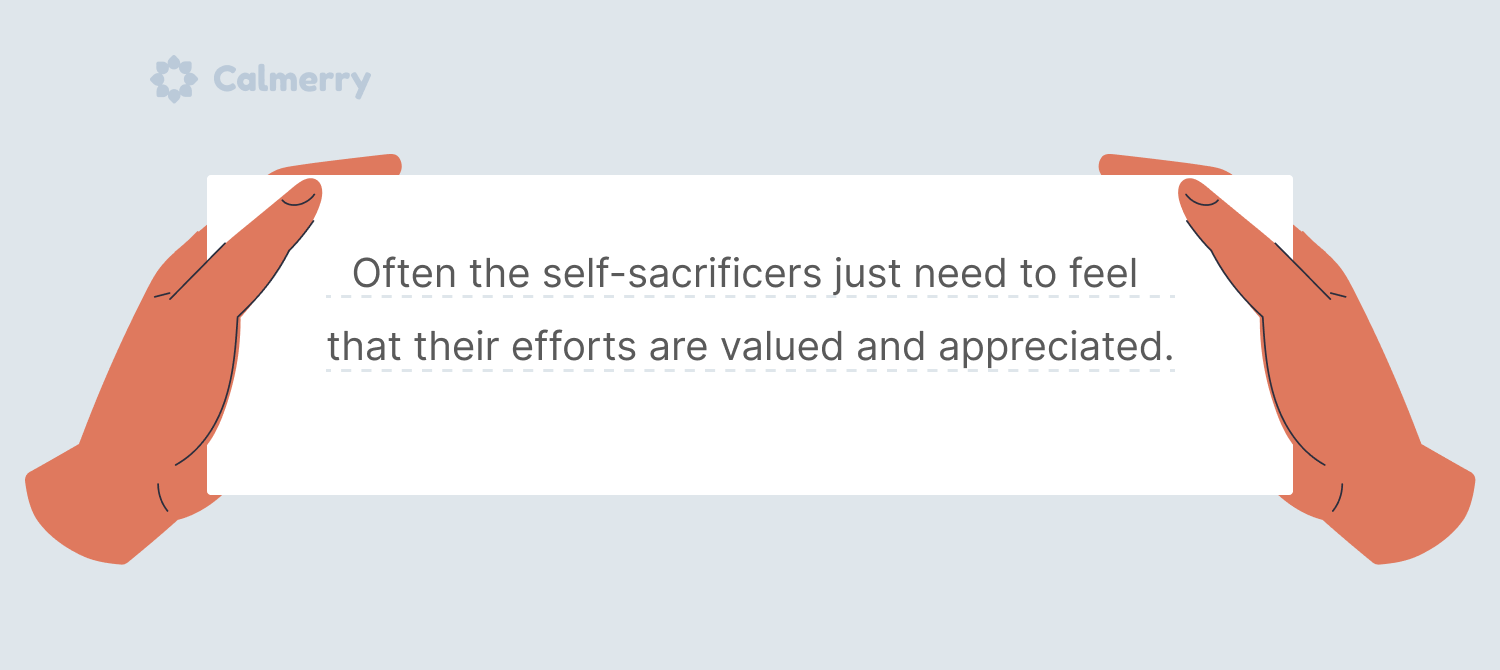 Fear of confrontation or upsetting others
People who always self-sacrifice are often people-pleasers who live in fear that if they refuse to do what someone else wants, the other person won't like them or get angry.
You may also have a case of chronic self-sacrifice because no matter how hard you try, you can't say no. Saying no seems like a huge risk that will shatter and end your relationships. Therefore, you take the easy way out and sacrifice yourself.
How to take care of yourself and others appropriately
Remember you don't have to give up the things you love to be worthy. Although giving up the need to self-sacrifice is challenging, it's not impossible. There are several things you can do to ensure you don't neglect yourself or others when they need you. Consider these tips.
Set boundaries and follow through
Setting boundaries isn't building walls to keep others out. It's a way of safeguarding your well-being. When you identify your physical and emotional limits, you can tell when you're being drained. Take some time to monitor your emotions. When do you feel hurt, overwhelmed, resentful, or angry when helping others?
If you're feeling this way, chances are some boundaries are being crossed. Set some limits and follow through to ensure you're only helping within your capabilities and not sacrificing yourself.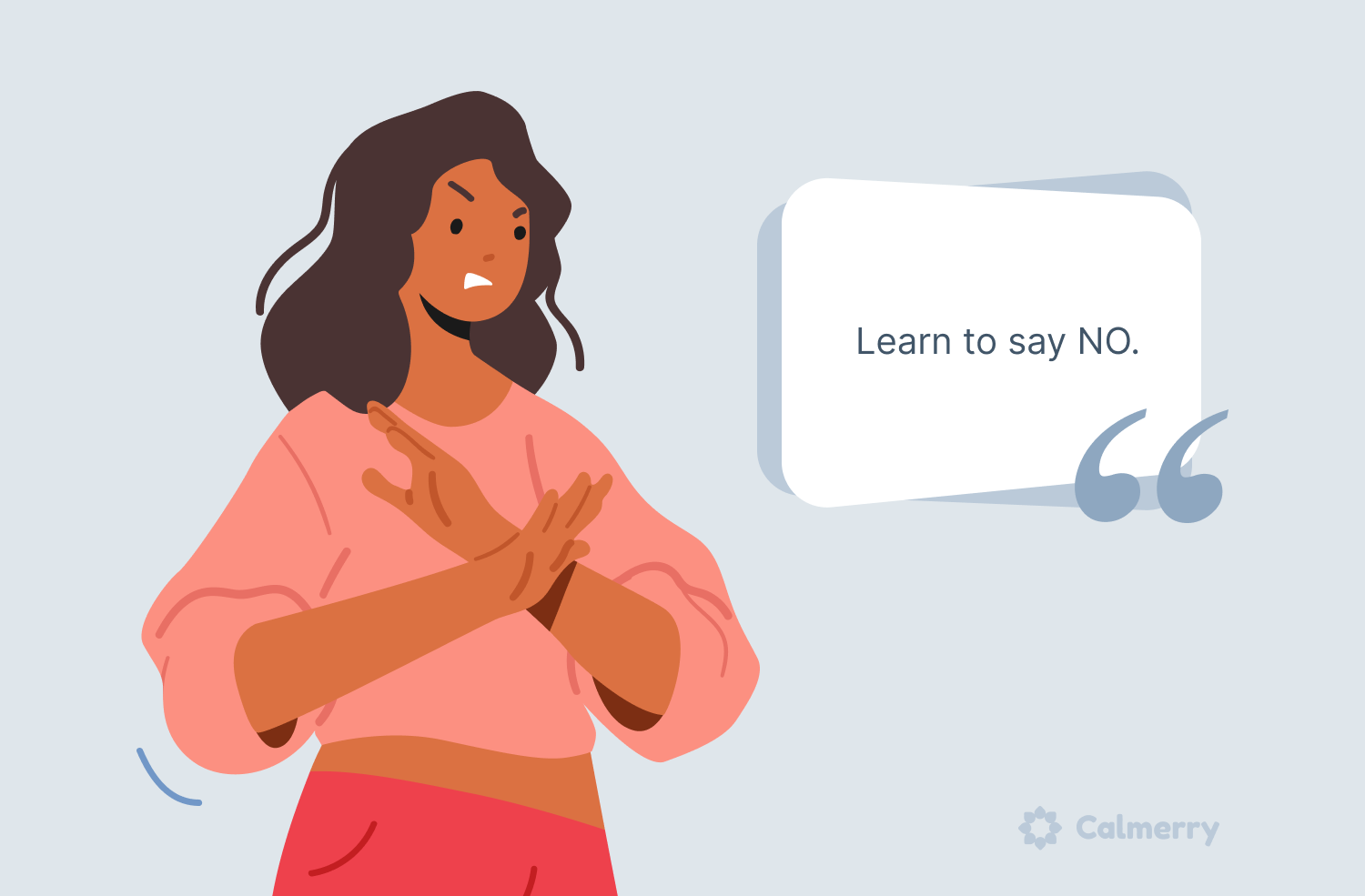 Prioritize what you want
It's not bad to help people you love. However, you should remember that your needs matter too, and the secret lies in the balance. After all, it's not selfish to love yourself. It's necessary to be kind and supportive to yourself.
Figure out what you'd like to achieve and put that at the top of your priority list. If others' needs also fit in, you can help. But never do it to the detriment of your own happiness. You should also make sure that sacrificing yourself for others doesn't become a habit.

Subscribe
to our mental health digest
Let us support you on the way to better mental well-being. Get expert tips and insights on mental health delivered to your inbox monthly.
Stop enabling dependency
People will take advantage of your chronic self-sacrifice tendencies if you allow them. Learn to say no. If someone has the ability to do what they're asking you to do for themselves, let them do it. This is especially important for children. They won't learn to be independent if they know you'll always do everything for them.
Wrapping up
Ending a cycle of chronic self-sacrifice won't happen overnight. Nonetheless, don't give up trying to put into practice rational selfishness to avoid losing yourself. Remember: there is nothing wrong with pursuing your dreams, trying to satisfy your needs and desires and, ultimately, be happy.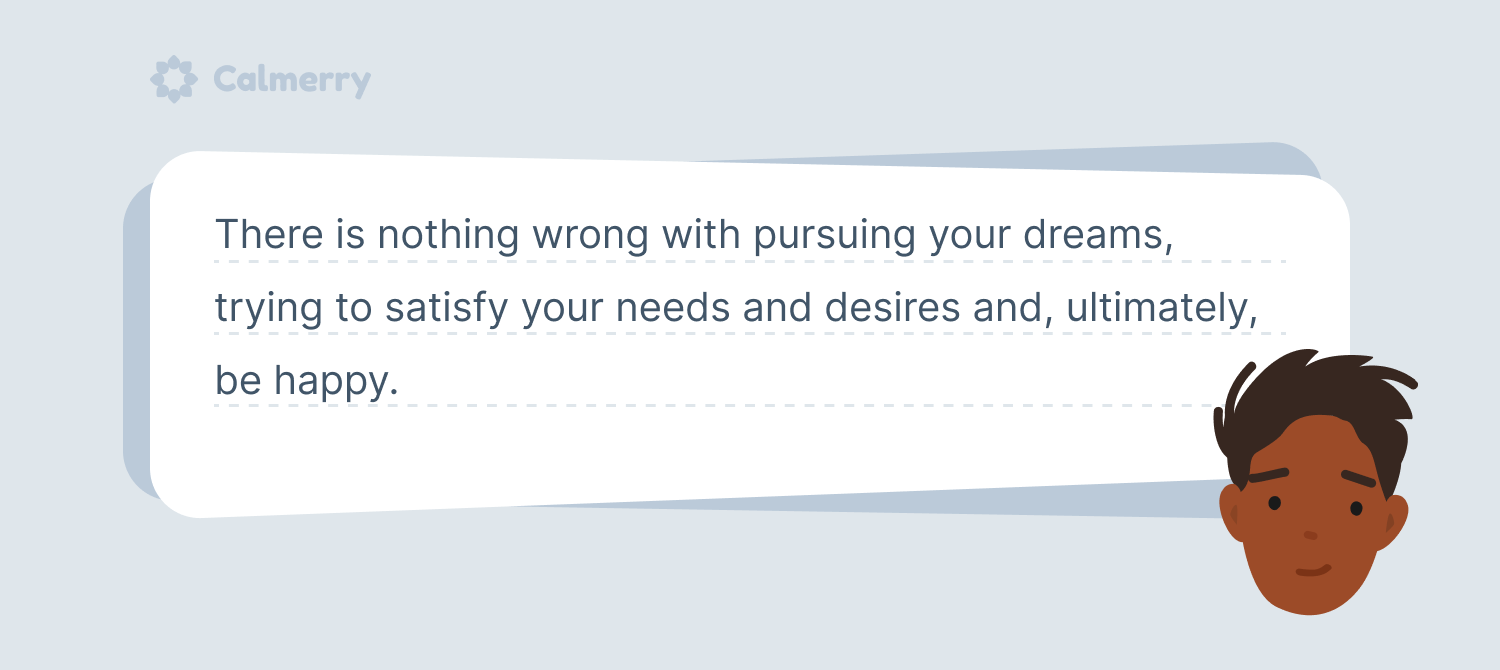 If it gets too difficult, consider getting support and guidance from a licensed counselor.
On Calmerry, you can get matched with an experienced mental health professional that will help you navigate through the challenges of chronic self-sacrificing behavior and provide you with tools to find a solution to the problem. Calmerry therapists can help you learn how to assert yourself in your relationship to ensure that it is rewarding and fulfilling for you.
Сheck your mental well-being for free: