Published April 22, 2022 / Updated March 16, 2023
Navigating Relationship Difficulties as a Man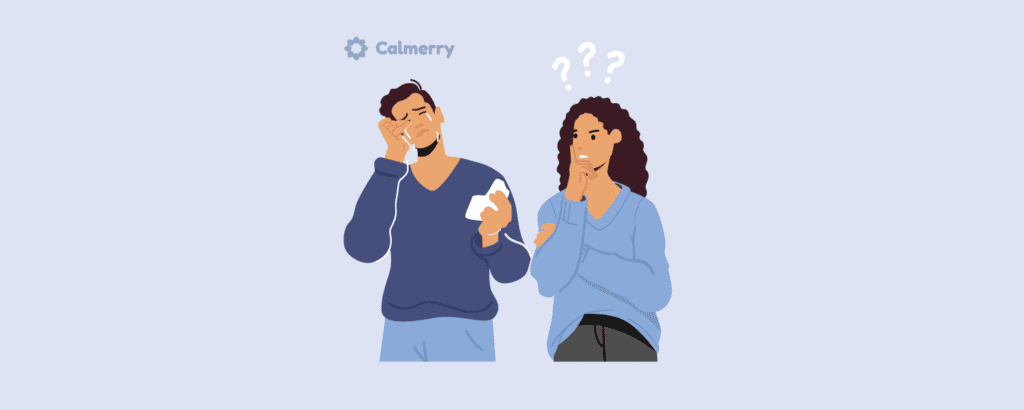 Reading Time:
7
minutes
We live in a world where gender stereotypes still exist. Even though developed Western societies no longer require a person to choose from two genders only, if you identify as a man or woman, you may still deal with tons of stereotypes regarding what is considered masculine or feminine.
There is a big difference between societal expectations about male and female behavior, and when it comes to relationships, men and women often face different challenges. Stereotypes negatively impact everyone's lives, and men suffer from their impact no less than women.
In this article, we will consider some of the most common relationship problems among men that stem from gender stereotypes. We will take a look at the root causes of these problems and consider some helpful tips. Relationships always take effort, so here is some information that might help you focus on the right things and navigate relationship issues you may face as a man.
Gender stereotypes
Society expects men to be strong and stoic. Men are not supposed to show their emotions and affection. Instead, men are expected to be problem solvers who don't process the emotional aspects of life difficulties but react to them with quick actions.
From a very young age, men are being told that boys don't cry. Tears or even regular sadness are often perceived as signs of weakness, and genuine expression of emotions is widely stigmatized because it doesn't correspond to the traditional concept of masculinity.
In contrast, such emotions as rage and aggression are considered normal for men to express. When men yell or break things, they are often perceived as those who have a "quick temper." Meanwhile, if a woman expressed her anger in the same way, she would be seen as dangerous or even mentally unstable.
At the same time, nobody would be surprised if a woman cried in front of others. However, the situation would be different if a man allowed himself to openly show their vulnerability. These are vivid examples of how gender stereotypes work.
Traditional gender stereotypes reinforce the emotional and empathetic image of women while presenting men as something completely opposite. As a result, many men don't listen to their feelings and are afraid to communicate them to their partners. This is a reason why relationship counseling often focuses on improving communication in a relationship.
Emotions, men, and relationships
Although there are many cultural stereotypes that emphasize the differences between men and women, the truth is that we are more similar than it seems. Research data shows that men and women demonstrate the same psychological variables in communication, aggression, self-esteem, and reasoning, starting from the youngest age.
Researchers have also found that the main factor that influences emotional development in men is gender norms. There is no biological factor that would make men less emotionally sensitive, but society often teaches them to suppress their feelings.

Ignoring and hiding your emotions isn't a healthy approach. When you're in a relationship, such an attitude can also undermine trust. As a result, men who try to fit widely accepted gender norms may deal with various relationship issues.
Why do men struggle in relationships?
Men's difficult relationships with their own feelings often result in unhealthy tendencies when it comes to relationships with other people.
Masculine standards don't let men reflect on their feelings, which often leads to a complete inability to describe their emotions. In fact, the American Psychological Association even has a term that describes such a phenomenon: normative male alexithymia. Subclinical alexithymia is often considered completely normal among men who try to conform to traditional masculine standards.
However, the fact that the inability to feel and describe emotions among men is normalized by society doesn't make it less of a problem for men themselves. By being empathetic and more open about your feelings, you can keep your relationship strong.
If you want to free your emotions, that means that you may need to overcome your fear of being vulnerable. However, this isn't the only fear that you may face. Let's take a look at some common relationship problems among men and tips that might help you deal with a relationship crisis.
How guys mess up relationships and what to do about it
Societal expectations rooted in stereotypes, as well as lack of communication and stigma that surrounds emotional issues among men, may create tough challenges when it comes to relationships.
Here are some of the most common issues men have to deal with and some ideas that might help you.
1. Pressure to be in charge
Despite all the effort put into building an equal society, there are still too many stereotypes that shape our behavior and influence our relationships. One such stereotype is that a man should play the role of a decision-maker and breadwinner.

When a man earns less than his partner or loses his job, such a situation can lead to serious self-esteem problems, anxiety, and depression. Given that the number of women who earn more than their husbands continues to grow, it's no surprise that many men start to feel uncomfortable.
The truth is that your worth isn't determined by your bank account. No matter how much you earn, you can always make a different contribution to a relationship, and if your partner is good at decision-making, that doesn't make you less important. Don't forget that every relationship is unique, and only you two can decide what it should look like.
2. Fear of rejection
Another common stereotype is that men should take the initiative to ask someone out on a date or offer sex. Although this way, you may create an impression of a guy "who knows what he wants," such an approach can also backfire because it creates a possibility of rejection.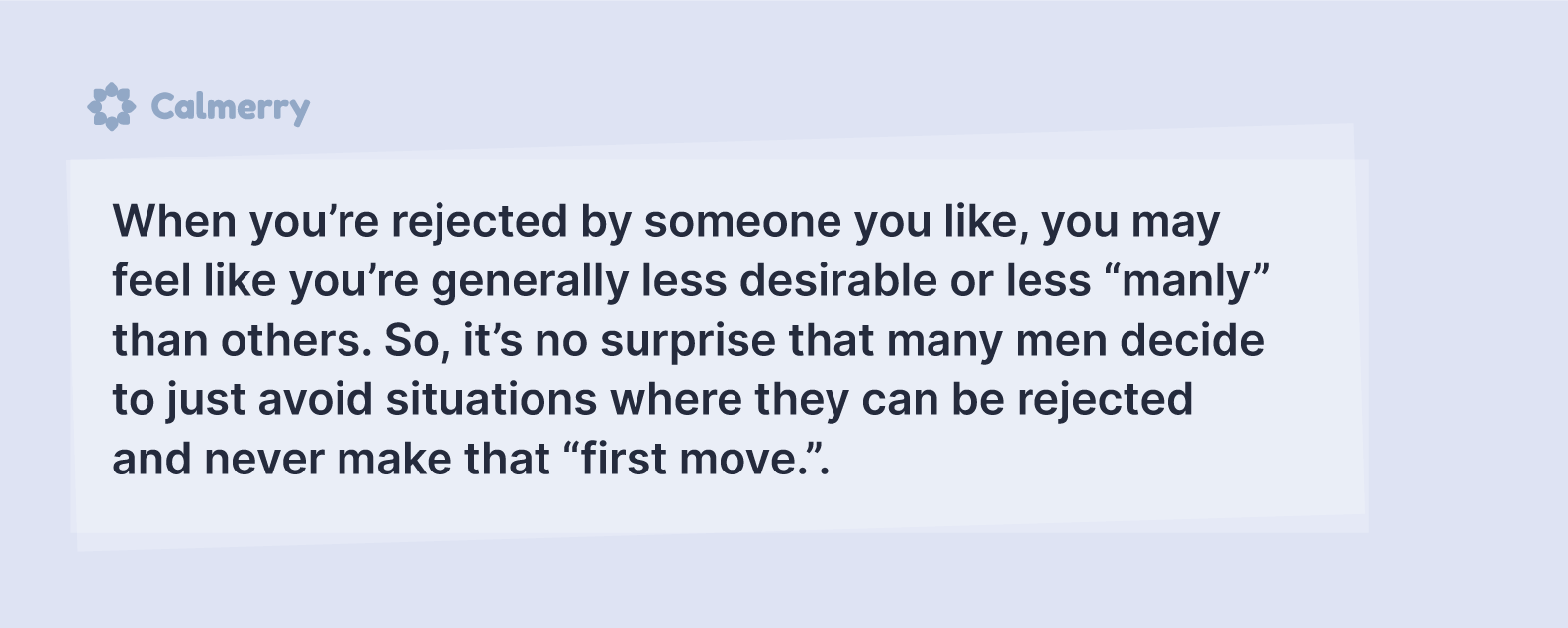 When you're in a relationship, you may also feel rejected when your partner decides not to come to a party with you or doesn't want to have sex. Quite often, the feeling of rejection turns into resentment.
Anger, along with poor communication, are common signs of toxic relationships. Instead of keeping your feelings inside until they become overwhelming, you can try sharing your feelings with your partner. Don't be afraid to appear vulnerable. Acknowledging your feelings and talking about them takes a lot of inner strength and courage.
Subscribe
to our mental health digest
Let us support you on the way to better mental well-being. Get expert tips and insights on mental health delivered to your inbox monthly.
3. Performance anxiety
Another common problem is related to intimacy. The stereotypical image of a masculine man implies that men should always want sex and be ready to go at it at any moment. The truth is that it's impossible to want sex constantly. Moreover, hypersexuality can actually be a sign of mental health issues.
However, social expectations once again create tremendous pressure. In fact, the pressure can be so overwhelming that men often find themselves unable to perform when it comes to action. The reason is that the more we think about getting an erection, the less likely we are to get it.
According to statistics, 20% of men with intimacy issues and erectile dysfunction, in particular, don't have any physical problems. Their problems are rooted in performance anxiety, and problems in bed can also lead to shame, which may only make anxiety stronger.

4. Hiding mental health issues from a partner
Mutual trust is one of the main differences between healthy and unhealthy relationships. Although talking to your partner about your mental health means that you will likely feel vulnerable, it's important to understand that you won't be able to hide your issues from them forever.
They will notice that there's something wrong with you, sooner or later. Besides, if you try to hide your inner struggles from someone who is always by your side, you may start to experience new symptoms and develop anxiety, depression, or other mental health disorders. For instance, many men hide their emotional issues and vulnerabilities behind aggression, blaming others for their unpleasant feelings.
Do you ask yourself, "Am I the problem in my relationship?" When people experience symptoms of depression or other mental health disorders, they often feel like there's something wrong with them, and their self-esteem may suffer. The truth is that everyone can face such problems.
When struggling with emotional issues, men often simply distract themselves with work, drugs, alcohol, or affairs.

In such a case, talking to a therapist might be a good idea. It will help you face your vulnerabilities and openly address your struggles with your partner while being in a safe space. Your partner might also want to know what you're going through, and they may support you with kindness, love, and words of affirmation.
Being a man shouldn't be that difficult
Both men and women have to deal with many gender stereotypes. You may feel like you're supposed to play a role that has been written for you by someone else. However, nobody can tell you what to feel and what relationships to build. All relationships are unique, and only you and your partner can decide what your relationship will look like.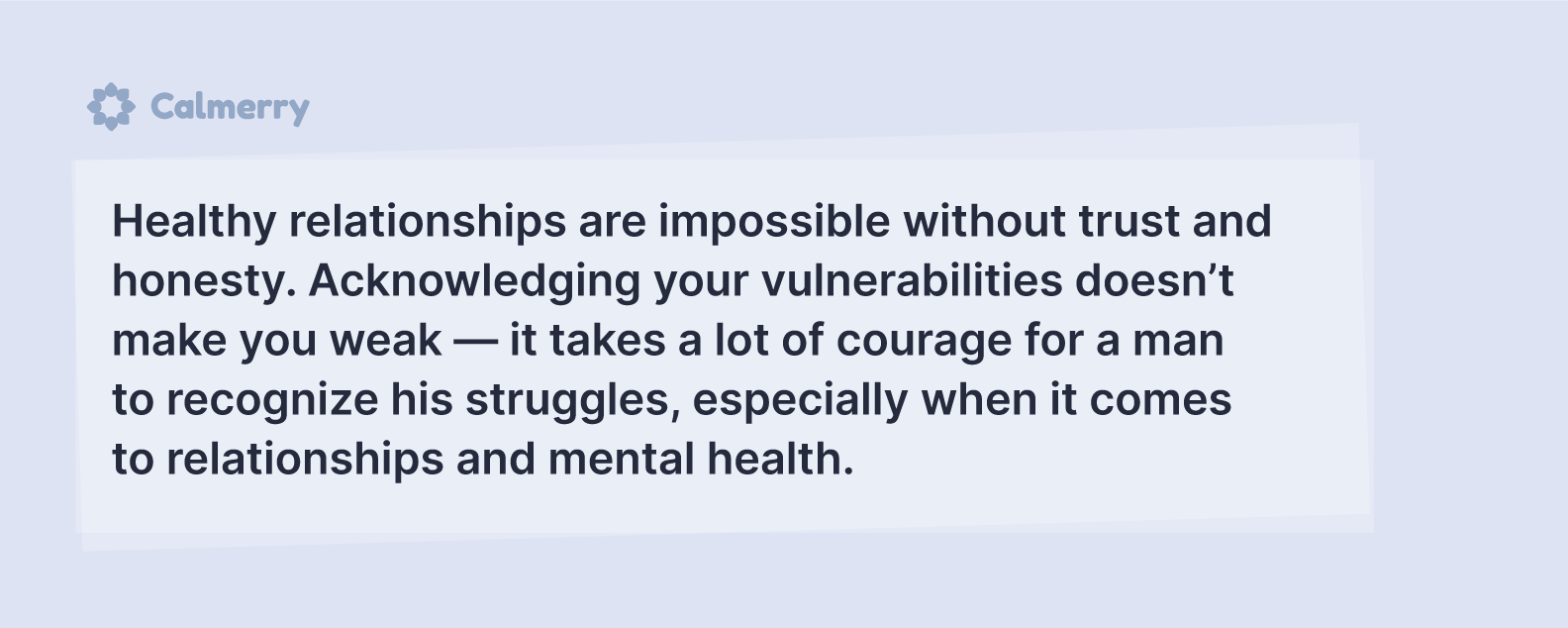 Many relationship issues can be easily solved through talking, so don't be afraid to just talk to your loved one. Unfortunately, it can be really difficult for a man to understand and describe his own feelings, but in this case, seeing a therapist might be helpful.
Therapy offers a way to better understand yourself so that you can find the right words when talking to your partner. Quite often, the first step toward better relationships is being honest with yourself — you are a human, and all of us have vulnerabilities. Recognizing them might be uncomfortable, but the result is definitely worth the effort.
Сheck your mental well-being for free: