Published April 3, 2023 / Updated May 23, 2023
Parentification Trauma: When Kids Have to Act Like Grown-Ups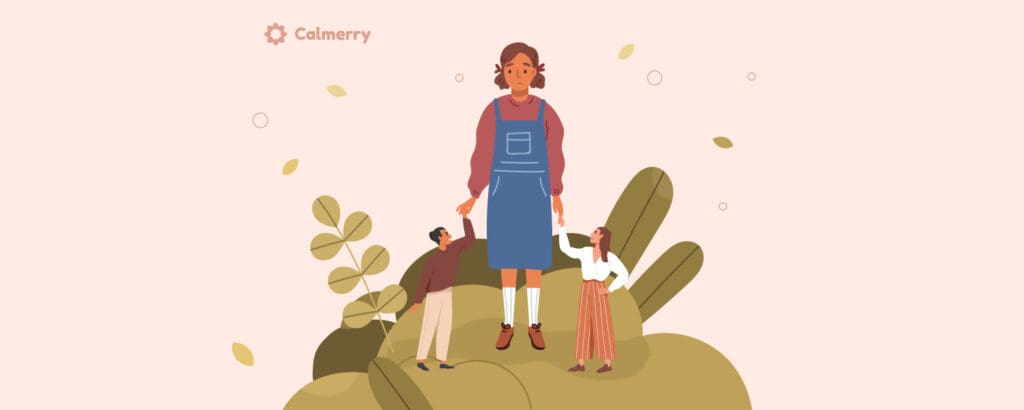 Reading Time:
6
minutes
There are various types of trauma and negative events that can be destructive to a child's development. One such type is parentification trauma, which occurs when children are forced to take on adult roles sooner than is appropriate for their developmental level.
When a child is parentified, the negative effects can last long into adulthood, but post-traumatic growth is possible. The good news, with some awareness and support, a person can heal, no matter how long they have lived with parentification's effects.
What is parentification?
To understand how parentification affects a person, it's helpful to know what this term means. From a psychological standpoint, parentification is a situation in which there are poor boundaries within a family, and children, therefore, assume roles that are intended to be filled by adults. 
Parentified children grow up in an environment where they are expected to perform caretaking roles for their own parents. For example, they may be expected to provide physical care for a sick parent, or they may take on the responsibility of caring for siblings.
It is important to understand that parentification involves excessive duties and a blurring of boundaries, with children fulfilling roles that the parents cannot fulfill because of issues like neglect, violence, substance misuse, or intergenerational trauma.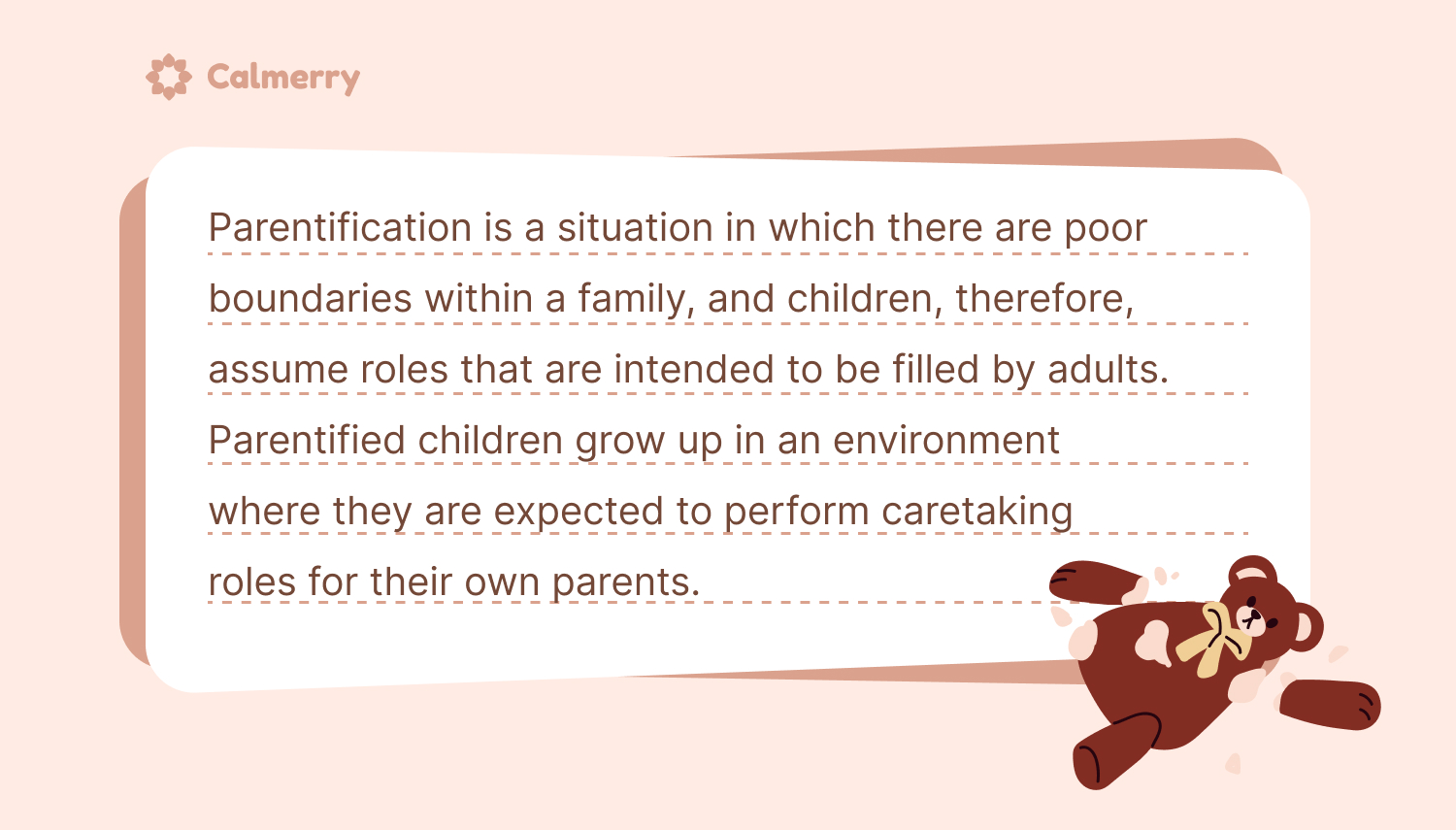 Emotional and instrumental parentification
A specific form of parentification called emotional parentification occurs when a child is expected to meet a parent's emotional needs. The child may provide the parent with nurturing and assist the parent with resolving conflict with other adults. Instead of the parent nurturing the child and meeting the child's emotional needs, the reverse occurs.
When a child carries out specific parent-like duties, the child is said to participate in instrumental parentification.  The parentified child who carries out instrumental duties may be responsible for grocery shopping, daily care of siblings, or performing the majority of household tasks, such as cooking and cleaning.
Parentified children also don't receive recognition or respect for the duties they fulfill, and their tasks go significantly beyond helping out with chores or showing responsibility by caring for a pet.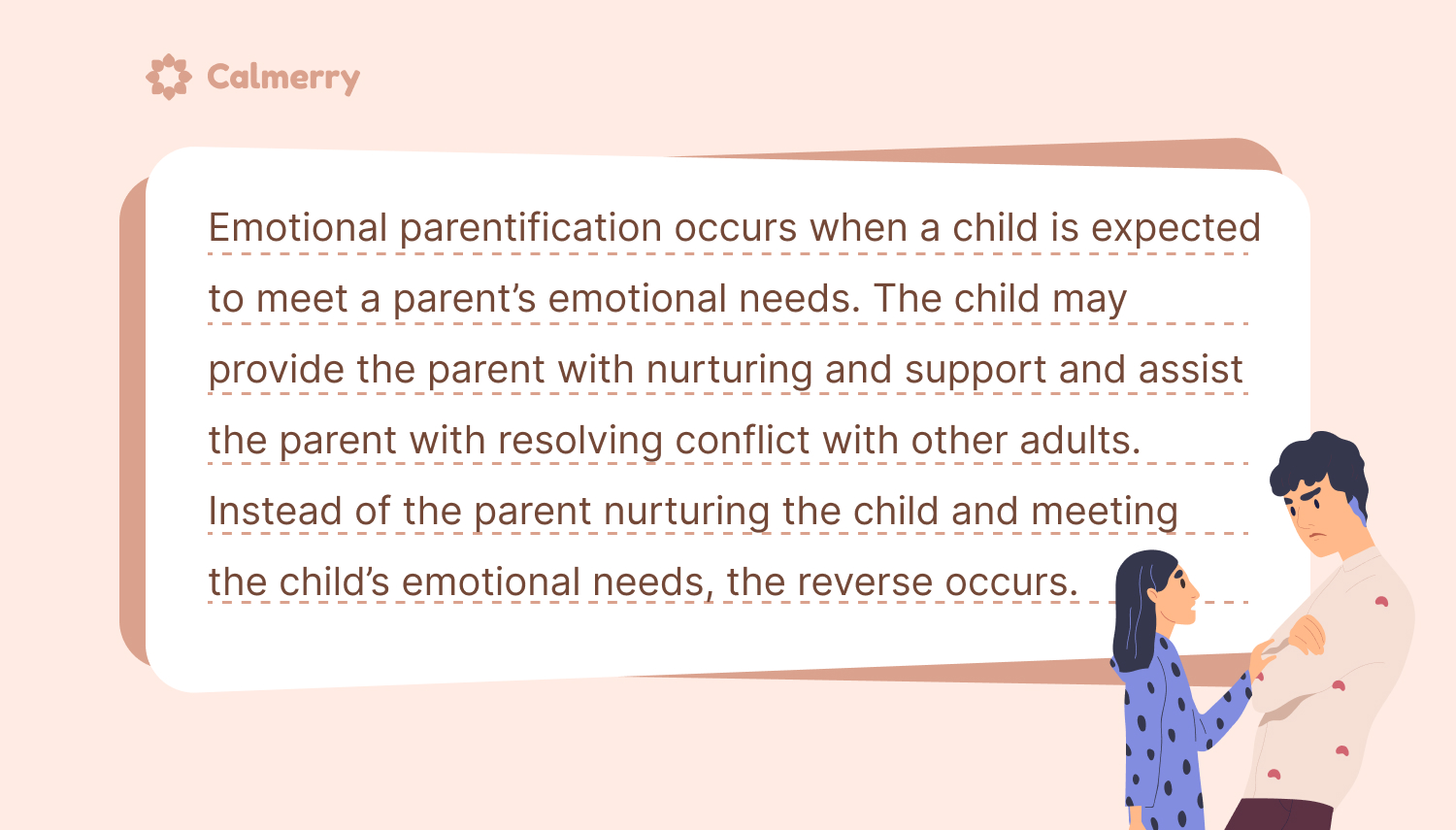 Adultification vs. parentification – how they differ
The terms adultification and parentification may sometimes be used interchangeably, but to understand what parentification trauma means, it's essential to know the difference between adultification and parentification. While the two concepts have similar meanings, there are differences between them.
Adultification refers specifically to situations in which a parent views their child as a partner or a peer. Rather than the child being permitted to maintain an appropriate role, they serve as their parent's confidant and ally. They may be expected to keep the parent's secrets or provide support during times of conflict with the other parent.
In addition, the study shows that both adultification and parentification tend to occur in families in which there are problems like domestic violence or poverty. Or in which the parents did not receive proper nurturing from their own caregivers during childhood.
Signs of the parentified child
Parentification can have lasting negative consequences, affecting someone into adulthood.  Whether you think you may have been a parentified child, the following signs can suggest that this was the case:
You have a hard time expressing your needs in relationships
It's difficult for you to set boundaries with others
You end up in codependent relationships, where you feel the need to be a caretaker for others
You have feelings of grief because you feel like you missed out on having a true childhood
You hide parts of yourself to try to please others
You end up sacrificing your own needs to meet other people's needs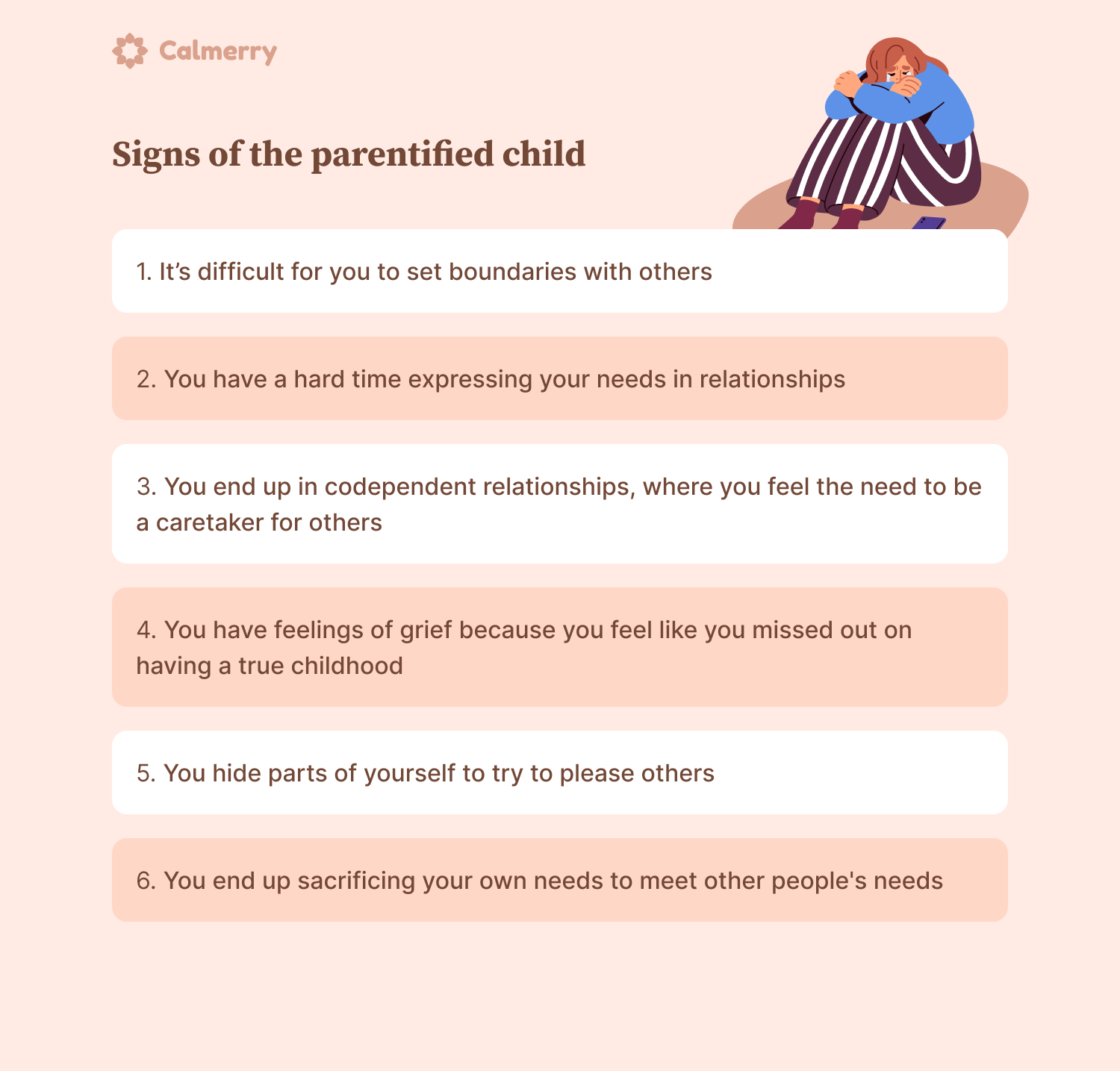 Effects of parentification for parentified child
The problem with parentification is that it forces children into adult roles, robbing them of the time they need to complete typical developmental processes. The parentified child is exposed to adult information prematurely, which can be damaging to mental, emotional, and social development.
A child who has been subjected to parentification may experience the following negative effects by the time they reach adolescence:
Depression
Risky behavior (i.e., substance misuse)
Development of personality disorders
Feelings of shame or isolation
Effects of parentification in adulthood
Parentification trauma can cause negative effects that persist into adulthood. Researchers have identified the following long-term consequences of parentification:
Increased risk of depression in adulthood
Overall psychological distress
The development of issues related to attachment with others during adulthood
Problems forming intimate relationships with others
Imposter syndrome (a term used when a person doubts their own abilities or skills)
How to heal from parentification trauma
When dealing with the lasting effects of parentification, there are steps you can take to heal. In some cases, awareness of the problem and taking steps to care for yourself can help you to heal. In other cases, professional support may be warranted.
Self-care practices for overcoming parentification trauma
When you're trying to recover from parentification, you're probably used to chronic self-sacrifice for the sake of others, and you may have difficulty caring for yourself. Part of healing is learning to be in tune with your own needs.
Practicing self-care through some of the following strategies can play an important role in your healing journey:
Take time for yourself to do things that you truly enjoy, such as partaking in hobbies
Make time for rest and relaxation, which can include turning down plans with others in order to rejuvenate
Create a habit of caring for your own needs before tending to others. For instance, make sure that your own work is done before you jump in to help someone else
Show yourself some love by regularly participating in physical activity that brings you joy. This is unique to you and could include running, biking, attending a group exercise class, lifting weights, doing a yoga routine, or taking a walk through the woods
Nourish your body with healthy foods that give you the energy you need to get through the day, and don't be afraid to give yourself time for a lunch break each day
Relieve some of your tension through relaxation techniques, such as mindfulness meditation or progressive muscle relaxation.
When it's time to seek professional help
While self-care can be an important part of your healing journey, you may also benefit from professional services like counseling and therapy, especially if you have developed mental health problems arising from parentification. Therapy provides a safe space to process unresolved trauma, work through unpleasant emotions, and develop healthy coping skills.
It may be better to reach out for professional help if you notice that mental health symptoms, such as sadness and feelings of worthlessness, are beginning to interfere with daily life or make it difficult for you to maintain healthy relationships.
Mental health professionals can conduct a full assessment, determine if you show symptoms of a mental health condition like depression or anxiety, and create a treatment plan that meets your unique needs.
Some of the following interventions can be effective in helping you to heal from the effects of parentification:
Individual counseling to help you work through unresolved trauma or to treat any mental health disorders you may have
Family or couple's counseling to help you develop healthy communication skills, learn to set healthy boundaries with your partner, and work through any relationship problems you are experiencing
Specific forms of therapy, including schema therapy, offer "reparenting" to help patients correct negative thinking patterns, learn to meet their needs, and validate their experiences
Ultimately, the goal of therapy should be to help you resolve problems from childhood, recognize that you are not responsible for fixing others, and validate the relational trauma you've experienced. Healing can look a little different for everyone, but it is possible to overcome the effects of growing up too fast with support.
Consider online therapy for healing from parentification trauma
A mental health professional can help you to determine the best treatment plan for your unique needs. Online therapy may be a good option for you, if you're looking for professional treatment for issues related to parentification, You'll be able to connect with a therapist from the comfort and privacy of your home to begin your healing journey in a safe environment.
Calmerry offers online therapy with licensed and credentialed professionals. We'll match you with a clinician who fits your needs well. Visit our webpage today to learn more or to get started.
Сheck your mental well-being for free: