Published April 5, 2023 / Updated April 7, 2023
How to Heal from Sexual Trauma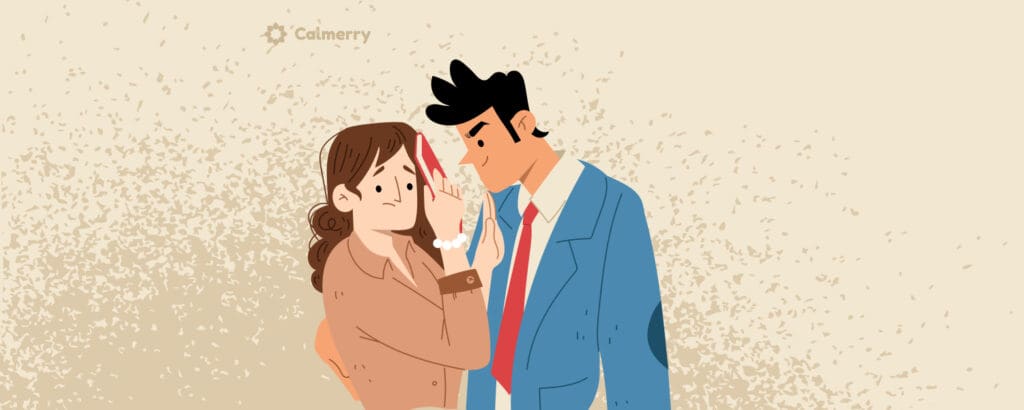 Reading Time:
7
minutes
Sexual trauma can cause lasting symptoms that interfere with daily life, making treatment helpful for those who experience these symptoms. The good news is that healing from sexual trauma is possible. Below, learn all about sexual trauma, including what it is, how it affects survivors, and how to heal from it.
What is sexual trauma?
Before learning how to recover from sexual trauma, it's helpful to have an understanding of what this phrase means. Sexual trauma occurs when a child or adult experiences any form of sexual violence, which involves a non-consensual act that is sexual in nature. Acts of sexual violence can involve physical contact, but they do not need to entail direct touch to be considered sexual abuse.
Some examples of incidents that can lead to sexual trauma include:
Rape
Contact between the mouth and penis
Contact between the penis and the vaginal opening or anus
Touching of erogenous zones of the body, such as the breasts, buttocks, inner thigh, groin, anus, or genitalia
Sexual harassment
Forcing someone to participate in pornography
Modeling unhealthy sexual behavior or engaging in exhibitionism in front of a victim
When a person experiences one or more of the above acts of sexual violence, and they suffer from significant distress, they are said to have sexual trauma.
Symptoms of sexual trauma
Sexual trauma can lead to a range of consequences, including the development of mental health disorders. Sexual trauma symptoms can vary from person-to-person, based upon their unique risk and protective factors, and the nature of the sexual violence they have experienced.
While there can be a range of symptoms related to sexual trauma, some common symptoms a survivor may experience are as follows:
Symptoms of PTSD (distressing dreams of the sexual violence, avoiding reminders of the trauma, increased vigilance over potential threats)
Depression
Suicidal thinking and behavior
Substance misuse
Problems maintaining intimate relationships
Disordered eating
Symptoms related to borderline personality disorder (impulsive behavior, suicidal threats, and unstable relationships)
Problems with memory
Feeling as if one is living in a dream
Feelings of shame and guilt
Sexual problems, including performance anxiety, intrusive thoughts during sex, avoidance of sex, or erectile dysfunction
Not all survivors of sexual trauma will experience all of the symptoms above, but these psychological effects are common after a sexual assault. Some more specific symptoms of sexual trauma are described in detail below.
Symptoms of PTSD
PTSD is common among sexual trauma survivors. In fact, some research shows that women who experienced sexual abuse as children are five times more likely than non-victims are to be diagnosed with PTSD. So, some survivors of sexual trauma may experience the following PTSD symptoms:
Flashbacks and intrusive thoughts of the sexual assault
Avoiding memories associated with the sexual trauma
Symptoms of dissociation, such as being disconnected from surroundings
Extreme distress in response to reminders of the trauma
Attempting to avoid people or things associated with the trauma
Difficulty remembering certain aspects of the sexual trauma
Outbursts of anger
Difficulty concentrating
Experiencing negative emotions, such as anger and fear, and difficulty experiencing positive emotions
Sleep disruptions
Believing that they are to blame for the traumatic event
Believing that the world is all bad
Some patients who have experienced repeated or ongoing sexual trauma may develop symptoms of complex PTSD (CPTSD). In complex PTSD, patients experience traditional diagnostic symptoms of PTSD, along with the following:
Difficulty regulating emotions
Problems relating to others
Suffering from physical symptoms like headaches or upset stomach
Developing an extremely negative viewpoint of the world or other people
Changes in memory and attention, leading to depersonalization (feeling detached from oneself)
Symptoms of depression
A person who has experienced sexual trauma may also develop symptoms of depression. During a depressive episode, the following symptoms will appear:
Depressed mood
Loss of interest in usual activities
Changes in sleep habits, which can manifest as sleeping either more or less than usual
Changes in eating habits, which can involve either eating more or less than usual
Extremely low energy levels
Changes in movement patterns, which can manifest as either psychomotor agitation (pacing) or psychomotor retardation (slowed movements)
Feelings of worthlessness
Difficulty with thinking and concentrating
Thoughts of suicide
Signs of sexual trauma
When a person experiences sexual trauma, they are at risk of developing mental health conditions, including depression and PTSD. While not everyone will develop mental health disorders in response to sexual trauma, in order for symptoms to be consistent with trauma, a person must experience some form of distress.
In addition to developing mental health disorders, people may manifest the distress associated with sexual trauma in the following ways:
Using alcohol or drugs to numb negative emotions
Detaching from others
Avoiding any sort of intimate or romantic relationship with other people
Viewing other people as being untrustworthy
Showing extreme reactions to anything that is a trigger for memories of the sexual trauma, such as having outbursts of anger or shutting down when reminded of it
Having a hard time coping when faced with stress or unpleasant emotions, such as disappointment, anger, or sadness
Developing negative self-esteem because of feeling one is to blame for their own trauma
Always being on the lookout for potential danger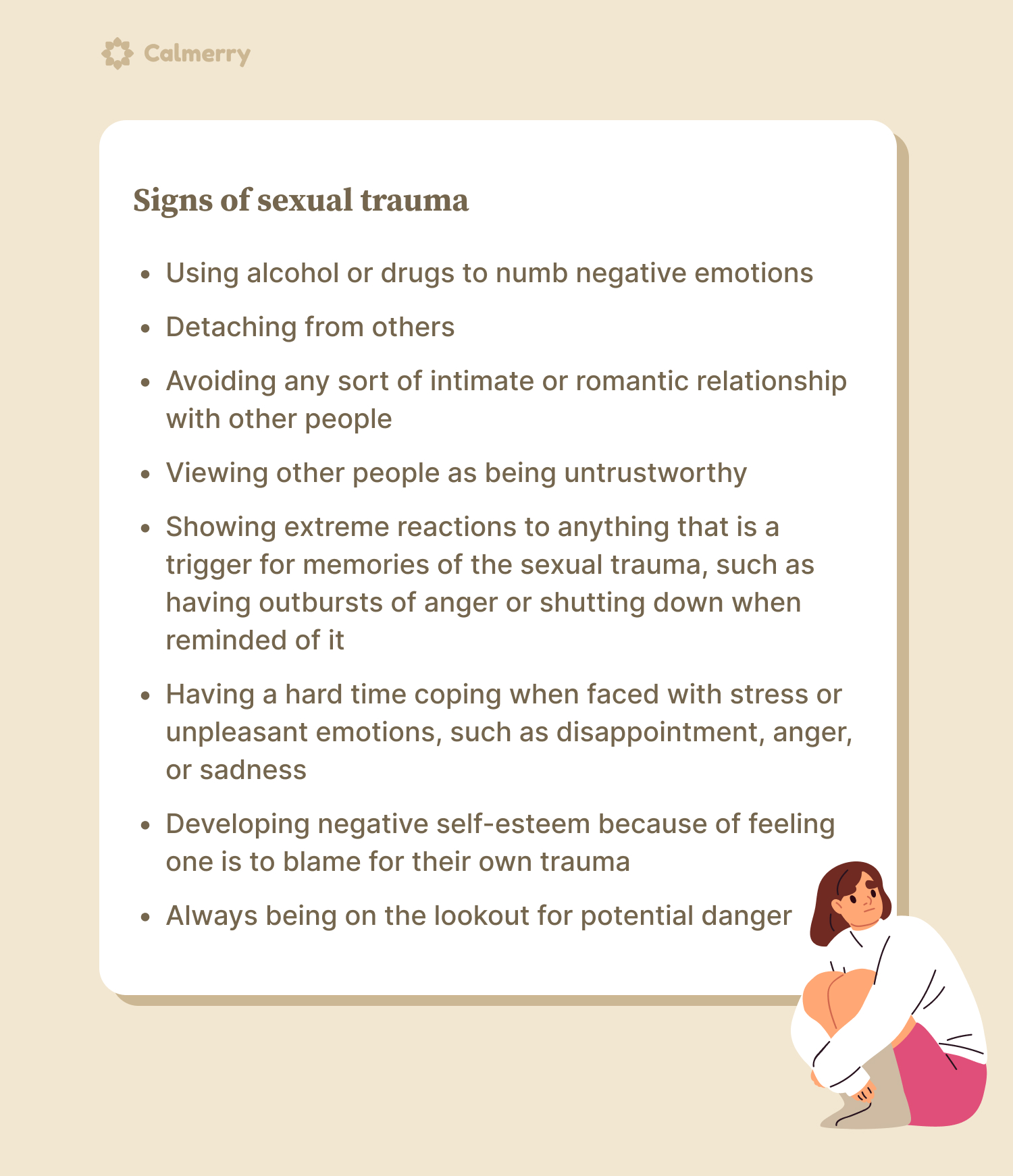 The symptoms above indicate that a person has been deeply affected by their trauma, leading them to feel as if they are unsafe. To protect themselves from future harm, a person may become overly reactive to anything that reminds them of the sexual trauma. For the person experiencing these symptoms, the fear is very real; in fact, they may even have physiological reactions to triggers, because their nervous system is dysregulated.
How to heal from sexual trauma
Sexual trauma can have numerous negative effects, leading someone to believe as if they are always in danger, or that they cannot trust others. Some people may develop mental health disorders like PTSD or depression in response to the trauma.
While sexual abuse does come with negative effects, the good news is that healing is possible. The best course of treatment will depend upon a person's unique situation, as well as the specific sexual trauma symptoms they are experiencing. Some common treatment options are outlined below.
Cognitive behavioral therapy
Studies have consistently shown that cognitive behavioral therapy (CBT) is beneficial for treating PTSD, depression, anxiety, and other psychological effects arising from sexual trauma. A specific form of CBT called trauma-focused CBT has been developed to address the needs of those with a history of sexual abuse and other forms of trauma.
A counselor who uses the CBT approach will help a patient to identify and correct distorted thinking patterns that are leading to feelings of distress. For example, a person with a history of sexual trauma may come to believe that the world is unsafe and that all men are untrustworthy. In CBT sessions, a person can begin to look for evidence that this belief is not true, and they can replace negative ways of thinking with more balanced, logical thought patterns.
Trauma-focused CBT also helps patients to build skills, such as emotional regulation, and it uses a phase-based approach. Over time, patients are gradually exposed to cues and memories of the trauma.
EMDR
EMDR, short for eye movement desensitization and reprocessing, has also been found to be beneficial for treating symptoms of trauma. This treatment modality begins with the therapist and the patient discussing the patient's trauma, and how it relates to current triggers and symptoms.
To help a patient heal from the trauma, a therapist uses bilateral stimulation techniques, which can involve either eye movements or tapping. A patient recalls the traumatic experience while simultaneously moving their eyes back and forth, or using tapping movements or sounds. This process is believed to integrate traumatic memories with other memories in the brain, so that the trauma has less of an impact.
Mindfulness interventions
Mindfulness-based interventions also show promise for treating symptoms related to sexual trauma. These approaches teach trauma survivors to stay attuned to the present moment, without worrying about the past or future. Mindfulness-based therapists may train patients in the practice of mindfulness, and some may even use approaches like yoga or meditation to complement the work done in talk therapy sessions.
Mindfulness interventions can create feelings of safety for trauma survivors by helping them to become more aware of the present moment. They may be prone to panic or racing thoughts, because of the feeling of being in danger, but awareness of the present helps them to recognize they are safe, and the trauma is not happening in the current moment.
Cognitive processing therapy
Cognitive processing therapy (CPT) helps patients to change the way they incorporate beliefs about their trauma into their existing understanding of the world. According to this modality, patients who blame themselves or have negative thoughts following a traumatic event can learn to alter their cognitions to be more adaptive.
In the beginning states of CPT, a patient receives education on the cognitive model, and with the guidance of the therapist, they explore their beliefs surrounding their trauma. Then, the patient applies their skills to challenge negative cognitions about the trauma they have experienced. Research supports CPT as an effective treatment for PTSD.
Subscribe
to our mental health digest
Let us support you on the way to better mental well-being. Get expert tips and insights on mental health delivered to your inbox monthly.
Prolonged exposure therapy
The theory behind prolonged exposure is that people do not emotionally process traumatic events at the time the events happen. This causes a person to develop dysfunctional fear structures in their minds, which leads them to overreact to triggers or respond defensively to harmless interactions or stimuli within the environment.
The goal of exposure therapy is to change unhelpful fear structures by first activating them and then correcting what is dysfunctional about them. This is achieved by teaching patients about PTSD and then exposing them, either in real life or via imagination, to people and places they have been avoiding because of the trauma. A therapist helps a patient to process their emotions while exposed to reminders of the trauma, and incorporate new information into these memories, to reduce fear.
Prolonged exposure therapy has been found to be beneficial for patients recovering from PTSD. It is typically completed over the course of 8 to 15 sessions with a therapist.
Begin healing from sexual trauma
If you're looking for support to help you overcome the effects of sexual trauma, there are multiple therapy techniques that can be beneficial. A mental health professional who specializes in trauma-informed care can help you to determine the best treatment plan for your unique needs.
Taking the first step and reaching out for help shows courage. If you're ready to begin healing, online therapy may be a suitable option for you. You'll be able to connect with a therapist from the comfort and safety of home, while receiving professional support. At Calmerry, we offer online therapy with licensed clinicians, including those who specialize in treating sexual trauma. Visit our webpage today to get started or learn more.
Сheck your mental well-being for free: