Published January 16, 2023 / Updated March 20, 2023
Gaslighting Parents: Signs and How to Heal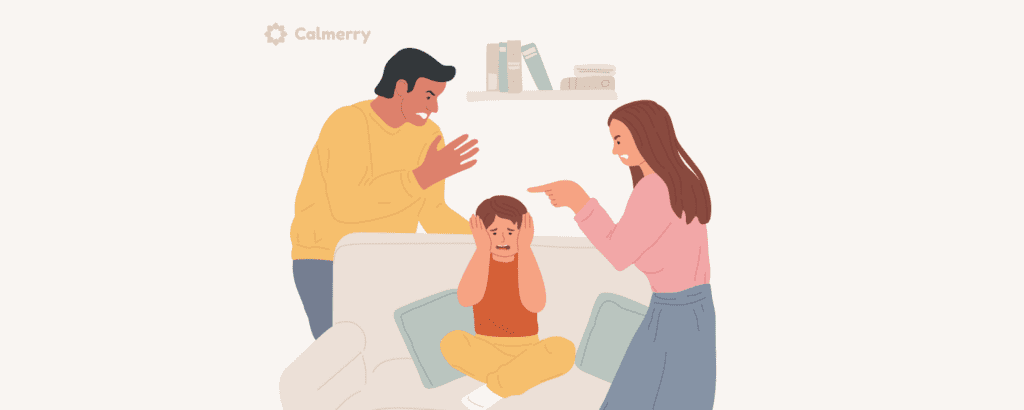 Reading Time:
6
minutes
In a perfect world, we'd have perfect relationships with our parents, but sadly that's not always the case. We all have disagreements and silly little spats with our folks. But for some people, a normal conflict of perspective can become unnecessarily aggressive and controlling, even to the point where it becomes a form of abuse.
If you feel like conflicts with your parents consistently end up with them painting you as irrational, overly sensitive, or unreasonable, or that they're always out to invalidate your feelings, then you may be a victim of parent-child gaslighting.
In this guide, we'll take a closer look at some of the most common traits of gaslighting parents and some tips on breaking the cycle of abuse if you're being gaslighted.

Parental gaslighting – know the signs
Gaslighting is a form of psychological abuse where the victim is pushed to question their own rationality, the accuracy of their memories, and even their sanity.
Victims of gaslighting experience high levels of stress and anxiety commonly, but in severe cases, they can even believe that they're losing their sanity or experiencing a distressing break with their identity (depersonalization).
Though it's most commonly talked about in romantic relationships between one adult and another, it can occur between any two people with some kind of social attachment, whether that be a parent and child, amongst friends and colleagues, or between an employee and their boss.
If you're concerned you might be the victim of a gaslighting mother or father, it can be hard to know for sure whether what you're experiencing is real psychological or emotional abuse, or simply the normal motions of a relationship that needs a little work.
Here are some of the more common signs of a gaslighting family member to look out for.
Questioning your recollection of past events
This is a tricky one, as everyone's memories can be warped by confirmation bias, aphantasia, and the simple process of memories fading with time. However, if your parent consistently recollects events that happened to you in a very different way to you, it could be a sign that the relationship is drifting into the gaslighting territory.
This form of gaslighting is often most glaringly obvious when it comes to childhood memories that have since had a profound effect on the way you've perceived life going forward.
Let's say, for example, that you were bullied as a child by one of your classmates, and the abuse was so severe that the prospect of getting on the school bus absolutely terrified you.
If you bring this up and talk about how much it affected you, only for your parent to insist that you were being dramatic, that it was just childish horseplay, or something similar, this will undermine your expressed emotions while giving you cause to question your own memories.
This kind of emotional invalidation is a telltale sign of gaslighting behavior, and something to watch if it happens too often.
They try to convince you you're overreacting
One of the most obvious signs of a gaslighting parent is a tendency to invalidate your emotions by telling you you're overreacting, especially in situations where anyone else would respect that different people take things in different ways.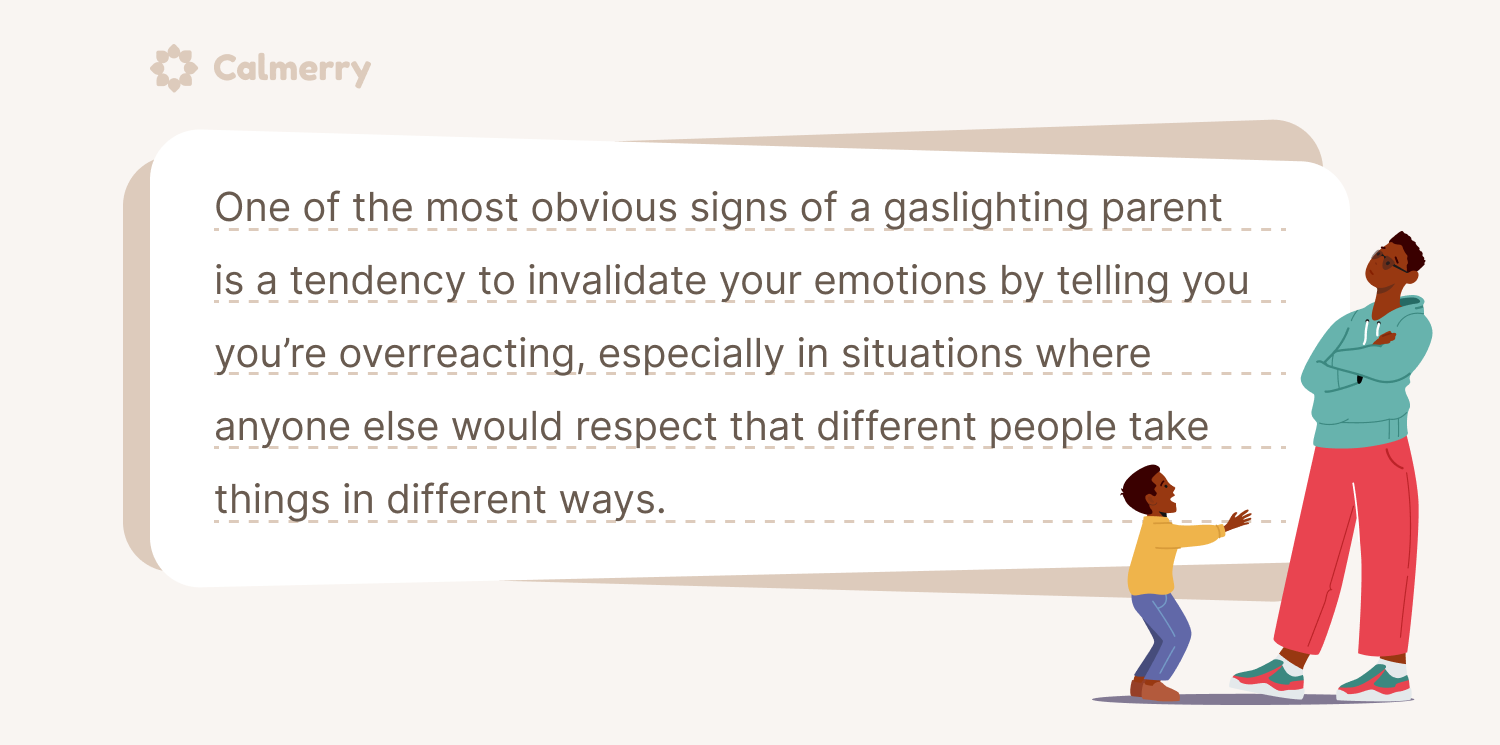 If you're working through a bad breakup, you've lost your job, or had a big fight with a close friend, then your parent might not quite understand why you're canceling plans and withdrawing from your social circle.
However, when they're telling you that you shouldn't be reacting the way you are instead of being supportive, this is clearly toxic behavior and may be a form of gaslighting.
They think they know your preferences better than you
If you've always known your parent to be a little over-protective, then this one may be familiar to you.
When we're children, it's normal enough for a parent to tell you that you won't like a certain movie because you'll find it too scary, or that you won't like a sandwich with pickles in it. However, when this kind of controlling behavior continues into adulthood with a conviction that your parent definitely knows your preferences better than you, this could lead to becoming a bigger issue.
If your parents fail to respect your boundaries and butt into opinions on major decisions about your life, such as whether or not you'll find success in a new career, when to consider starting a family, or whether or not you'll like living in a particular city, this could be a marker of harmful gaslighting behavior.
They have a victimhood mentality
A victimhood mentality and emotional abuse tend to go hand in hand, and studies have shown that people who feel like they've been wronged are more likely to behave in an aggressive or selfish way toward those around them.
If your parent has a tendency to feel sorry for themself, believe they have a lack of agency, or blame people for being vindictive when they're just being careless, this might be linked to a proclivity for gaslighting behavior.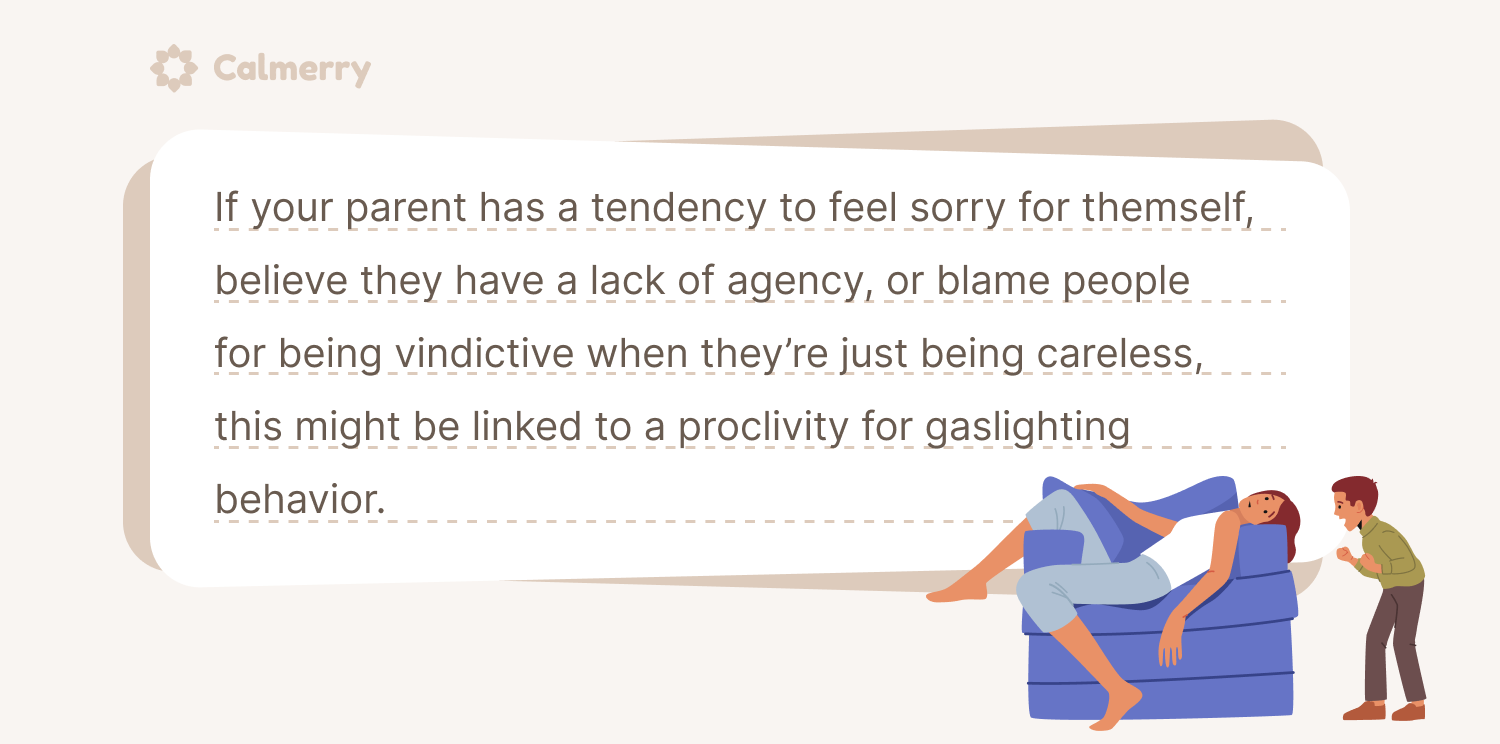 Though playing the victim isn't always an act of gaslighting in itself, if your parent is always trying to spin a situation so that you're painted as the aggressor and them the victim, this can certainly work to undermine your self-worth and make you question your reality.
How to heal from gaslighting parents
Realizing you've been a victim of family gaslighting can be extremely distressing. Still, fortunately, there are a number of reliable techniques you can use to help fortify your sense of self and reality.
Here are some of the best things you can do for yourself to help along the healing process and prevent future problems.
Change your environment
The first and most important thing to bear in mind as a victim of gaslighting is that you won't be able to heal fully in the same environment you were abused in.
It may be hard, but the healing process must start with setting boundaries and separating yourself from the toxic influences in your life.
For many people, experiencing a new physical environment is the best first step towards healing. Where possible, think to consider booking an impromptu stay at somewhere more conducive to your healing, such as:
A general mental health retreat
A loving family member's home
Some new town you've always wanted to visit
Putting yourself somewhere where you don't have to deal with the toxic influences in your day-to-day life can go a long way towards helping you gain some perspective and figure out your next steps.
Before you change environments, take some time to steel yourself for the inevitable calls and texts you'll get from your parent or any other toxic relationships. Whether you limit your contact or go no contact with your abuser, the important thing is to stay strong, stick to your guns, and push back when necessary.
Learn to trust yourself again
Gaslighting can seriously undermine your trust in yourself and is an important thing to focus on when you're trying to self-heal. Here are some of our favorite pointers for rekindling that important sense of self-trust:
Keeping one little promise to yourself a day: Emphasis on the "little" here – don't bite off more than you can chew, as falling short of your promises to yourself will only serve to harm your emotional state.
Reparent yourself: Giving yourself the care you haven't had from parental figures can be a great way to validate yourself in the face of gaslighting, and rekindle your self-trust. Things like ensuring you get enough sleep, eating right, drinking enough water, and exercising will all substitute the role of parental love that may be lacking in your life.
Be patient: For many people, parental gaslighting comes in the form of parents demanding unrealistic achievements, and this particular kind of trauma can follow us into adulthood as a lack of patience, or a tendency to self-criticize for not being able to work through our issues straight away. Take some time to think about how you respond to yourself on a bad day and how realistic your plan for recovery is, and start making a conscious effort to treat yourself with more compassion.
Subscribe
to our mental health digest
Let us support you on the way to better mental well-being. Get expert tips and insights on mental health delivered to your inbox monthly.
Talk with those who care
Gaslighting is harmful because it confuses your perception of real events and undermines your confidence in yourself. One of the best ways to counteract this effect is to tap into outside perspectives that will put the gaslighting you've experienced in a new light and show you how baseless it is.
By surrounding yourself with people who listen to you, genuinely care for your well-being, and don't cause your perception of events to be in constant competition with someone else's, you'll gradually learn to stop giving credence to the gaslighting behavior coming from toxic people in your life.
Obviously, getting emotional support when you need it isn't as easy as snapping your fingers, so try practicing self-affirmations to keep yourself moving forward when you're alone. If you know how a certain event happened, repeat it to yourself confidently and calmly, and consciously reject any bad memories that shake your confidence in how that thing transpired.
Though it may not be as effective as talking to a reliable support network, making a habit of self-care can be a big help in fortifying your confidence in yourself and taking power away from gaslighting.
Seeking professional help in the form of a therapist helps to remind you that your feelings are always valid. Working closely with a trained professional will provide you with a safe space to help unpack these feelings and provide you with the life tools to help combat family gaslighting.
Final thought
Gaslighting is a pernicious and complex form of abuse. Though recognizing and healing from it can be a challenge, knowing the signs and countering it with a conscious commitment to self-care is something that's within everyone's power.
We hope this guide has helped you better understand your experience with family gaslighting and start working towards a healthier, happier future!
Сheck your mental well-being for free: