Published March 6, 2023 / Updated May 17, 2023
Medical Gaslighting: What to Do if Your Doctor Tells You It's All in Your Head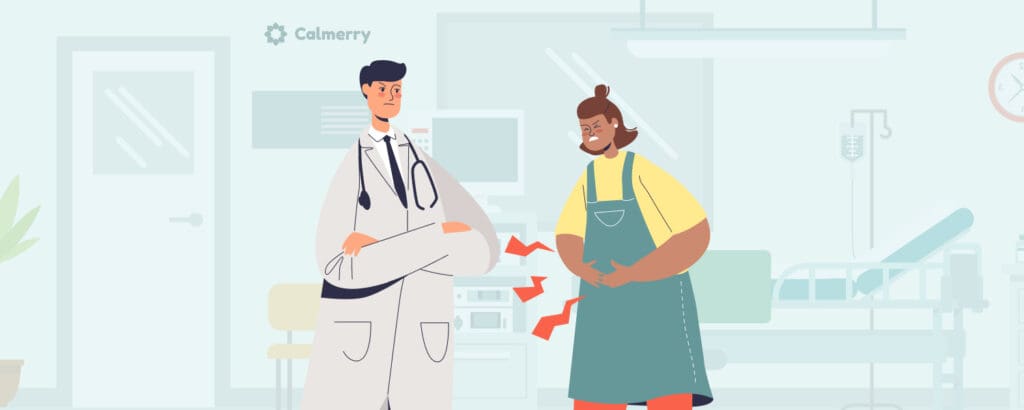 Reading Time:
5
minutes
You have probably heard the term gaslighting used when talking about toxic romantic relationships. It's a type of psychological manipulation when one person tries to make another doubt their own judgment or question their reality. This kind of dynamic can also exist outside of personal relationships, and you may have experienced it in a healthcare setting.
Have you ever been to the doctor's office only to be dismissed with your complaints and told that your problem is "all in your head" when you know something is wrong and your pain or other symptoms are real? Medical gaslighting is a frustrating experience that can happen to anyone. It can even be dangerous because it can lead to missed diagnoses and improper treatment.
Here, we'll talk about what medical gaslighting is, how to know it is happening to you, and what to do when your doctor doesn't listen and ignores your pain.
What is medical gaslighting?
Although the term medical gaslighting is relatively new, it describes the common practice that has been affecting patients' outcomes for decades. Medical gaslighting occurs when a patient's complaints, feelings, or concerns are dismissed as insignificant or are wrongly attributed to psychological (or other) factors by a medical provider.
Dismissive doctors don't seem to take you seriously or may blame your symptoms on vague causes such as stress, weight, work overload, or lack of self-care. And then they may say you're fine and send you home without a proper diagnosis or treatment plan. Delayed diagnosis and treatment lead to unnecessary suffering and, in some cases, can have serious consequences for your health.
Medical gaslighting may sound like this:
It's just your anxiety.
You've got to expect this at your age.
Your pain is manageable.
Your symptoms aren't that bad.
There is no such thing as…
It's all in your head.
You're just tired.
Let's not run too many tests. They can be confusing.
You're too sensitive.
Just drink more water, and you'll be fine.
You just need to lose some weight.
You did it to yourself.
Stop searching the web for answers.
I have other patients much sicker than you.
I think it's just because you have your period.
You're too young to be feeling…
You just have to learn to live with it.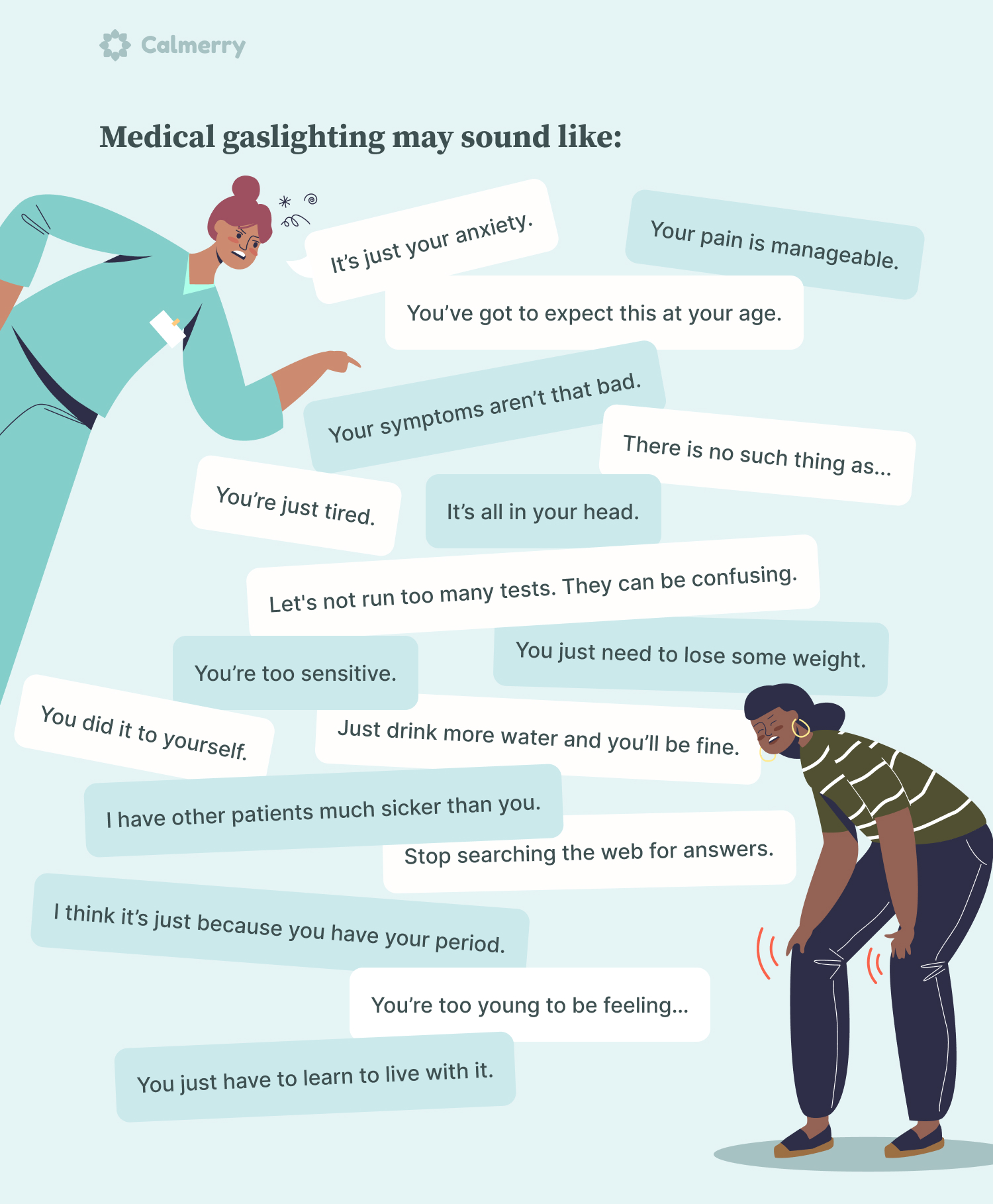 Who is more likely to experience medical gaslighting?
While medical gaslighting can happen to anyone, certain groups of people may be more likely to experience it. This includes women, people of color, geriatric patients, those living with chronic conditions, and the LGBTQ community.
Oftentimes, women are told that their symptoms are caused by premenstrual syndrome (PMS) or mental health issues, no matter how severe they are. Research has found that women are more likely to be misdiagnosed than men in many situations, including such conditions as heart disease and autoimmune disorders that can come with nonspecific symptoms.
Additionally, female patients wait longer to get a diagnosis for a variety of conditions, including cancer. Women are also less likely to be given pain medications and less likely to be admitted to the intensive care units in case of traumatic brain injury.
Research has shown that people of color are frequently affected by medical gaslighting and receive lower quality of care, including for heart failure, pneumonia, cancer, and prenatal care. Doctors are also more likely to use negative descriptors like non-compliant or non-cooperative in Black patients' health records compared to white patients. This practice can negatively affect the quality of treatment received by those patients from healthcare providers.
Signs of medical gaslighting
Medical gaslighting isn't always obvious. So it can be difficult to know when it's happening to you, especially when you're assuming that your healthcare provider knows best because they have expertise that you may not have. But there are some red flags to watch for when you're seeking medical care:
Your healthcare provider doesn't listen to you or constantly interrupts you.
You feel as if your healthcare provider is blaming you for your condition.
Your provider dismisses your symptoms or doesn't take your concerns seriously.
You have to argue just to be listened to and taken seriously.
You receive answers that don't address your concerns.
Your symptoms are attributed to a mental illness, but you are not screened for such an illness.
Your intuition tells you something is wrong, even when your provider tells you it's all fine.
Your provider won't order lab and imaging tests to rule out or confirm a diagnosis.
You feel disrespected, trivialized, downplayed, or invalidated when you leave a provider's office.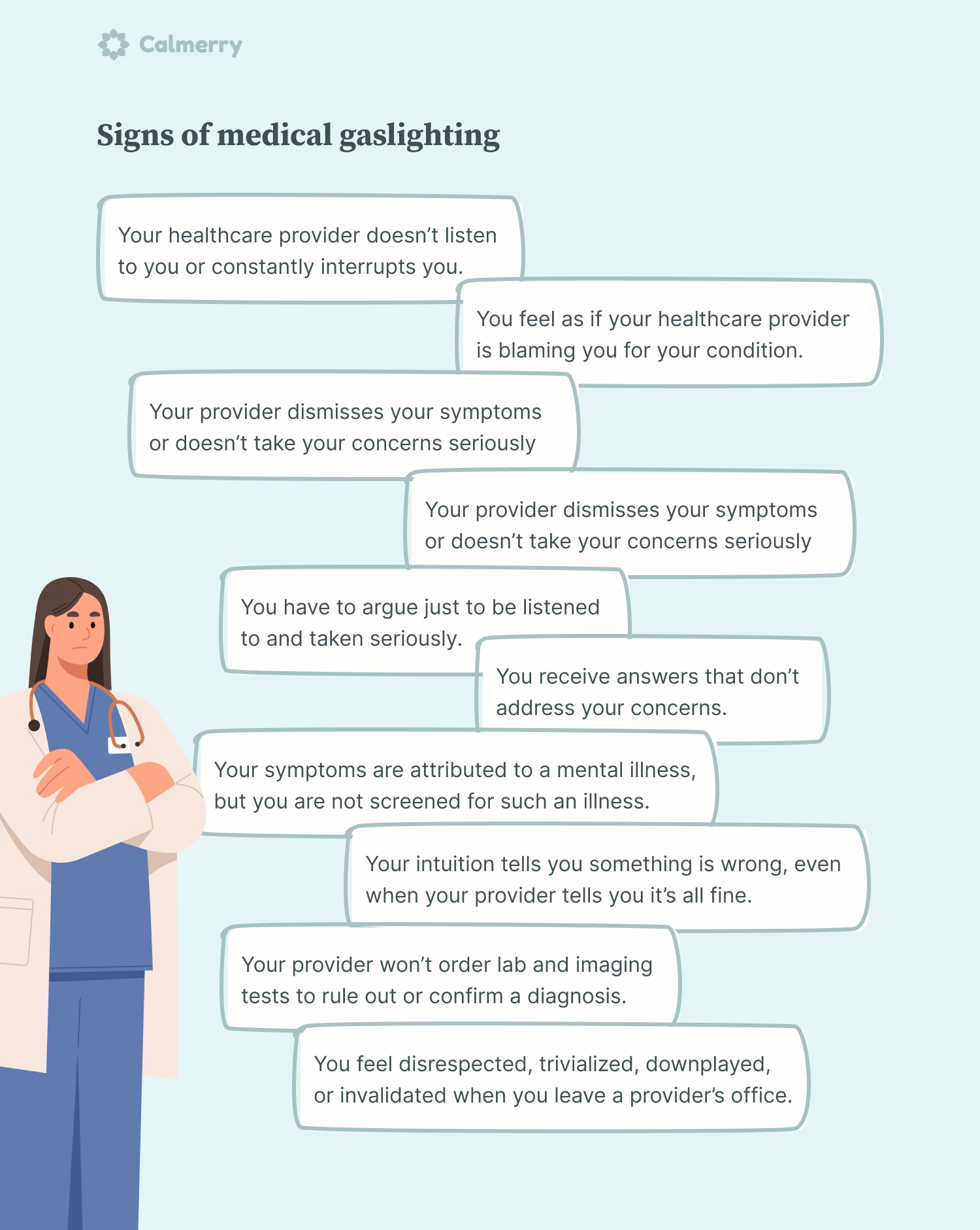 Why do doctors ignore patients?
Medical gaslighting isn't always intentional – it can be the result of systemic problems. Many factors influence it, including different forms of unconscious bias based on gender, culture, race, age, and weight.
Gender bias in healthcare has roots in the past when women that were considered "too emotional" were commonly diagnosed with "female hysteria" as a cause of their symptoms. Although this diagnosis is outdated, there still exists the pervasive belief in the medical community that when a female patient complains about her health, it's either all in her head or related to her hormones.
Besides, scientists know significantly less about the female body despite the fact that there are biological differences between men and women, and they go down to the cellular level. Historically, women (as well as people of color) have been underrepresented in medical research. And although today, women are included in more medical studies, there are still significant knowledge gaps.
Subscribe
to our mental health digest
Let us support you on the way to better mental well-being. Get expert tips and insights on mental health delivered to your inbox monthly.
How to deal with medical gaslighting
Medical gaslighting is a form of emotional abuse. It's traumatizing and can cause confusion, self-doubt, and helplessness in patients who experience it. As a result, it can lead to anxiety and depression.
Moreover, medical gaslighting can be dangerous if it prevents you from getting a proper diagnosis and treatment. So what to do if your doctor dismisses you? Here are some tips to help you address the situation.
Keep a journal to track your symptoms
List any changes you've noticed with your health. How often do you have your symptoms? How intense are they? Do you notice any triggers? Log as many details as possible, and you'll have data to provide to your doctor. Keep records of all of your lab results, imaging, and medications.
Prepare a list of questions
These are the questions you want to ask before an appointment, and use them to set the agenda for your visit. Focus on a few of your most urgent concerns and be ready to ask follow-up questions if new info is presented.
Consider bringing a trusted person
Bring a friend or a family member to important appointments, for example, when you're going to discuss a treatment plan or difficult medical issue. Your support person can act as an advocate for your symptoms to be taken seriously or may ask a question you may not have thought of.
Get a second or third opinion
It may be helpful to talk about your concerns with a medical professional of a shared race, gender, or ethnic background as you. Seek out a provider who listens to you when you speak and takes your concerns seriously to get the care you deserve. Consider changing your doctor if you feel dismissed or belittled.
Wrapping up
Medical gaslighting happens when healthcare providers dismiss or minimize patients' medical concerns or don't take their complaints seriously. Unfortunately, this phenomenon is a reality for many people. Research also shows that women and people of color are the groups that are most likely to experience it.
Medical gaslighting can be very traumatizing, but there are some steps you can take to protect yourself from its harmful effects and ensure you get the care you need. Don't be afraid to be persistent with your health concerns, ask questions, get a second (or third) opinion, and change healthcare providers if needed. You have the right to be heard and believed.
Сheck your mental well-being for free: