Published August 20, 2022 / Updated March 27, 2023
Toxic Positivity: What It Is and What to Do About It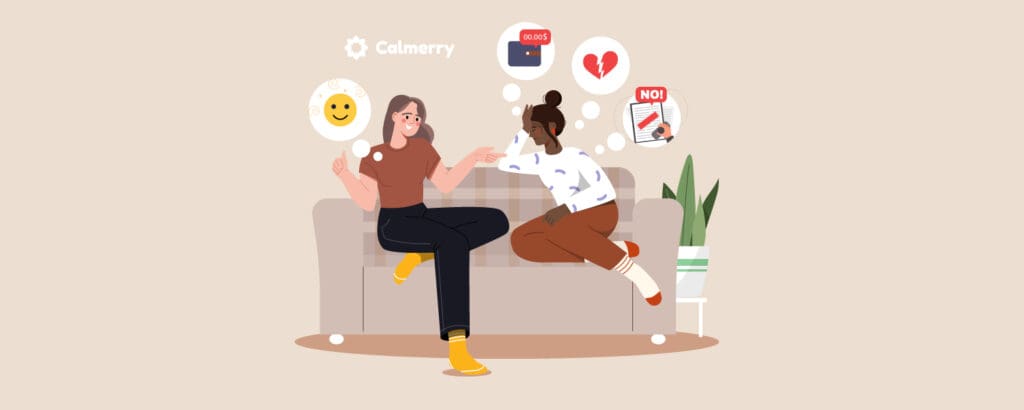 Reading Time:
7
minutes
Sometimes, when we feel sad, frustrated, or overwhelmed, it can be so good to just hear someone say: "Don't worry, everything will be alright." When negative thoughts and emotions start to impact your motivation and well-being, it can be really helpful to focus on positive aspects of things and "good vibes."
Hearing reassuring words from others may help you cope with sadness or anxiety. So, being positive is always good, right? Well, not exactly. Drinking water is also good for you, but did you know that one can die from drinking 5+ liters of water? Many things are only good as long as used in moderation, and positivity is no different.
While being very helpful or even necessary in some situations, positivity can also be toxic. What is toxic positivity, and how to deal with it? In this article, we'll shed some light on this concept that might seem somewhat illogical.
When positivity goes wrong: what is toxic positivity?
Glass can be half-empty and half-full at the same time, which means that negativity and positivity are the two flip sides of our emotions. Sometimes, you may feel sad, and sometimes, you may feel happy. Toxic positivity means rejecting, suppressing, and ignoring any negativity whatsoever.
In many situations, positive thinking can be helpful. For instance, it can help stop negative self-talk. Toxic positivity, however, implies a denial of emotions. For example, a person may criticize someone else's sadness and insist on positive thinking instead.
The constant denial of negative feelings may cause more harm than good, not letting you process your emotions and making it difficult for you to cope with stress. Besides, denying other people's emotions is one of the common signs of toxic relationships.
Toxic positivity is a defense mechanism used to shield ourselves from what we may perceive as uncomfortable or difficult emotions. It takes the form of an unrealistic outlook on life and an avoidance of those feelings which we may find difficult to face or process at the moment.
Toxic positivity vs. genuine optimism
There's nothing wrong with trying to stay positive — optimism and positive thoughts are extremely valuable when it comes to balancing negativity. However, that doesn't mean refusing to see negativity altogether.

Optimism is all about appreciating the positive sides of things and anticipating positive outcomes. Research data shows that optimism can make people more stress-resilient and improve their overall mental well-being.
Numerous studies show that turning negative into positive, known as positive framing, can help reduce anxiety and boost mood. Optimism and positive framing are often used as coping mechanisms, so it's important to understand the difference between optimism and toxic positivity.
Toxic positivity isn't about recognizing the positive things but denying the negative ones. Sometimes, such an attitude can cause a lot of harm, especially when positivity is forced onto people who experience grief, trauma, depression, or deal with other mental health issues.
View this post on Instagram
Signs of toxic positivity
Everyone is different, so toxic positivity may take different forms from person to person. However, there are some particularly common things associated with toxic positivity. Here are a few of them:
Dismissing negative feelings and thoughts
Hiding personal feelings
Getting irritated by people who are in a bad mood or share their problems
Shaming others for showing their weaknesses and vulnerabilities
Using phrases like "it could be worse," "just don't think about it," etc.
Feeling guilty for experiencing negative emotions
Toxic positivity examples
An incredibly toxic yet common phrase is "happiness is a choice." People don't choose to be unhappy, and ignoring negative emotions may only stop a person from healing.
Imagine a person who's just lost someone sharing their grief with a friend, and the friend telling them to just "think positively." This way, the grieving person's emotions get invalidated, making them feel misunderstood and isolated.
Similarly, if someone got diagnosed with a dangerous disease or got fired from a great job, telling them to just "be positive" means disregarding their emotions and the seriousness of their problem.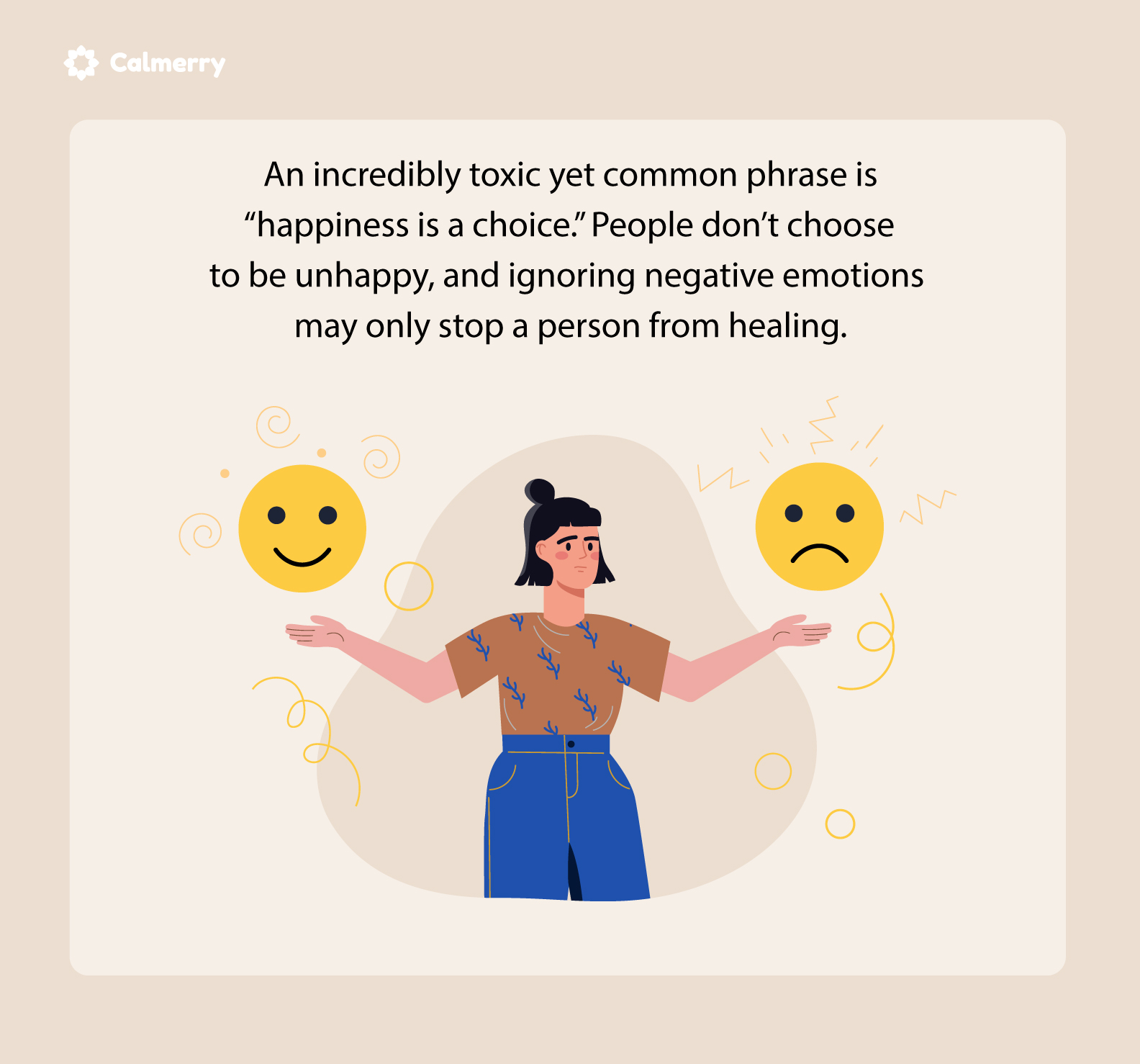 Toxic positivity may also turn into a form of gaslighting. It can be incredibly helpful to look on the bright side of challenging situations, but when taken too far, such a positive spin can become emotionally manipulative and isolating.
People often use toxic positivity to isolate themselves from other people's negative feelings and experiences so they may persuade others that all of their problems are just made up. So it can be an unhealthy coping mechanism when people downplay and invalidate another's emotions as a method of avoiding painful feelings.
Under the guise of optimistic thinking, individuals may attempt to coerce, manipulate, or shame someone into staying positive, even when it relates to deeply painful topics. This could be damaging, as when people believe that their issues aren't serious, exaggerated, shameful, or don't exist altogether, it can prevent them from healing and seeking out the help they need.
They start internalizing the belief that there's something wrong with them if they feel the way they feel.
The impact of toxic positivity of people's mental health
Toxic positivity can deal a lot of emotional damage when used against people who go through hard times. Sharing genuine emotions and showing one's vulnerabilities can be quite difficult by itself. And receiving toxic positivity in response can make a person feel invalidated and dismissed.
When facing a struggle, people feel the need for emotional validation. They need support from others, and toxic positivity makes them feel like their natural feelings are unacceptable, causing shame and guilt.

As an avoidance mechanism, toxic positivity seems to offer an escape from any uncomfortable emotional situation. However, by sticking to toxic positivity, people also apply the same thinking to themselves, denying their own negative emotions and feeling ashamed of them.
Attempting to stay perpetually upbeat and cover up any negative feelings can lead to emotional repression, leaving us feeling disconnected from our authentic selves and unable to process difficult experiences properly. It can also create a cycle of disconnection and isolation when we don't feel understood or supported in our true emotions.
And let's not forget that personal growth is impossible without encountering situations that might make you feel uncomfortable, frustrated, or sad. Without facing and processing your negative emotions, you won't be able to learn from negative experiences.
How to deal with toxic positivity
Perhaps, one of the main problems with toxic positivity is that it kills empathy. By dismissing negative emotions, toxic people devalue and reject other people's feelings. As a result, toxic positivity can lead to abusive relationships, bullying, and shaming.
Sometimes, it can be easy to resort to toxic positivity when you don't know what to say to a person who's struggling with negative emotions. Although some positive phrases might help, it's also important to acknowledge and validate the other person's feelings.
Here are some tips that might help you deal with toxic positivity expressed by other people and overcome it in yourself.
1. Recognize toxic thinking
Toxic positivity is all about oversimplification and generalization. "Choose to be happy," "good vibes only," "just think positively" — all such messages are too simple, and real life isn't. While emphasizing positive emotions can be a good practice, it's important not to dismiss other emotions.
So, don't hesitate to cut a conversation with a person who sends toxic messages, and make sure to avoid such ideas when talking to people who share their pains and worries.
2. Don't ignore your emotions
The first and most important step toward overcoming toxic positivity is acknowledging unpleasant emotions. It can be difficult to face your fears, insecurities, and vulnerabilities. However, by avoiding these things, you won't be able to tackle the problems that cause them and, therefore, grow.
A great way to face your emotions is to talk about them or write them down. According to a study by UCLA, shaping your feelings into words can help reduce the intensity of negative feelings, including pain, anger, and sadness.
Online counseling platforms allow you to talk about your feelings with licensed mental health professionals, giving you an opportunity to better understand your emotions and the causes behind them. Besides, a counselor can suggest effective coping practices that can work for you.
3. Accept other people's emotions
Listen to people who share their feelings with you and don't shame them for their emotions. You can offer careful suggestions or support people with positive words, but don't dismiss their negative emotions. Focus on support and validation over judgment and suggestions.
Subscribe
to our mental health digest
Let us support you on the way to better mental well-being. Get expert tips and insights on mental health delivered to your inbox monthly.
4. Be realistic about your feelings
There's nothing wrong with trying to stay positive no matter what. However, you should also be realistic and accept the fact that it's completely normal to feel upset, afraid, or stressed in certain situations.
Don't expect that you or someone else will stay positive when going through hard times. Instead, think of the fact that negative emotions won't last forever and focus on self-care.
5. Embrace the complexity of emotions
People can be sad yet hopeful, worried yet excited, etc. Emotions can be quite complex, and there's nothing wrong with having mixed emotions about something. The more complex the situation, the more complex the emotions can be.
From toxic optimism to healthy optimism
Toxic positivity is a defensive strategy that doesn't really help anyone. By pretending that there's no place for negativity in our lives, we may only suppress our natural negative feelings, being unable to process them and heal.

Don't hesitate to talk to licensed mental health professionals. An online therapist can help you address your worries and process your emotions in a healthy way. There's no need to avoid unpleasant feelings because, with the right support and self-compassion, you can work through them and become a better version of yourself.
Сheck your mental well-being for free: