Published October 29, 2020 / Updated September 22, 2023
Individual Counseling for Marriage: What You Need to Know Before You Go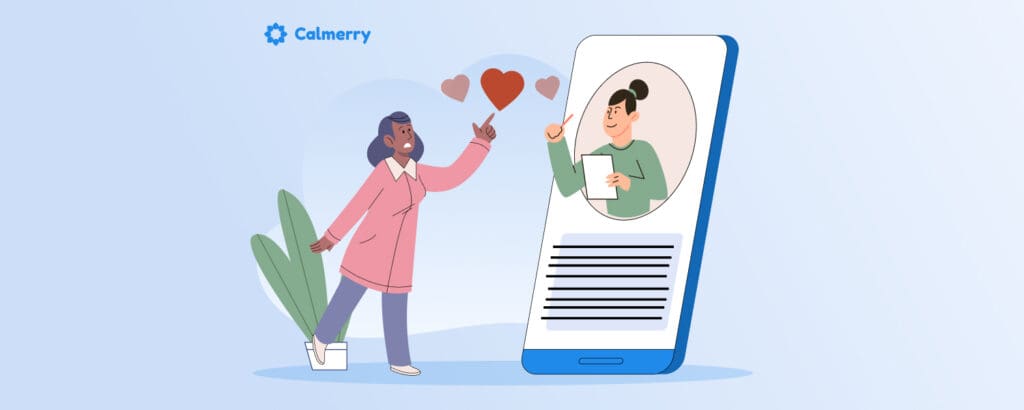 Reading Time:
7
minutes
When you think of marriage counseling, the first thing that probably comes to mind is you and your partner sitting on a sofa, working through your issues with a therapist.
And, for many couples, this is exactly how it goes. However, sometimes, the "couple" part isn't that simple.
You might find out that your partner doesn't want to go. Or there may be relationship issues you want to understand better but don't feel ready to talk about with your partner. Or you've just got a relationship history you just don't understand.
Is there a type of counseling for that? There is!
Wait…relationship counseling without your partner? Is that even a thing? Yes! And, for some, individual marriage counseling can be just the step you need.
Can one person go to marriage counseling?
The short answer is yes, you can.
While traditional marriage/couples counseling models are built around the "couple," having the "couple" present isn't always an option. When that happens, individual counseling for marriage issues can sometimes be a viable alternative.
It may seem counterintuitive to think of only working with one partner, but there is logic behind it. And science, too.
Research suggests that individual counseling for relationship issues can be a viable alternative to traditional couples work when attending together is not an option. [1] Gurman, A. S., & Burton, M. (2014). Individual therapy for couple problems: perspectives and pitfalls. Journal of marital and family therapy, 40(4), 470–483. https://doi.org/10.1111/jmft.12061
Sometimes, working with a therapist individually can help you gain insight into the issues, identify relationship patterns, and find solutions that can also contribute positively to the relationship.
It might surprise you that you can even seek individual marriage counseling even if you're not in a relationship at the moment. Past troubled relationships or growing your relational skills may be a reason to seek help, too.
After all, relationships of all kinds take work and skills!
How does individual marriage counseling work?
When attending individual marriage counseling, you'll be working one-on-one with your therapist to explore your own experiences, feelings, wants, and needs and how they may impact your relationships with others.
Through meaningful dialogue, your therapist will help you explore things like:
Relationship dynamics and patterns
Wants and needs
Concerns
Aspirations
And emotions
The goal of individual marriage counseling is to help you reflect on these factors and make positive choices and changes that can encourage more fulfilling relationships.
Working with a therapist individually can help you gain insight into the issues, identify unhealthy relationship patterns, and find solutions that can also contribute positively to the relationship.
You may even learn ways of improving your relationship with yourself. How we feel about ourselves affects every relationship we have, be it as a friend, a lover, a spouse, or a parent.
Counseling styles and approaches used
Your therapist may gently challenge you or ask you questions. Some therapists use a strategy known as motivational interviewing.
This counseling style is designed to empower you (the client) to find your own motivation for change from within rather than the therapist trying to motivate you. The founder of MI, Dr. Bill Miller, described it as simply a "conversation about change."
There are several other therapeutic approaches a therapist might use in individual marriage/relationship counseling, depending on their training and orientation.
Some of the most popular approaches include: 
Cognitive Behavioral Therapy (CBT) – CBT is one of the most popular evidence-based approaches. CBT focuses on identifying and modifying negative thought patterns and behaviors that can contribute to relationship issues.
Emotionally Focused Therapy (EFT) – EFT is an evidence-based approach grounded in the importance of emotional regulation and connection, focusing on promoting empathy, understanding, and emotional intimacy.
Interpersonal Psychotherapy (IPT) – IPT is an evidence-based approach with the goal of improving the quality of a person's interpersonal relationships and social functioning and reducing distress.
How can marriage counseling for one help?
Each person in a relationship brings their own strengths, needs, experiences, and struggles. Sometimes, those factors can create difficulties in the relationship.
There are times when doing counseling as a couple isn't an option:
One partner can't or won't go
There is an active risk of abuse or violence between partners
There is an active and untreated addiction or mental health issue with one or both partners
Working one-on-one with a relationship specialist can give you a safe space to reconnect with your authentic self and explore your own identity, strengths, values, goals, hopes and dreams, motivations, sexuality, and more.
Some of the many things you might work on include:
Increasing your self-esteem and self-confidence. Addressing issues like limiting perceptions and beliefs that can help you learn self-compassion and build your sense of worth and confidence in yourself and your ability to have a healthy relationship.
Developing insight into unhelpful patterns of thinking and responding that may affect your relationships and ability to make meaningful connections.
Learning to set and maintain clear and healthy boundaries with others.
Learning more effective ways of coping and improving communication skills.
Learning how to communicate assertively and deal with conflicts in healthy, effective ways.
Gaining clarity about your wants, needs, and goals for your relationship.
Acceptance of factors that cannot be changed.
It's important to note that individual counseling for relationship/marriage issues is not a way to "change" or "solve" issues that your partner may bring to the relationship. Your partner is responsible for their own behavior, just as you are responsible for your own.

– Dr. Dawn Ferrara, PsyD, Licensed Professional Counselor (LPC), and mental health writer
When to seek individual marriage counseling?
When to seek out individual counseling for your relationship is very individual.
One of the most common times someone may do so is when they know the relationship is struggling, but their partner won't agree to couples counseling.
Some other reasons to seek individual marriage/relationship counseling might include:
You're looking for an objective perspective or clarity. You may be facing issues in your relationship that you may be unsure about. For example, you and your partner may be discussing the idea of open relationships, or experiencing intimacy issues, or struggling with mental health issues. Sometimes, sorting through your own feelings can help you in working through an issue with your partner.
You have unresolved issues such as grief and loss or past trauma that are affecting your ability to connect with others.
You tend to be a "people pleaser" and have concerns about the problem that codependency patterns are causing in your relationships.
Trusting others is hard due to past experiences. Coping with insecure attachments can make connecting in healthy ways with others difficult.
You're feeling a lack of intimacy and emotional connection, struggling to get your emotional needs met in relationships.
Sometimes, people seek out individual marriage counseling not related to a current relationship but because of a history of relationship struggles.
You may find that your relationships tend to repeat certain patterns that prove to be problematic. Sometimes, exploring how you connect with others reveals underlying or unresolved issues you might not even know.
Working individually with a relationship therapist can help you gain insight and find healthy ways to connect with others.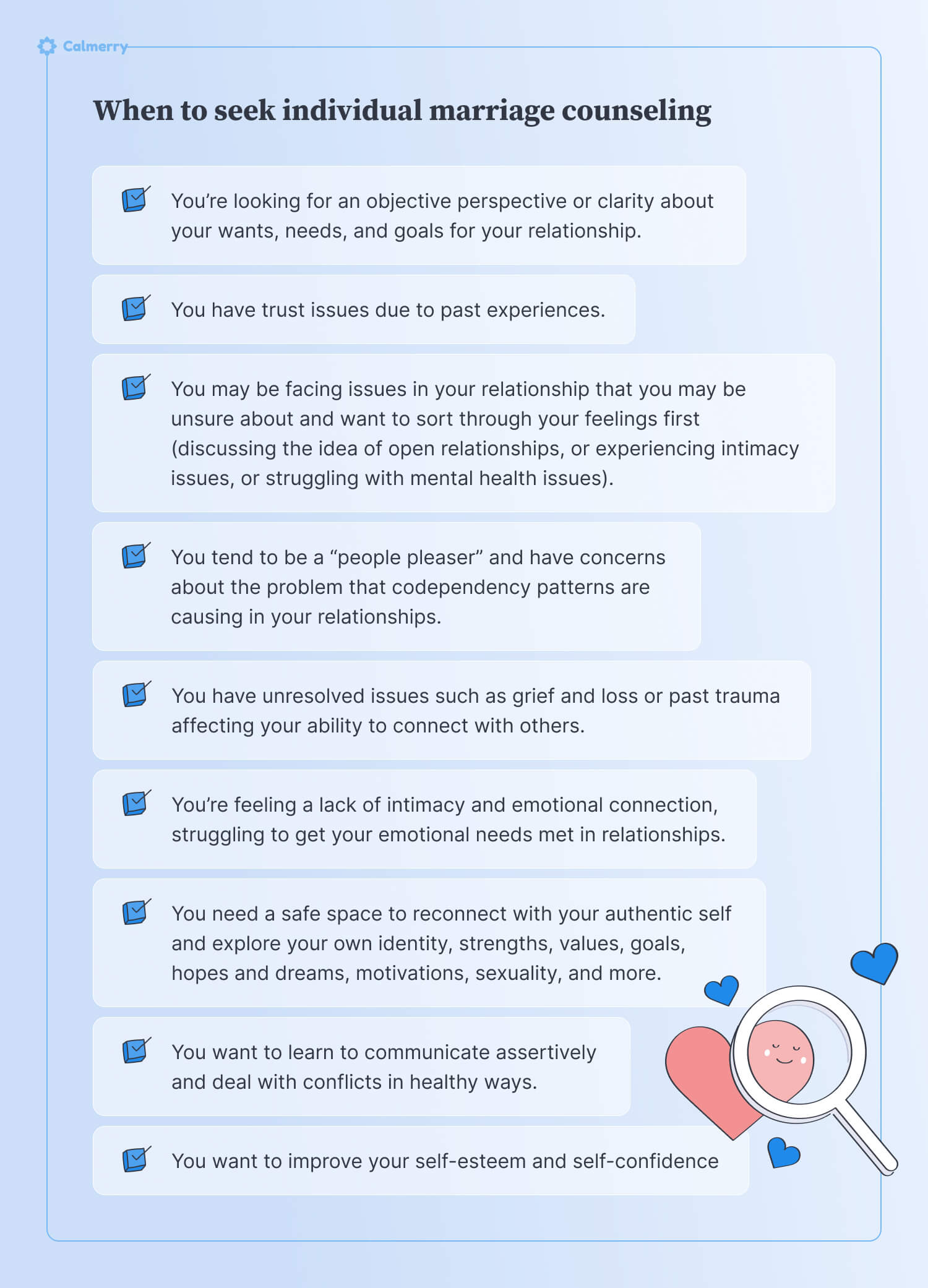 Can a marriage counselor suggest a divorce?
This is a question that people wonder and even worry about when they're considering couples or even individual marriage counseling. The short answer is no.
Contrary to popular belief, a counselor's role is NOT to tell you what to do. This is true no matter what you're seeing a counselor for.
The role of a therapist is to provide a safe, supportive, and non-judgmental space for you to explore your own emotions and experiences and make decisions that are right for you.
The therapist is there to support you in that decision-making process, but any decisions are yours to make.

– Dr. Dawn Ferrara, PsyD, Licensed Professional Counselor (LPC), and mental health writer
Can individual therapy harm a marriage?
As with most things, individual therapy for relationships/marriage is not without risk. [2] Providing Support for Individuals Experiencing Relationship Problems: Tips for Clinicians, Family Members, and Friends. (2017, August 22). https://www.newswise.com/support-for-individuals-experiencing-relationship-problems/ Research suggests that people who engage in individual therapy for couples issues leave their partner at a higher rate than those who engage in couples therapy.
Ideally, couples grow together as they navigate the problems they encounter along the way.
When you're trying to work on relationship issues individually, you're missing out on the input, support, and connection with your partner that you might need to resolve an issue. It makes decision-making harder and can leave you feeling alone in the process.
It can also unbalance the relationship and place it at risk for breakdown. One person healing and growing while the other is not involved in the process can create an asymmetry that the relationship may not survive.
One person is validated and empowered. The other has no idea what's happening. This imbalance can fuel resentment and frustration.
Seeing only one partner can also make it difficult for the therapist to fully understand the relationship's dynamics and how best to help you. Suggestions for interventions or strategies can only consider one side of the problem (yours) and may not be a good fit in practice.
The bottom line here is that ideally, couples work together, but sometimes, that just doesn't happen. Individual counseling for marriage can, in some situations, be helpful, but it is important to be mindful of its limitations and risks, too.
What to look for in a marriage therapist
If you're considering individual counseling, you want to choose your therapist carefully. [2] Providing Support for Individuals Experiencing Relationship Problems: Tips for Clinicians, Family Members, and Friends. (2017, August 22). https://www.newswise.com/support-for-individuals-experiencing-relationship-problems/
Choose a therapist who is well-trained in marriage/relationship counseling and understands the dynamics of approaching relationship work individually. Ask about their experience with this approach.
Look for a therapist who can align with your goals for counseling, not against your partner. Focus on your goals and not on your partner's flaws. The therapist's role is not to make judgments about your partner.
Ask your therapist to help you understand the issues from your partner's possible perspective.
Look for a therapist who encourages you to focus on your own goals and take responsibility for your own issues and decisions.
Get matched with your marriage counselor on Calmerry
At Calmerry, we have licensed therapists trained and experienced in providing marriage and relationship counseling using evidence-based approaches. We make finding your counselor easy, too.
Online therapy brings your therapist to you at a time and place most convenient for you. No need to schedule and wait for an appointment. No need to take time off work or drive halfway across town.
Also, online therapy has proven to be as effective as traditional in-office therapy for a variety of issues and needs. When you're ready, we're here.
Please note: currently, at Calmerry, we offer only individual therapy and counseling services.
How to help your marriage without counseling
If you're not quite ready to take the next step with counseling, are there things you can do to help your marriage? There are.
Here are a few self-help tips for working through relationship issues:
Practice active listening and problem-solving
Take time to listen to what your partner is trying to communicate and see their perspective too. Validate each other's feelings. Break problems down and look for common ground. Look for win-win situations.
Find time for relationship building
It's easy to get emotionally disconnected when things are rough. Look for ways to reconnect and spend time together. A date night, a fin activity, or even some alone time together can help to rekindle feelings of connection and emotional intimacy.
Celebrate "we".
Use I-statements
Using "I" instead of "you" is a powerful way to share your feelings without your partner feeling attacked.
For example, try "I feel sad when…" instead of "You never…!!!" Communicating this way makes the other person feel safe to share, too.
Take time out
They're not just for kids! It's okay to take a moment to cool off and collect your thoughts before something hurtful is said.
One great tip is to have a code word that means "I need a minute." That way, your partner knows you're not just walking away, and you're coming back to continue the conversation.
Show them you care
Let your partner know that you appreciate them. Take time to do those little extra-loving things that send the powerful message that they are loved and appreciated.
A sweet note in their bag. Making their coffee in the morning. A kiss or hug. It doesn't have to be a grand gesture, just a sincere one.
If you find yourself still struggling, consider seeking professional help. Sometimes, it's hard to see the problems because they are so emotionally laden.
A trained counselor can help you sort it out and decide the best next steps for you and your partner. At Calmerry, our counselors are here to help you find your way to healing. 
We curate our articles with warmth and care, drawing from reputable sources and expert knowledge. Explore our editorial process to understand how we prioritize your trust and keep accuracy in every word we share.
Gurman, A. S., & Burton, M. (2014). Individual therapy for couple problems: perspectives and pitfalls. Journal of marital and family therapy, 40(4), 470–483. https://doi.org/10.1111/jmft.12061

Providing Support for Individuals Experiencing Relationship Problems: Tips for Clinicians, Family Members, and Friends. (2017, August 22). https://www.newswise.com/support-for-individuals-experiencing-relationship-problems/

Knaevelsrud, C., & Maercker, A. (2007). Internet-based treatment for PTSD reduces distress and facilitates the development of a strong therapeutic alliance: a randomized controlled clinical trial. BMC psychiatry, 7, 13. https://doi.org/10.1186/1471-244X-7-13
Сheck your mental well-being for free: