Published September 20, 2023
Integrative Therapy: How It Works, Examples, and When It's Used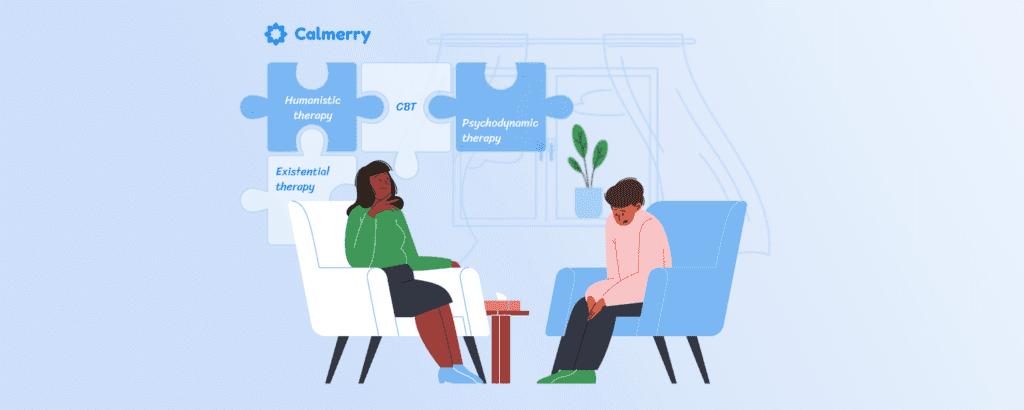 Reading Time:
5
minutes
In the field of psychology and mental health counseling, there are a variety of different therapeutic methods used.
In some cases, a therapist specializes in one or two specific methods. In other cases, the clinician uses interventions from a variety of approaches to tailor services to a client's unique needs.
The integrative approach combines different methods to treat a client in a way that best addresses their individual needs.
What is integrative therapy?
Integrative psychotherapy combines approaches [1] Integrative therapy. (n.d.). https://www.apa.org. https://www.apa.org/pubs/videos/4310902?tab=1 from different therapeutic styles to treat each client in a way that aligns with their unique situation and needs.
Within psychology, there are many different schools of thought, each with its own approach to conducting therapy. Rather than using techniques from just one psychological school of thought, integrative therapy combines methods from multiple different theories.
Within the realm of integrative therapy services, there is a wide variety of different approaches:
Some integrative psychotherapists use effective methods from various schools of thought and combine them in their practice.
Others might simply use common therapeutic factors – effective ingredients seen in most forms of therapy.
Still, others may have a preferred approach they most often use while integrating effective components of other approaches as needed.
What is common to all methods within the integrative approach to therapy is the inherent flexibility.
Rather than rigidly adhering to one therapeutic model, the integrative therapist flexibly incorporates strategies from various approaches or is open to altering their usual approaches to meet a client's needs.
What can integrative therapy help with?
The specific uses of integrative therapy depend upon the types of methods being used. Some integrative therapy methods may be used to treat anxiety, whereas others – for different mental and emotional health problems.
According to research [2] Zarbo, C., Tasca, G. A., Cattafi, F., & Compare, A. (2016). Integrative Psychotherapy Works. Frontiers in psychology, 6, 2021. https://doi.org/10.3389/fpsyg.2015.02021 , common integrative therapy approaches are useful for treating the following conditions:
Depression, including postpartum depression
Generalized anxiety
Personality disorders
Dissociative identity disorder
Integrative approaches may be used for conditions and situations beyond those listed above. For instance, they may be beneficial for improving self-esteem, helping clients manage relationship problems, or developing coping skills for life stressors.
Types of integrative therapy and approaches used
Integrative therapists can draw methods from a variety of different therapeutic approaches. Some of the most common types of therapy incorporated into integrative approaches are discussed in more detail below.
CBT
Cognitive-behavioral therapy (CBT) is often considered the "gold standard" of psychotherapy and is commonly used in integrative approaches.
CBT helps people change irrational or negative thinking patterns so that emotions and behaviors become more positive and beneficial for functioning.
Integrative psychotherapists may draw a variety of techniques from CBT in their work with clients.
Humanistic therapy
Humanistic therapy, at its core, is accepting of various approaches to psychotherapy. As such, humanistic therapists often welcome other perspectives in their work.
The humanistic approach [3] Treatment, C. F. S. A. (1999). Chapter 6 –Brief Humanistic and Existential Therapies. Brief Interventions and Brief Therapies for Substance Abuse – NCBI Bookshelf. https://www.ncbi.nlm.nih.gov/books/NBK64939/ operates according to the belief that certain factors are essential for healing, such as:
Empathy toward the client
Respect for the client's culture
And building a collaborative relationship between client and therapist
Existential therapy
Existential therapy, which focuses on helping people to discover their purpose or the meaning of life, is also among the integrative approaches. [4] Schneider, K. J. (2016). Existential-integrative therapy: Foundational implications for integrative practice. Journal of Psychotherapy Integration, 26(1), 49–55. https://doi.org/10.1037/a0039632
Existential therapists focus on "big picture" issues, such as helping clients to overcome anxiety related to their life purpose.
Interpersonal therapy
Also included in the integrative approaches is interpersonal therapy, which treats psychological problems in an interpersonal context by helping people address issues like relationship problems, grief, or lack of social support. [5] Newman, M. G., Castonguay, L. G., Borkovec, T. D., Fisher, A. J., & Nordberg, S. S. (2008). An open trial of integrative therapy for generalized anxiety disorder. Psychotherapy: Theory, Research, Practice, Training, 45(2), 135–147. https://doi.org/10.1037/0033-3204.45.2.135
Psychoanalytic therapy
Psychoanalytic approaches help clients to get to the root of mental and emotional health problems by bringing unconscious thoughts and feelings to awareness. [6] Psychoanalysis. (n.d.). https://www.apa.org. https://www.apa.org/ed/graduate/specialize/psychoanalysis
They may help clients explore how unresolved childhood issues or conflict from past relationships is causing problems in the present.
Keep in mind that these different approaches are not the only methods used in integrative therapy. But they are perhaps some of the most common therapeutic modalities.
Techniques
The techniques used in integrative therapy services will vary based on the specific therapeutic orientations. But there are some common techniques that a therapist may employ when using integrative methods.
These are described in more detail below.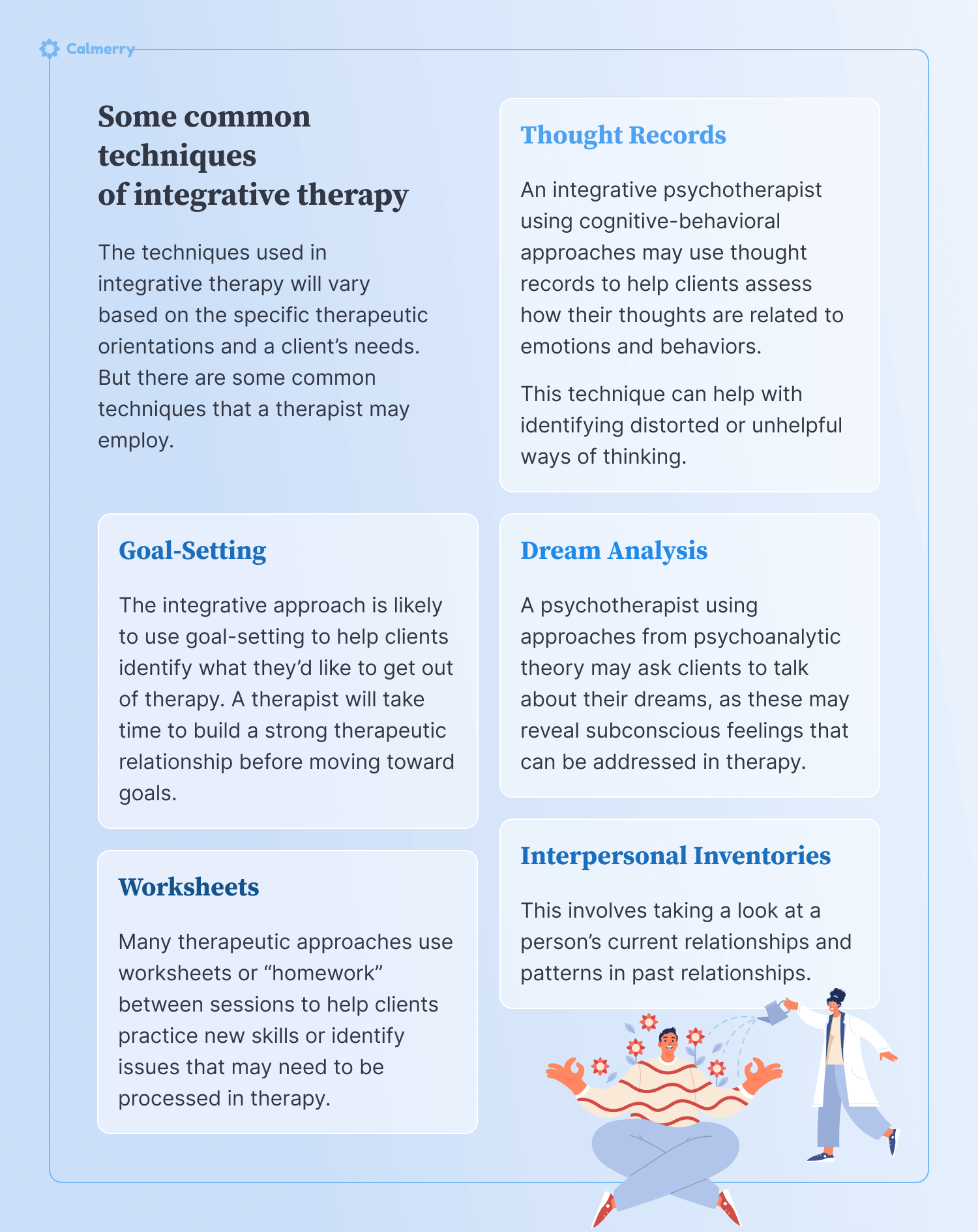 Thought Records
An integrative psychotherapist using cognitive-behavioral approaches may use thought records to help clients assess how their thoughts are related to emotions and behaviors.
This technique can help with identifying distorted or unhelpful ways of thinking.
Dream Analysis
A psychotherapist using approaches from psychoanalytic theory may ask clients to talk about their dreams, as these may reveal subconscious feelings that can be addressed in therapy. [6] Psychoanalysis. (n.d.). https://www.apa.org. https://www.apa.org/ed/graduate/specialize/psychoanalysis
Goal-Setting
The integrative approach is likely to use goal-setting to help clients identify what they'd like to get out of therapy. A therapist operating from the humanistic perspective is especially likely to use collaborative goal setting and to take time to build a strong therapeutic relationship before moving toward goals.
Interpersonal Inventories
An integrative psychotherapist using approaches from interpersonal therapy may take an interpersonal inventory. This involves taking a look at a person's current relationships and patterns in past relationships. [7] Markowitz, J. C., & Weissman, M. M. (2004). Interpersonal psychotherapy: principles and applications. World psychiatry : official journal of the World Psychiatric Association (WPA), 3(3), 136–139. https://www.ncbi.nlm.nih.gov/pmc/articles/PMC1414693/
Worksheets
Many therapeutic approaches use worksheets or "homework" between sessions to help clients practice new skills or identify issues that may need to be processed in therapy.
Integrative psychotherapists may use techniques beyond those discussed here. The specific techniques used will depend upon what works best for a given client or problem.
What is the difference between integrative and eclectic therapy?
Sometimes people use the terms "integrative" and eclectic therapy interchangeably, but there are differences between these two approaches.
With eclectic therapy, a clinician uses multiple different theoretical orientations in their work. For instance, the therapist may have a practice of incorporating methods from both CBT and psychoanalysis into their services.
While an integrative psychotherapist may use multiple different therapy methods, they are also likely to use various different approaches to relationship building.
Truly integrative therapy creates a unique therapy experience for each client, tailored specifically to their needs. [1] Integrative therapy. (n.d.). https://www.apa.org. https://www.apa.org/pubs/videos/4310902?tab=1
What are the advantages and disadvantages of integrative therapy?
As with any approach to treatment, integrative therapy comes with both strengths and limitations.
Advantages
The flexibility that is inherent in integrative therapy comes with numerous benefits, including:
Services that meet a client's unique needs
Adaptability for treating a variety of mental health conditions and life challenges
Focus on the relationship or "therapeutic alliance" between client and therapist
Ability to increase the effectiveness of therapy by incorporating multiple different strategies
Disadvantages
While integrative therapy can be effective, it isn't always the best approach for every client. Some people may not prefer this method.
Some potential drawbacks of integrative therapy include:
Some clinicians may argue that an integrative therapist using multiple methods is not an expert in any single treatment modality.
Some clients may prefer a specific treatment modality, such as cognitive-behavioral therapy (CBT), without incorporating other methods.
This modality may not always be appropriate for addressing serious mental health disorders, such as bipolar disorder or schizophrenia. These conditions may require more regimented or intensive treatments.
How effective is integrative therapy?
The overall effectiveness of integrative therapy depends upon the specific methods used and the mental or emotional health problem being treated with the integrative approach.
Some mental health conditions, such as anxiety or depression, may be better suited for the integrated approach than others. [2] Zarbo, C., Tasca, G. A., Cattafi, F., & Compare, A. (2016). Integrative Psychotherapy Works. Frontiers in psychology, 6, 2021. https://doi.org/10.3389/fpsyg.2015.02021
The research shows that integrative methods can be beneficial. They can offer an advantage over single-approach methods, which cannot possibly be beneficial for every patient or set of problems. [2] Zarbo, C., Tasca, G. A., Cattafi, F., & Compare, A. (2016). Integrative Psychotherapy Works. Frontiers in psychology, 6, 2021. https://doi.org/10.3389/fpsyg.2015.02021
The benefit of integrative psychotherapy is that it allows for multiple research-based methods rather than limiting a therapist to just one set of tools.
What to look for in an integrative therapist
If you're looking for a therapist who offers integrative services, it's important to select one with competence in the area in which you're seeking treatment. For example, if you're struggling with anxiety, your therapist should have training or experience treating this condition.
Your therapist should also treat you with respect, listen to your concerns, and make you feel comfortable. It's essential to find a therapist who is a good fit for your personality and needs. They should also be open to discussing their specific methods with you so that you understand what to expect during the therapy process.
Finally, an integrative therapist should be licensed to offer mental health services. Clinical social workers, professional counselors, and psychologists often have the competence to offer this form of therapy.
At Calmerry, we employ licensed therapists and counselors who have experience and training in integrative approaches. If this approach to therapy seems like a good fit for you, visit our webpage to learn more about our services or get started with online therapy.
We curate our articles with warmth and care, drawing from reputable sources and expert knowledge. Explore our editorial process to understand how we prioritize your trust and keep accuracy in every word we share.
Сheck your mental well-being for free: