What Is Gentle Parenting, and How to Practice It Without Losing Discipline?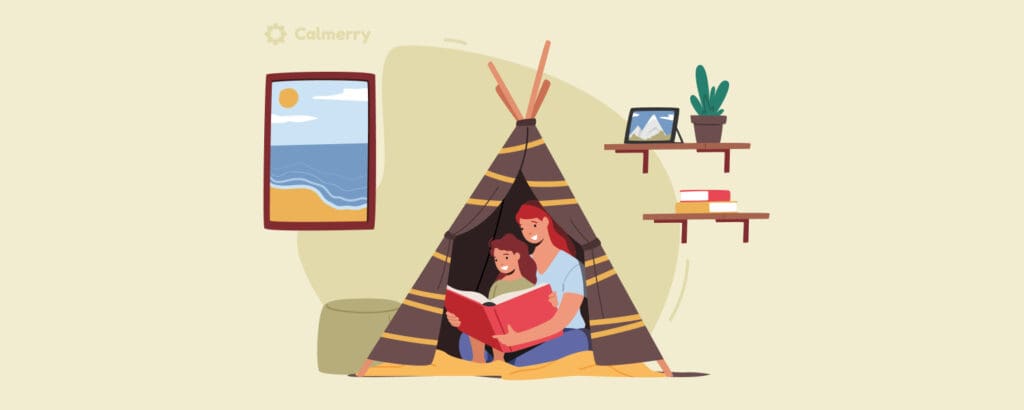 Reading Time:
5
minutes
There's a continuous debate about what parenting style is the best method for raising happy, confident kids who will grow up to be capable members of society. There's no single answer to this question. Parenting styles that work for one family might not work for another, and chances are, you'll (consciously or unconsciously) incorporate several different parenting styles as you get to know what strategies work for your family.
One method that has been rapidly growing in popularity over the last few years, thanks to TikTok and other social media, is called gentle parenting. It's a parenting philosophy that is structured around empathetic responses, gives a child choices instead of commands, and doesn't involve any type of punishment administered to the child.
But does gentle parenting actually work? Is it the right method for everyone? Here is a closer look at this parenting approach. Read on to find out what sets gentle parenting apart from other more traditional styles of parenting and how it could positively impact your child's future.
What is gentle parenting?
Gentle parenting, also called respectful parenting, is an approach that centers the child's emotions and encourages a supportive partnership between a parent and child that helps kids make choices based on an internal willingness instead of external pressures and rules. It's a fairly new approach to parenting.
A British author Sarah Ockwell-Smith who has written 13 parenting and childcare books centered around the "gentle" philosophy, is generally regarded as the founder of the gentle parenting movement. Sara Ockwell-Smith isn't a pediatrician or a neuroscientist; however, she holds an honors degree in Psychology and is a parent of four children of her own. Her book "The Gentle Parenting Book" was published in 2016, and since then, this trend has gained more popularity.
Gentle parenting focuses largely on age-appropriate development, and its goal is to raise confident, independent and happy children. This parenting philosophy is built on 4 basic pillars: empathy, respect, understanding, and healthy boundaries and focuses on improving a child's self-awareness and understanding of their own behavior.
Traditional parenting methods, such as authoritarian and authoritative parenting styles, emphasize consequences and focus on punishment and reward to lead a child to change their behavior or attitude. Gentle parenting focuses on respecting and validating the child's feelings and desires instead of scolding them for having any.
Gentle parenting focuses on acknowledging a child's feelings and the motivations behind challenging behavior instead of correcting the behavior itself. Gentle parents stick to firm boundaries, give children choices instead of orders, and don't use rewards, punishments, and threats.
The idea of gentle parenting is about being more like a coach for your kid and teaching them rather than punishing them for their behavior. This method involves guiding your child towards independence to an emotional level. You invite your child to explore their emotions, and consistently model accepting your child's experience. This way, you can teach your children how to manage their feelings.
For example, a gentle parent won't impulsively try to stop a frustrated child from crying. Instead of yelling and screaming, they'll take a pause and try to help their kid understand what is happening. They will remain calm to show empathy and respect for how the child is feeling.
A gentle parent will help their child identify their feelings, for example, by telling them, "You look angry and frustrated, and I can understand why you might feel that way. Let's sit here together and take some deep breaths."
This way, you can give your child a chance to safely experience their negative emotions, process their own behavior, and hold themselves accountable. Remaining calm, you also give your child a chance to recognize how you respond to conflict and give them a chance to evaluate their behavior and turn it around.
What about discipline?
There's a common misconception that gentle parenting means no discipline, but that's not true. Unlike the permissive parenting style, where children are generally allowed to do as they like with few limits, the gentle parenting method doesn't lack discipline. Gentle parents set healthy boundaries and expectations for their children, while also trying to understand their child's feelings.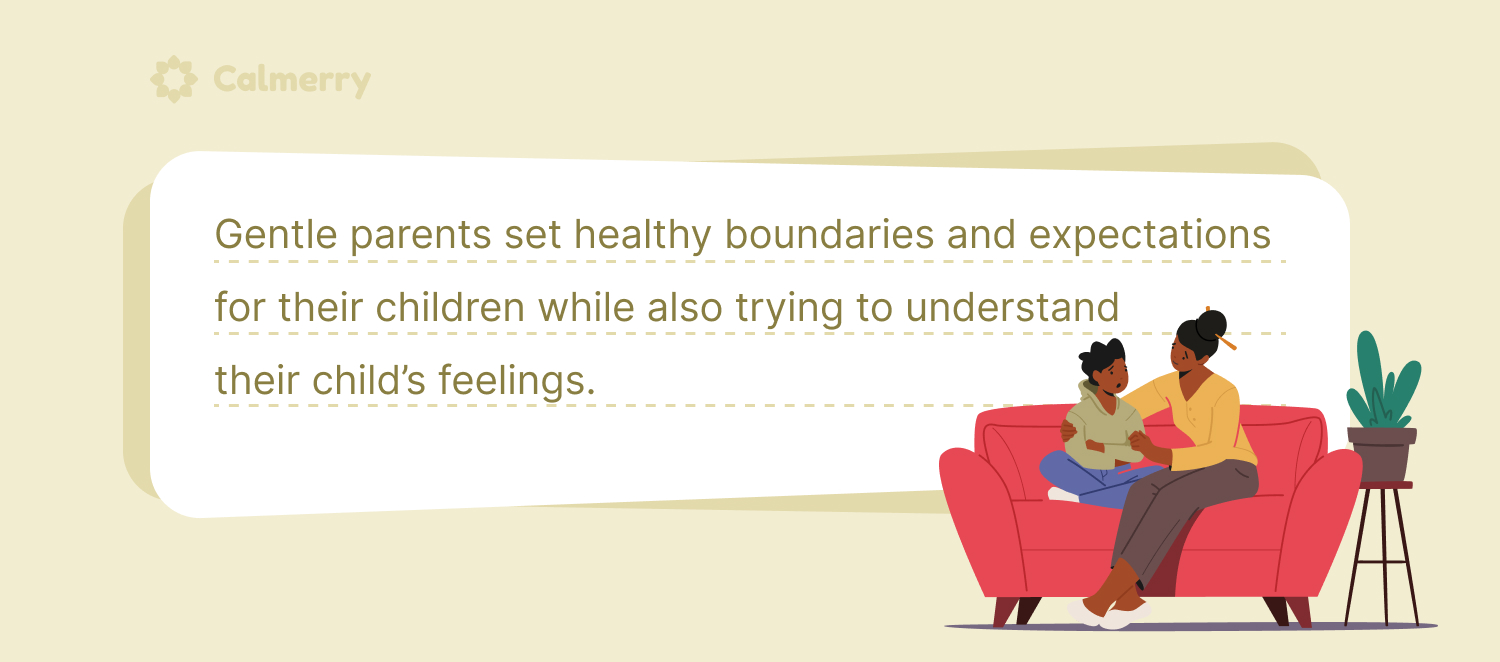 In gentle parenting, discipline is collaborative and focuses on teaching children how to behave, communicate, and regulate their emotions. Kids are never left out of control. Gentle parents set boundaries and limits and consistently enforce them through collaborative discussion and natural consequences. The children are taught discipline through consequences directly related to their misbehavior so they can understand what they did was wrong.
Gentle parents also say no to stop unsafe and hurtful behavior, such as running on the road or touching the hot plate. But parents are more flexible, and they are more mindful of the child's needs, so they negotiate limits where possible.
What are the benefits of gentle parenting?
When implemented consistently, gentle parenting can be a very promising parenting strategy. Proponents of this style of parenting believe that it offers opportunities to address a child as a whole, capable being and to foster empathy and respect.
Gentle parents model their own behavior around their child based on what they expect to see from them. Kids learn a lot by imitating their parents, and if you interact with your child gently, you help them develop empathy, respect, and understanding and lay the foundation of your child's future positive social skills.
If you remain calm and gentle, especially during stressful times, you model frustration tolerance, flexibility, and resilience. This way, you help your child develop strong emotion regulation skills and set the tone for their positive growth and development.
What are the problems with gentle parenting?
Gentle parenting involves a lot of self-discipline. Because this style focuses on self-awareness and the ability to be proactive rather than reactive, it can be challenging for parents. You, as a parent, are expected to be patient and be able to model the ideal methods of emotional regulation, effective communication, and conflict resolution.
These are the skills that many parents are still learning. As a result, many parents are experiencing guilt when they find they weren't "as gentle as they'd like". Moreover, some parents may feel unequipped to deal with some behavior, for example, tantrums, and stay calm in the face of chaos, so they get stressed out.
Gentle parenting is also time-consuming. It takes more time and dedication because you need to invest your time and effort in validating your child's feelings, setting healthy boundaries, and making consequences that are logical to a specific situation. You also need to be responsive to the situation and your child without being permissive and don't let your child set the rules.
How do you know if gentle parenting is right for you?
Gentle parenting is all about treating your child with respect and empathy and making sure your expectations are age-appropriate and realistic. This parenting strategy can positively impact your child's mental health, and it could also have lasting, long-term effects on your relationship with kids.
Subscribe
to our mental health digest
Let us support you on the way to better mental well-being. Get expert tips and insights on mental health delivered to your inbox monthly.
But this approach isn't for everyone. If you were raised with more traditional, authoritative styles, one of your big struggles with gentle parenting will be to unlearn these generational parenting approaches. Don't expect that you will be successful right away with this parenting style and don't expect to be a "perfect" gentle parent. It'll take time and patience to embrace this parenting philosophy and to reap the benefits for you and your children.
In fact, parenting is hard no matter what style or approach you follow. You'll need to be mindful and aware of who you are as a parent and take time to self-reflect on what kind of parent you want to be. Take your time to recognize your own needs and feelings and understand that each child is unique. Such an approach can improve your relationship with your kids and help you feel confident in the way you're raising them.
And remember that being a gentle parent also means being gentle with yourself. Such an approach can improve your relationship with your kids and help you feel confident in the way you're raising them, so it's important to take care of yourself first. By taking care of your own needs, you'll be able to better take care of the needs of others. If you're overwhelmed with stress, it may be important for you to work with a therapist who can help you find healthy coping strategies. If you're too busy to attend traditional face-to-face therapy sessions, online therapy on Calmerry can be a good option to consider.
Сheck your mental well-being for free: