Feel calm with couples therapy
A couple has to make lots of effort to build a healthy, long-lasting relationship and make everything work. Sometimes, fights and misunderstandings undermine the relationship and make the spark between two people disappear. Don't let it happen! At Calmerry, we have a wide range of specialists who are ready to provide couples therapy and save your relationship from breaking apart.
Human-centered therapist matching process
Affordable way to achieve a balanced life
Licensed therapists you can trust
This is a specific type of psychotherapy when a specialist works with partners (or one of them) to solve their interpersonal issues, address disagreements, and helps them change toxic behavior patterns to a healthier way to communicate and behave.
If you are struggling in your relationship, then this is a great solution that might help you get a deeper insight into your romantic life and work through issues. A professional with experience in couples therapy will apply all the variety of effective therapy techniques, methods, approaches, and other relevant knowledge to help you improve your relationship. Couples therapy will be appropriate for those who have not just fights or misunderstandings but for those who have sexual problems, trust issues, and plenty of other challenges.
Couples therapy techniques are pretty effective in overcoming a crisis period in your life and get back on track of a relationship filled with understanding, trust, respect, and harmony. After the first session, a therapist will come up with an effective treatment plan to boost your progress.
How Does Couples Counseling Work?
Everything is pretty simple and straightforward. The first thing to do is to create your personal account where you will get access to all the website functions and features. After you complete the registration form and give us your basic contact details, you can move on to the next step. You have to fill in a brief questionnaire that is very important. Describe problems you have encountered as a couple and indicate your preferences for a counselor you want to work with. We will assign a matching professional based on your answers so take your time before submitting it.
Answer a short survey to get started. Be confident when sharing your thoughts and worries.

Choose a suitable subscription plan
Get a quote based on your answers, compare the offered plans and pick the one that's best for you.
Talk to a therapist online
Сommunicate with your online therapist through messages, worksheets, and live video sessions.
Make the most of online therapy
Follow your long-term therapy objectives and short-term goals, use guidelines, and track progress.
After you choose the suitable pricing plan and complete the payment, we will select a therapist within 24 hours. You will have an initial couples therapy session to get acquainted and to tell more about your issues. After this, you can schedule text, phone, video sessions to share all your thoughts and feelings with a therapist who will provide effective emotional guidance.
Here, at Calmerry, we offer top-notch psychological services, including couples therapy, to guide our clients towards a healthier and more fulfilling life. Check out the main reasons you should consider us.
Our experienced team will connect you with the best online therapist suited to your unique needs.
All therapists are background-checked, verified, trained and hold valid licenses from their state.
Get access to a unique therapy space where you can set up goals and track your progress in real time.
Our friendly support agents are available 24/7 to help you and give accurate answers to your questions.
Select the subscription plan that best suits your needs and budget. Plans start at just $53.
If a new issue arises during therapy, we'll match you with another therapist without charging you anything.
Basic Facts About Couples Counseling
Getting couples therapy might help you save the relationship and even take it to a whole new level. Disagreements are something that all couples experience, and instead of breaking up, it's important to seek professional therapy, guidance, and support.
At Calmerry, we have many qualified and experienced counselors who can assist you on your way towards a happier relationship. We understand that each situation is unique, so we will select a counselor who will be the best specialist to work with your specific issues. Whether you want to smooth your separation, work on relationship issues, improve your marriage, Calmerry is here to help through effective therapy.
Keep in mind that the process of having online sessions is extremely simple and safe. You can have text and phone sessions as well as video calls via an innovative video conferencing program with the highest resolution. It will be perfect for those who want to make digital meetings more individualized and more personal. The website is compliant with HIPAA, so there is nothing to worry about, and you can hurry up to try out couples therapy.
Message your therapist whenever you need it. Receive responses daily. From just $53 a week.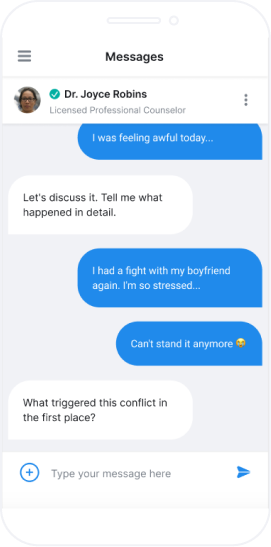 Add Video Sessions to you package to make a deep dive into therapy. From just $90 a week.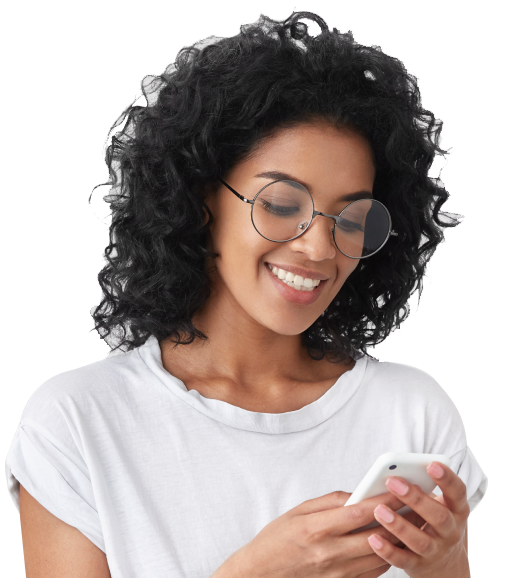 "
Thank you for such quality couples therapy services! Video and text sessions with a counselor really helped us. I was satisfied as there was no need to leave my house to get a talk with a professional. You saved our relationship and took it to a whole new level.
Amanda
September, 2020
"
We went through the couple counseling with my partner and felt some positive improvements in our relationship. I am grateful to the counselor we spent a few months with. All efforts are now giving great results. We found a better understanding of each other, I became more patient and tolerant, so it's possible to say that the therapy was effective not just for us as a couple but for me as an individual.
Courtney
September, 2020
"
I like Calmerry because of the pricing and conditions! It's much cheaper than other therapy platforms and apps.
David
August, 2020
"
It was a great challenge for me to find a therapist who is right for my needs, but I succeeded. Our first session was more like Q&A but maybe such a path helped me find my counselor.
Allison
September, 2020
"
We had a rough period in our relationships, and I didn't even believe it would work out after couples therapy sessions. Luckily for us, our therapist was a great professional, and he helped us find the main causes of our constant fights. Now, we do so much better, and I do my best not to repeat my old mistakes. I had plenty of valuable lessons and tips that I implemented in our romantic life. Want to recommend this therapy platform to every couple.
Billy
September, 2020
Check out answers to the most commonly asked questions that we hear from our customers.
How a Couples Therapist Is Selected?
While getting started with the service, you will be asked to fill in a brief survey that includes questions regarding your preferences for a specialist you want to work with. The main advice is to give your honest answers, as based on it, a qualified therapist that matches your requirements will be assigned.
What Is the Best Therapy to Save Marriage?
Couples therapy and relationship counseling might have strong positive effects on married couples and even talk spouses out from a divorce. A therapist will apply all their skills and knowledge to dig deeper into your behavior patterns and find out undesired ways of communication and attitude, so you can learn to avoid these mistakes in the future. Couples therapy will help you minimize conflicts, improve your communication, and strengthen the relationship.
What Are the Chances to Improve Relationships with Couple Counseling?
Chances to improve relationships with couples therapy are pretty high. 79% of all couples we collaborated with have left with happier and healthier relationships. For some couples, it was already impossible to reconcile, but a therapist helped them to make the separation process less painful and minimize the feeling of resentment partners might have.
Can Both Partners to Work With the Same Therapist?
It's completely up to you. You and your partner can work with two different therapists as well as to have sessions with the same one. If you opt for sessions with one therapist, you will be able to achieve progress faster as a professional will be aware of the overall situation in your relationship from both sides. It will enable an expert to provide a fresh and effective solution to your particular problems.
If you and your partner have encountered serious challenges in your relationship, then couple counseling might be the right solution. Our qualified specialists are always here to support you and provide all the emotional guidance here, so you can fully rely on us. Call us right now to learn more about the service and start with couples therapy to see some tangible results shortly.
For more information, please visit our FAQ
Advice For Good Mental Health
Find advice and support from mental health professionals for common problems. Learn about self-help strategies that can help improve your mental well-being. Tips for good mental health from Calmerry.
Personality tests have been offered for decades, and on the internet, you can access a few decent quizzes at any time. These tests are quite important as they will allow you to self-reflect. After completing these tests, you will know yourself as a unique individual...
Start your therapy journey today
88% found Calmerry to be as effective or more effective than traditional therapy.
95% found it to be more convenient than traditional therapy.