Feel Calm With Grief Counseling
Grief is a very overwhelming feeling. If you feel that you cannot handle it on your own, then grief counseling is the right solution that will help you find the way out and live a happy and fulfilling life all over again. It is a safe place to talk about your feelings and get your peace of mind back.
Human-centered therapist matching process
Affordable way to achieve a balanced life
Licensed therapists you can trust
What Is Online Grief Counseling?
Grief counseling is a special form of psychotherapy applied when a person goes through a grieving process. Talking to a friend or a family member doesn't always help. So getting professional help is recommended to speed up the healing process. Every person grieves at their own pace, and it's quite natural. Our licensed therapists will find the most personalized approach to consider all your personal needs and come up with an effective treatment plan that will be unique.
It is certainly a challenging period in your life. You might feel numb, worried, depressed, anxious, angry, and all these feelings negatively affect your personal and professional life. Carrying this burden on your own won't make the situation any better. A licensed specialist will discuss with you all thoughts and feelings to show you the right way to move forward. It's time for you to move on with your life. So, grief counseling at Calmerry will help you change your life and improve your well-being.
How Does the Process of Grief Counseling Online Work?
Grieving issues might seriously affect your emotional state. Therefore getting counseling is a perfect solution to opt for. To feel some positive improvements and start healing, you should create a personal account to have counseling sessions with a licensed therapist. The registration process will take up a few minutes. Just provide us with some basic contact details to sign up.
Then you will be asked to complete a brief survey where you have to tell more about your problems and your requirements for a specialist you want to connect with. Try to be honest while answering as, based on this questionnaire, the right counselor will be assigned. Before it happens, you need to get familiar with pricing plan options and the service range offered for each plan. Choose the one that you like the most and make a subscription payment.
Answer a short survey to get started. Be confident when sharing your thoughts and worries.

Choose a suitable subscription plan
Get a quote based on your answers, compare the offered plans and pick the one that's best for you.
Talk to a therapist online
Сommunicate with your online therapist through messages, worksheets, and live video sessions.
Make the most of online therapy
Follow your long-term therapy objectives and short-term goals, use guidelines, and track progress.
During the first 24 hours, a therapist will be assigned so you can schedule sessions and discuss your grief problems. You can communicate via instant text messages and video counseling sessions to make the process more personalized and similar to a face-to-face meeting. By connecting with a therapist regularly, you will be able to achieve tangible results.
What Are the Advantages of Grief Counseling?
Online grief counseling has plenty of advantages in comparison with in-person counseling at the office. Check out what makes us stand out among other services.
Our experienced team will connect you with the best online therapist suited to your unique needs.
All therapists are background-checked, verified, trained and hold valid licenses from their state.
Get access to a unique therapy space where you can set up goals and track your progress in real time.
Our friendly support agents are available 24/7 to help you and give accurate answers to your questions.
Select the subscription plan that best suits your needs and budget. Plans start at just $53.
If a new issue arises during therapy, we'll match you with another therapist without charging you anything.
Grief Therapy and Professional Support
If you feel that no one can support you during this period of complete desperation and don't know how to move on with your life, professional support at Calmerry will be the most appropriate solution.
Feeling stuck in grief can be challenging, and getting out might require plenty of time and effort. When experiencing a loss, everyone needs some time to grieve. But if you have not felt good and emotionally stable for a long time, counseling is needed. Our fully-licensed experts will help you find your zeal and motivation to move forward and start enjoying your life all over again.
Online grief counseling will give you all the support and emotional guidance needed. We have only qualified counselors on board who have hands-on experience working with grief. They possess all skills and knowledge of effective methods and techniques to let this inner pain go. You can always talk to a seasoned therapist who is always here to support you at any time. An online counseling session with an expert is only a few clicks away so that you can feel better.
Message your therapist whenever you need it. Receive responses daily. From just $53 a week.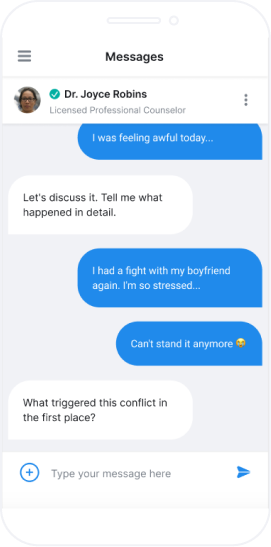 Add Video Sessions to you package to make a deep dive into therapy. From just $90 a week.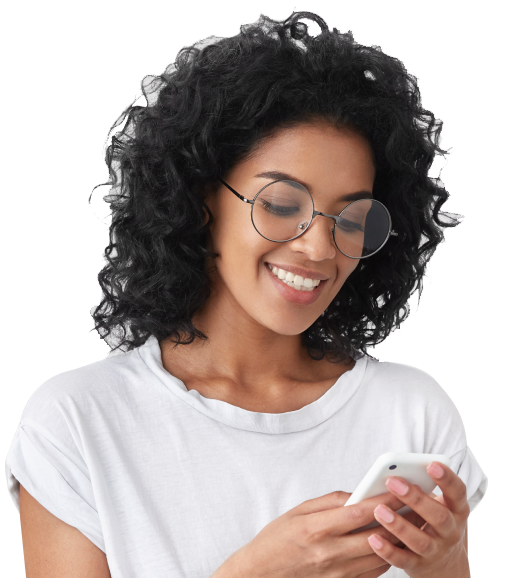 "
"I am very grateful for such quality and professional grief counseling. It's not that easy to cope with such hard times on your own, and I am happy to have sessions that let me heal emotionally."
Nina
August, 2020
"
"This online grief counseling platform saved my life. After I lost an important person, I was in a really dark place. A specialist at Calmerry helped me to ease my emotional pain, find a way to channel my negative emotions, and now I feel so much better. Thank you!"
Alex
September, 2020
"
"Online sessions were as effective as face-to-face sessions, and it's more comfortable for me. I switched to online counseling a few months ago as I didn't have time to attend regular sessions. It is a perfect and modern solution that is also significantly cheaper."
Justin
September, 2020
"
"It was hard to pretend that everything was alright. However, I felt awful. Thankfully, I came across this website and tried a few sessions that really helped. I'm planning to keep using the service and would love to recommend it to all people who struggle emotionally."
Mattew
September, 2020
"
"I am new to grief counseling, but I must say it's pretty effective. I already feel some tangible changes and will keep having sessions."
Olivia
September, 2020
Brief Q&A Regarding Grief Counseling
Here are the most popular questions our clients ask us about grief counseling. We have prepared concise answers to give you a better understanding of the process.
How to Decide You Need Grief Counseling?
Grief counseling is needed for every person who experienced the loss of a close person. Grieving is an integral part of an emotional defense mechanism that helps us cope with this loss. Although it's quite normal, it will be recommended to get help during this challenging time as you will be able to get qualified support and emotional guidance to overcome this period more easily.
Are Grief Support Groups and Forums Effective?
Grief support groups and forums might be an additional source of support that you need during the healing process. However, professional counseling is the first thing that will help you relieve your emotional struggles and achieve progress faster. A qualified therapist has all the experience to cope with grieving clients, so you should try it out first.
What You Will Talk About with a Grief Counselor?
Grief counseling sessions are aimed to relieve your emotional pain and struggles. Our website is a safe space to share your thoughts, feelings, and emotions. Feel free to discuss everything you want with a therapist. Feel free to share everything that bothers you to feel better.
What Does Grief Counseling Online Look Like?
You should create a personal account at first and then schedule sessions with a counselor assigned. During a session, it's important to be frank about your emotions so that a therapist can come up with an effective approach and treatment plan to make you feel better.
Is Grief Counseling Effective Enough?
A therapist will evaluate a client's overall condition and decide whether an additional technique is needed to achieve tangible results faster. Generally, grief counseling helps clients feel better in just a few sessions.
How to Get Started with Grief Therapist Assigned?
You will have an introductory session so you can get acquainted and discuss a problem you have encountered. Then, you will schedule sessions according to your needs.
For more information, please visit our FAQ
Advice For Good Mental Health
Find advice and support from mental health professionals for common problems. Learn about self-help strategies that can help improve your mental well-being. Tips for good mental health from Calmerry.
Even when we clearly understand that we need to see a counselor, we might postpone this decision simply because we don't know what's going to happen during the session. Moreover, prior to coming to the session, we need to find a therapist that would fit our...
While grieving is a natural emotional reaction and works as a part of a psychological defense mechanism, it can severely affect your daily life. There is no need to cope with this burning feeling on your own since you can always rely on us. Call us now, and we will tell you more about the services to get started with grief counseling today.
Start your therapy journey today
88% found Calmerry to be as effective or more effective than traditional therapy.
95% found it to be more convenient than traditional therapy.