Published November 21, 2023
ADHD Accommodations at Work: What Every Employer Should Know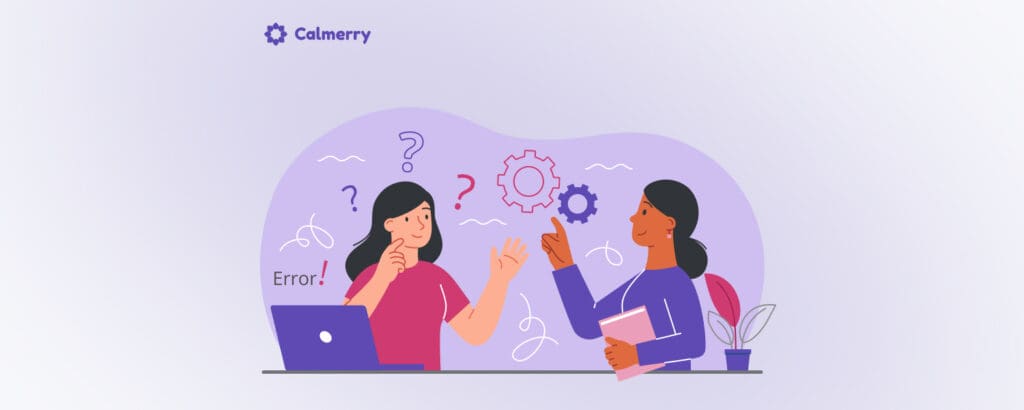 Reading Time:
3
minutes
In today's workplaces, where diversity is a common topic, understanding and implementing ADHD accommodations is crucial for fostering an inclusive environment to support the well-being and productivity of all employees.
ADHD, which affects millions of adults, requires thoughtful considerations from employers to ensure their workforce can thrive. [1] Song, P., Zha, M., Yang, Q., Zhang, Y., Li, X., & Rudan, I. (2021). The prevalence of adult attention-deficit hyperactivity disorder: A global systematic review and meta-analysis. Journal of Global Health, 11. https://doi.org/10.7189/jogh.11.04009
Potential challenges faced by employees with ADHD
Employees with ADHD encounter unique challenges in the workplace. Some examples include:
Difficulties with focus
Time management
Organization
Distraction sensitivity
Making impulsive and quick decisions
Hyperfocus on unrelated tasks
Heightened stress responses to workplace challenges
Increased fatigue
Awareness of these challenges is the first step in creating an accommodating and supportive work environment.

– Teliesha Moore, Behavior Therapist, Child & Teen Neurodiversity Educator
What are reasonable accommodations for ADHD?
Reasonable accommodations for ADHD can vary, but often include adjustments to workspace environments, flexible scheduling, or providing tools that aid concentration and organization.
These accommodations, tailored to individual needs, will empower employees to perform at their best. [2] Lauder, K., McDowall, A., & Tenenbaum, H. R. (2022). A systematic review of interventions to support adults with ADHD at work—Implications from the paucity of context-specific research for theory and practice. Frontiers in Psychology, 13. https://doi.org/10.3389/fpsyg.2022.893469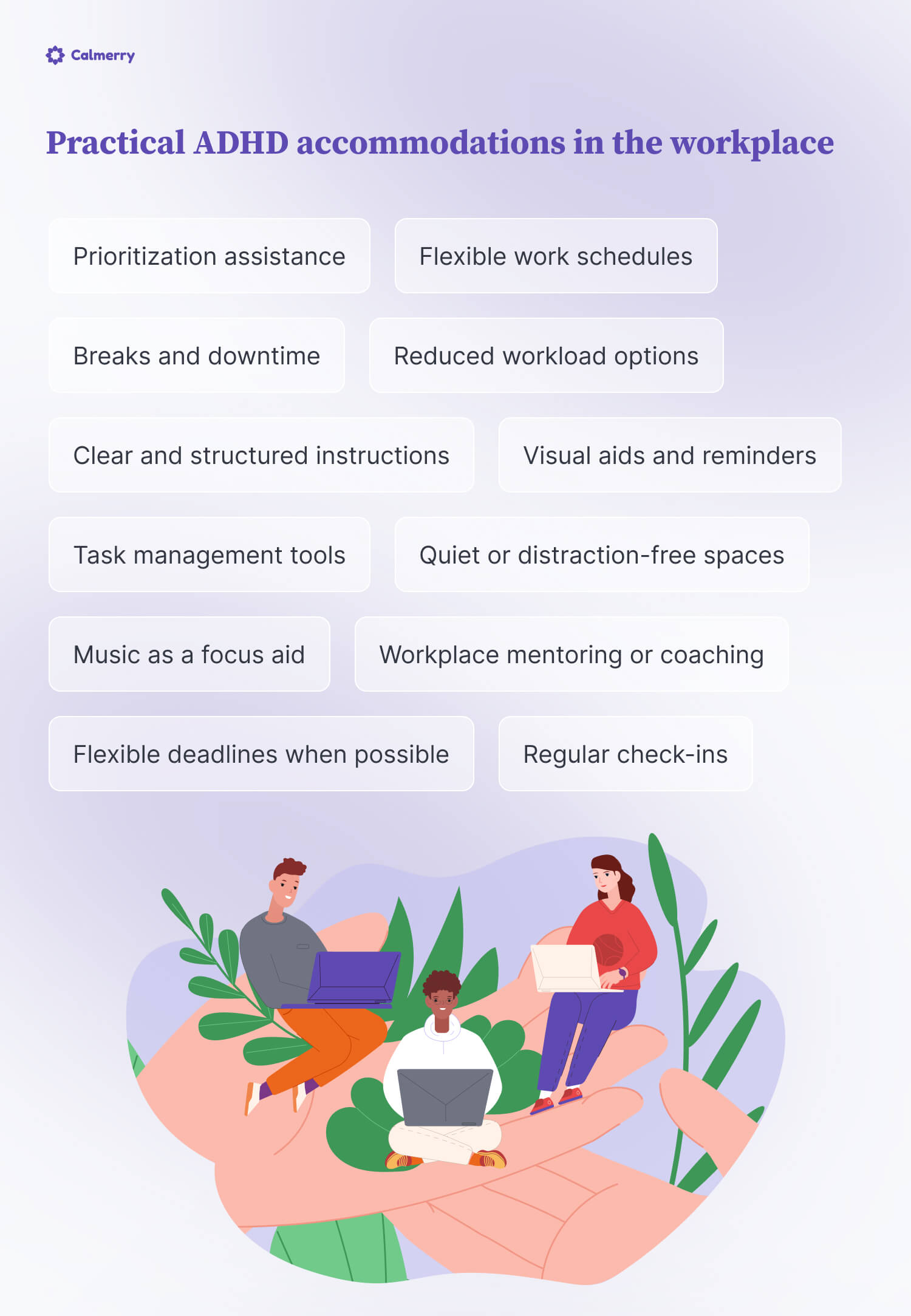 Practical ADHD accommodations in the workplace
Flexible work schedules – allowing flexibility in work hours or remote work options can empower employees to structure their day in a way that best suits their focus patterns.
Quiet or distraction-free spaces – providing designated areas where employees can work without distractions can significantly enhance productivity.
Task management tools – introducing tools and technologies to assist with task organization and time management can benefit employees with ADHD.
Music as a focus aid – allowing employees the option to use headphones or play music at their desk can be beneficial. Some individuals with ADHD find concentration in sounds like rain, ASMR, or similar soothing tones, aiding their workplace productivity.
Regular check-ins – establishing regular check-ins between employees and managers provides a forum to discuss progress, challenges, and potential adjustments to accommodation strategies.
Clear and structured instructions – providing clear, concise, and structured instructions for tasks can help employees with ADHD understand expectations and manage their workload more effectively.
Prioritization assistance – assisting in prioritizing tasks can be beneficial, as individuals with ADHD may struggle to determine which tasks are most urgent or important.
Visual aids and reminders – using visual aids like charts, color-coded systems, and posted reminders can help in maintaining focus and remembering important deadlines or meetings.
Breaks and downtime – encouraging regular breaks can help employees with ADHD recharge and return to their tasks with improved focus. This might include short walks, relaxation areas, or simple physical activities.
Workplace mentoring or coaching – providing access to a mentor or coach who can offer guidance and support in navigating workplace challenges can be beneficial.
Flexible deadlines when possible – offering flexibility with deadlines, when feasible, allows employees with ADHD to work at their own pace, reducing stress and improving quality of work.
Reduced workload options – in some cases, a reduced or part-time workload can be an effective accommodation, allowing employees to maintain a balance that supports their productivity.
Provide support to mental health services
Mental health challenges, if unaddressed, can lead to decreased performance, higher absenteeism, and lower job satisfaction. By investing in mental health resources, companies can demonstrate a commitment to their employees' overall health and inclusion.
At Calmerry, we recognize the importance of mental health in the workplace. Our B2B mental health services, with access to trained professionals through Calmerry, offer employees individual support in therapy, counseling, and coaching tailored to their needs.
Let's connect
Book a 30-min demo call with us to learn more about our B2B offering and how Calmerry can help take the pressure off your team through flexible, customizable, and holistic therapy.
See a live demonstration of how platform works
Have an overview of our flexible payment models
Get a tailored offer based on your company needs and number of employees
The legal aspect: ADHD discrimination in the workplace
It's essential for employers to be aware of legal considerations surrounding ADHD in the workplace. Discrimination based on ADHD is prohibited, so understanding these legal aspects is crucial to maintaining a fair and inclusive work environment. [3] Ferrera, T. (2023, August 2). Employers' rights and responsibilities regarding ADHD. ADDA – Attention Deficit Disorder Association. https://add.org/adhd-employer-rights-and-responsibilities/
How to ask for ADHD accommodations at work
Open communication is key! Encouraging employees to discuss their ADHD-related needs openly and collaboratively enables employers to implement effective accommodations. 

– Teliesha Moore, Behavior Therapist, Child & Teen Neurodiversity Educator
Creating a culture of understanding and support benefits both employer and employee.
Before approaching your employer, assess your specific needs and how ADHD affects your work. Identify the accommodations that would be most helpful for you. To deepen your understanding of ADHD symptoms, consider exploring our blog on How to Know if You Have ADHD.
Research your company's policies and procedures related to accommodations and disability support. This will help you understand the process and your rights.
Request a private meeting with your supervisor or HR department to discuss your accommodation needs. Be clear about the purpose of the meeting.
Come prepared with information about ADHD, how it affects you personally, and the accommodations you believe would help. You can also bring documentation from a healthcare provider if needed.
During the meeting, openly and honestly share your experiences with ADHD and its impact on your work. Use "I"-statements to express your needs and challenges.
If an agreement is reached, ensure it's documented in writing. This can include the specific accommodations, timelines, and any other relevant details.
By embracing ADHD accommodations, employers contribute to a workplace where individuals of all abilities can thrive, fostering a culture of inclusivity and well-being. A win for all involved.
We curate our articles with warmth and care, drawing from reputable sources and expert knowledge. Explore our editorial process to understand how we prioritize your trust and keep accuracy in every word we share.
Song, P., Zha, M., Yang, Q., Zhang, Y., Li, X., & Rudan, I. (2021). The prevalence of adult attention-deficit hyperactivity disorder: A global systematic review and meta-analysis. Journal of Global Health, 11. https://doi.org/10.7189/jogh.11.04009

Lauder, K., McDowall, A., & Tenenbaum, H. R. (2022). A systematic review of interventions to support adults with ADHD at work—Implications from the paucity of context-specific research for theory and practice. Frontiers in Psychology, 13. https://doi.org/10.3389/fpsyg.2022.893469
Сheck your mental well-being for free: