Mental health care tailored to your needs
Take a step toward your mental well-being with our trusted online therapy platform, enhanced with a digital toolbox.
Journaling and mood tracking tools
A comprehensive therapy plan
How your therapy journey with Calmerry will look
Let us get to know you
After you register on our platform, we'll ask you to complete a brief survey to evaluate the state of your mental well-being. It will help our team match you with the therapist that fits you best. Usually it takes less than 1 hour.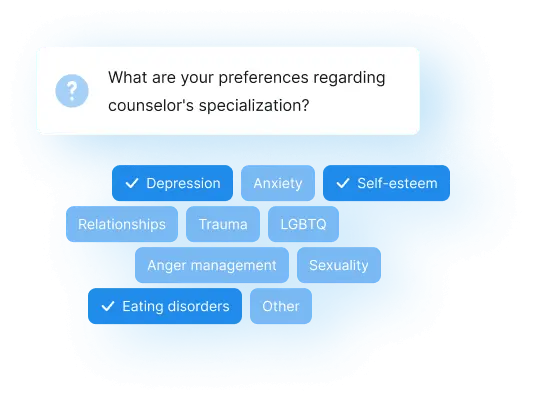 Set goals with your therapist
When we identify the right therapist, we'll invite you to connect with them in a secure messaging space. You can start a conversation right away, and your therapist will answer within a business day. Together, you'll fill in your Therapy Plan.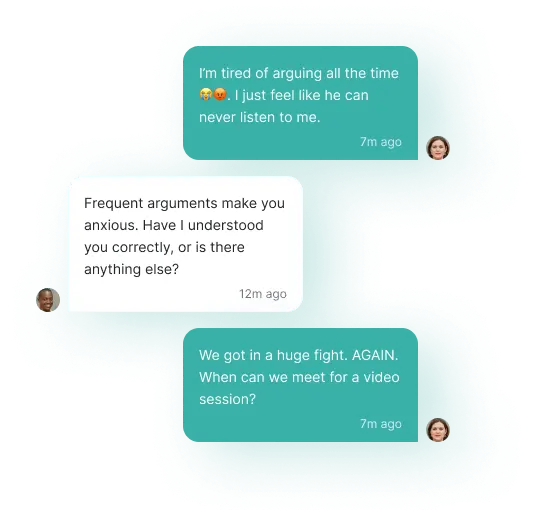 Get measurable therapy outcomes
Once your goals are set, you'll start working with your therapist toward achieving them. Also, you'll have access to free mood tracking and journaling tools to keep track of your improvement. It usually takes 15-20 sessions to see progress with a condition.
Start with a free assessment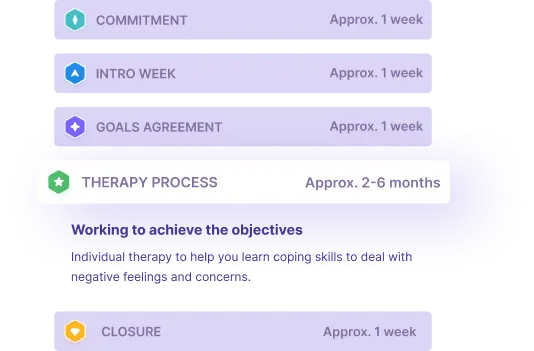 Start with a free assessment
What you get when you start online therapy at Calmerry
Professional mental health care at your fingertips
Calmerry is the most convenient way to get help when you need it. Once we match you with a therapist, you'll always have someone to share your thoughts and feelings with — in a few clicks, in a secure messaging space.
All the benefits of therapy enhanced with digital features
Besides online therapy, which is proven to be as efficient as in-office therapy, you get a mental health toolbox with useful tips, educational materials, and features for developing your mental skills.
A human-centered therapist matching process
We collect as much data as we need to ensure that you'll work with a therapist who's expert in your particular issue. If you don't connect well, we'll offer free therapist switching so that you get the most out of your therapy.
A therapy format that fits your schedule
No matter how busy your day is and whether or not you have a private space, you deserve to get support from someone who cares. Communicate with your therapist via either text or video and make consistent progress toward your mental well-being.
Text therapy
price for the first month billed monthly
Video therapy
price for the first month billed monthly
Join thousands of clients who are achieving their goals with Calmerry
0%
of clients are satisfied with the therapists we provided them
0%
of clients admit feeling positive change after starting therapy
See why clients choose Calmerry
Meet our mental health professionals
We're proud to present our fully licensed and vetted, experienced mental health professionals to support you on your way to coping with:
We have therapists who speak your language! Our team will help you get matched with them to meet your needs.

Diamond Thaxton
LMHC
3 years in practice
Verified license

Megan Pollock
PhD
6 years in practice
Verified license

Liese Zilberleyt
LICSW
6 years in practice
Verified license

Cecelia Salamone
MA, LPC
25 years in practice
Verified license

Dora Cario
LCSW
4 years in practice
Verified license

Jennifer Leos
MA, LPC
15 years in practice
Verified license
and 100+ licensed and vetted mental health professionals