Published November 24, 2021 / Updated March 23, 2023
Supporting Kids' Mental Health During COVID-19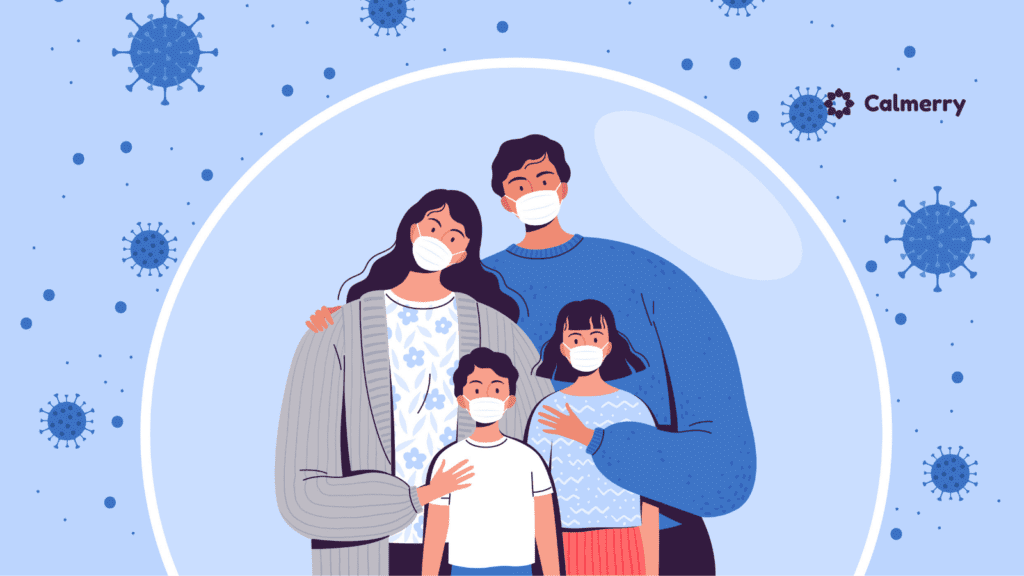 Reading Time:
6
minutes
Just like adults, children have been affected by the COVID-19 pandemic. Child mental health has been affected by school closures, separation from friends and feelings of isolation, and in some cases increased stress or pressure from being locked down at home.
As we begin to emerge from COVID-19, some aspects of life are returning to normal, while other situations may remain permanently changed post-pandemic. If you have noticed a change in your kid's mental health during COVID, in this article, you will find helpful tips to understand and support your child as they learn to navigate life after lockdown.
Children and mental health
The periods of childhood and adolescence can be complicated. A time of exploration and discovery of oneself, childhood can also be a time of emotional upset. Moving house, parental separation, bullying, grief, and concerns about sexuality can all form part of a typical childhood.
However, in some children, these events can become a factor in the development of anxiety, depression, and other mental health issues. Adding a global pandemic to the common but often difficult childhood rites of passage may have been a catalyst for increasing rates of poor mental health in young people.
Worsening mental health during the pandemic
For some parents and children, the COVID-19 pandemic added immeasurable pressure. Although of all age groups, children had the lowest risk of death from the virus, their mental health during COVID-19 was certainly under threat.
A study in the UK highlighted that even before the pandemic, the mental health of children had been declining. When the coronavirus started spreading, some families were plunged into a vicious cycle of adversity, including financial difficulty and struggling to cope with the pressure of homeschooling in lockdown. The study showed that children who were socioeconomically deprived demonstrated consistently worse mental health.
Before the pandemic, it was understood that the triggers for poor mental health in children included academic stress, isolation, tense relationships with parents, financial difficulty and problems or arguments occurring via social media. The pandemic and resultant lockdowns could therefore act as a strong trigger for a decline in mental health.
The same study reported there was a moderate increase in depressive symptoms in teenagers globally during the pandemic. Furthermore, those who were living under lockdown restrictions were likely to have a worse outcome. Child mental health in younger children has also been affected, with increased behavioral problems and worsening mental health reported for those aged 4 to 11.
Improved mental health during pandemic
In contrast to some findings, it is reassuring to note that some children thrived during the pandemic. Between 25% and 41% of children in English schools reported feeling happier following the period of lockdown, and around 25% said that the lockdown had made their life better. Some children may have enjoyed time away from the routine of school, or enjoyed the easing or relief from social pressures.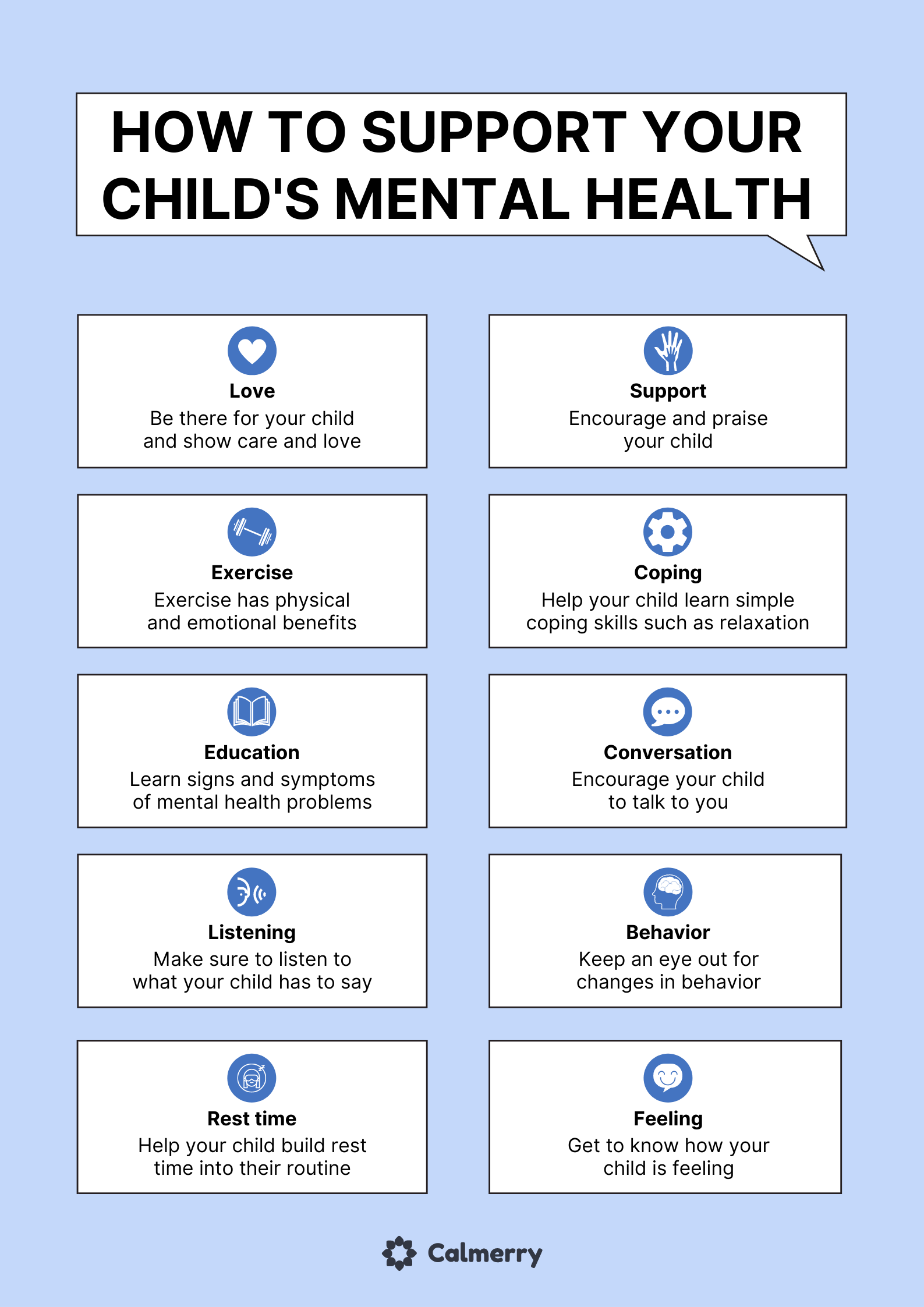 Long-term effects of COVID-19
Whether your child has been negatively affected by the pandemic or has welcomed the relief from normality, most people's lives after COVID-19 are likely to be altered as a result of the virus. Mask-wearing, social distancing, increased health screening, and enforced isolation may be new necessities that we will all have to learn to live with.
For those who lost friends or relatives to the coronavirus, the pandemic may also be associated with great sadness, grief or feelings of despair.
Identifying mental health concerns
Although COVID-19 and mental health may be closely linked, in some children and teenagers, it may be less obvious that their mental health has been affected by the pandemic.
In some children, mental health issues during COVID-19 might be obvious, but in others, the changes can be more subtle. Depending on the age of your child, you will need to keep an eye out for different signs of stress or upset.
Preschoolers and young children:
Regressing with potty training or bed wetting after previously being dry at night
Separation anxiety or fear of going outside
Aggression, intense tantrums, or other behavioral concerns
Poor sleep, including unusual night-time waking
Digestive upset, stomach pains, or food refusal.
Older children and teenagers
In older children and teens, concerns about the effect of COVID-19 and mental health may vary greatly from child to child but could include:
Loss of interest in personal relationships, such as no longer texting friends or not wanting to spend time with family
Changes in appetite, eating patterns, or weight
Loss of interest in hobbies or activities that were previously loved
Sleep disturbances
Fall in academic effort or attainment
Mood changes, including irritability, low mood, rage, or feelings of hopelessness
Poor concentration or new memory problems
Neglect of personal hygiene
Turning to alcohol or drugs or engaging in other reckless behaviors
Talking about or engaging in self-harm
Mentioning thoughts of suicide.
Supporting altered child mental health
There are many ways you can support your kid's mental health following the coronavirus.
If your child's behavior has changed, or you have concerns about anxiety, low mood, or distress, check in with your child to see if they are able or willing to tell you how they are feeling. If they cannot express their feelings at first, let them know that you are always there for them to talk when they feel ready. Knowing that they have your support regardless of their behavior or mental health can be critical to a child feeling able to express themselves.
Talk about lockdown
Many adults and children experienced an extended period of lockdown. Being confined to the house for most of every day will have a profound effect, whether positive or negative, on children worldwide.
After spending so much time with siblings or parents, some children may have felt anxious about returning to school or spending time with friends away from home. Shopping malls may now seem crowded or noisy, and some children will develop health anxiety or be more away from cleanliness or the need to sanitize hands regularly. Simple activities like visiting the grocery store may now feel riskier.
Children may worry about inadvertently transmitting coronavirus to a vulnerable or elderly relative. Talk as openly as you can with your child, as the source of their worries may not be obvious.
Don't shy away from grief
In the USA, over 140,000 children aged 18 or younger lost a parent or grandparent who was their primary caregiver. The authors of this study said that as part of the USA's emergency response to coronavirus, addressing the loss that children have experienced must be a top priority.
Ensure you give a child time and space to talk about or express their loss. Activities such as reading together, drawing, watching a movie, or going for a walk can give children the space they need to talk about how they feel. Having support from an adult may be all that a child requires to begin feeling better.
Children who have lost a parent or caregiver may benefit from accessing a specialist counselor or therapist. Accessing support from a professional could be vital to supporting a child's mental health at an incredibly traumatic time.
Speak to school
If your child has been negatively affected by the pandemic, you don't have to manage alone. Speak to your child's teacher or the school counselor to arrange additional support, whether formal or informal. Ask for advice on coping strategies for you and your child. A teacher may be well placed to offer tailored advice depending on your child's personality, symptoms, and the issues they are facing.
Seek specialist advice
None of us has experienced a pandemic before, and as a parent, you may feel out of your depth in supporting your child whilst simultaneously managing your own complex emotions.
Specialist counselors and therapists are available to assist children and teenagers who have experienced mental health issues during COVID-19. Getting the correct support for your child now could help them to manage difficult emotions or anxiety before their mental health has a chance to worsen.
Get emergency support
If your child requires an urgent mental health assessment, speak to your family doctor, pediatrician, or mental health service immediately. A severely low mood, self-harm, and thoughts of suicide all require specialist medical or psychiatric input.
Subscribe
to our mental health digest
Let us support you on the way to better mental well-being. Get expert tips and insights on mental health delivered to your inbox monthly.
Final thoughts
Due to the isolating, lonely nature of the pandemic, and the potential for low mood and bereavement, many children will have been negatively affected by the coronavirus.
As a parent or caregiver, it is vital to be aware of the signs that a child might be struggling with their mental health. Give your child the space and time to express their feelings, and ensure their teacher or school is aware of your worries if necessary. You must seek expert advice from a therapist, pediatrician, or mental health specialist if you have serious concerns for a child's wellbeing.
Сheck your mental well-being for free: