Published October 30, 2023
Moving On: The Guide to Surviving the Pain of Infidelity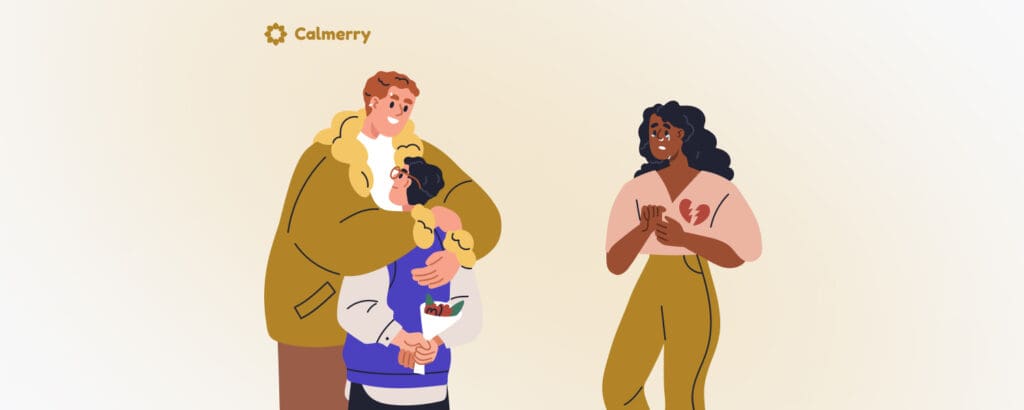 Reading Time:
5
minutes
Infidelity is when an individual in a monogamous romantic relationship violates that monogamy by engaging in a sexual or emotional affair with someone other than their partner.
Yet, because every relationship is different, what constitutes infidelity (also referred to as cheating) depends on agreed-upon expectations within that relationship.
Nonetheless, if infidelity occurs, it can be a painful experience, damaging to both individuals and the relationship. The pain of betrayal is multifaceted, and though the aftermath may be a tumultuous journey, healing is possible.
The multifaceted pain of infidelity
Infidelity in a relationship can cause immense pain. This pain may manifest physically, mentally, or emotionally and impact a person's day-to-day life and overall well-being.
Understanding the scope of this pain can help normalize the experiences of those who have experienced infidelity and provide a guide to beginning to move forward.
Emotional pain
The emotional toll of infidelity can be profound. Feelings of betrayal, anger, sadness, shame, and loss are common. Some describe the experience as a sense of grief.
In the aftermath of infidelity, individuals may notice feelings of inadequacy or a decreased sense of self-worth.
The emotional pain can be long-lasting and affect self-esteem and overall well-being. And while many individuals who have experienced betrayal in their relationship feel these feelings intensely, others feel nothing at all (or numb).
Mental impacts
Relationship infidelity can be traumatic, causing psychological discomfort for the betrayed partner.
Nightmares, ruminating thoughts, and intrusive images about the infidelity are common. The betrayed partner may struggle with anxiety, depression, and even post-traumatic stress disorder (PTSD).
Also, because of the infidelity, there, of course, is a loss of trust within the relationship. Yet for the person who was cheated on, this loss of trust can extend outside the relationship, making it difficult to trust others in general.
Physical symptoms
The stress and emotional upheaval caused by infidelity can manifest physically.
Sleep disturbances, appetite changes, and physical ailments like headaches, gastrointestinal problems, and weakened immune system can occur.
Chronic stress can take a severe toll on the body, making it essential to also address any physical symptoms throughout the healing process.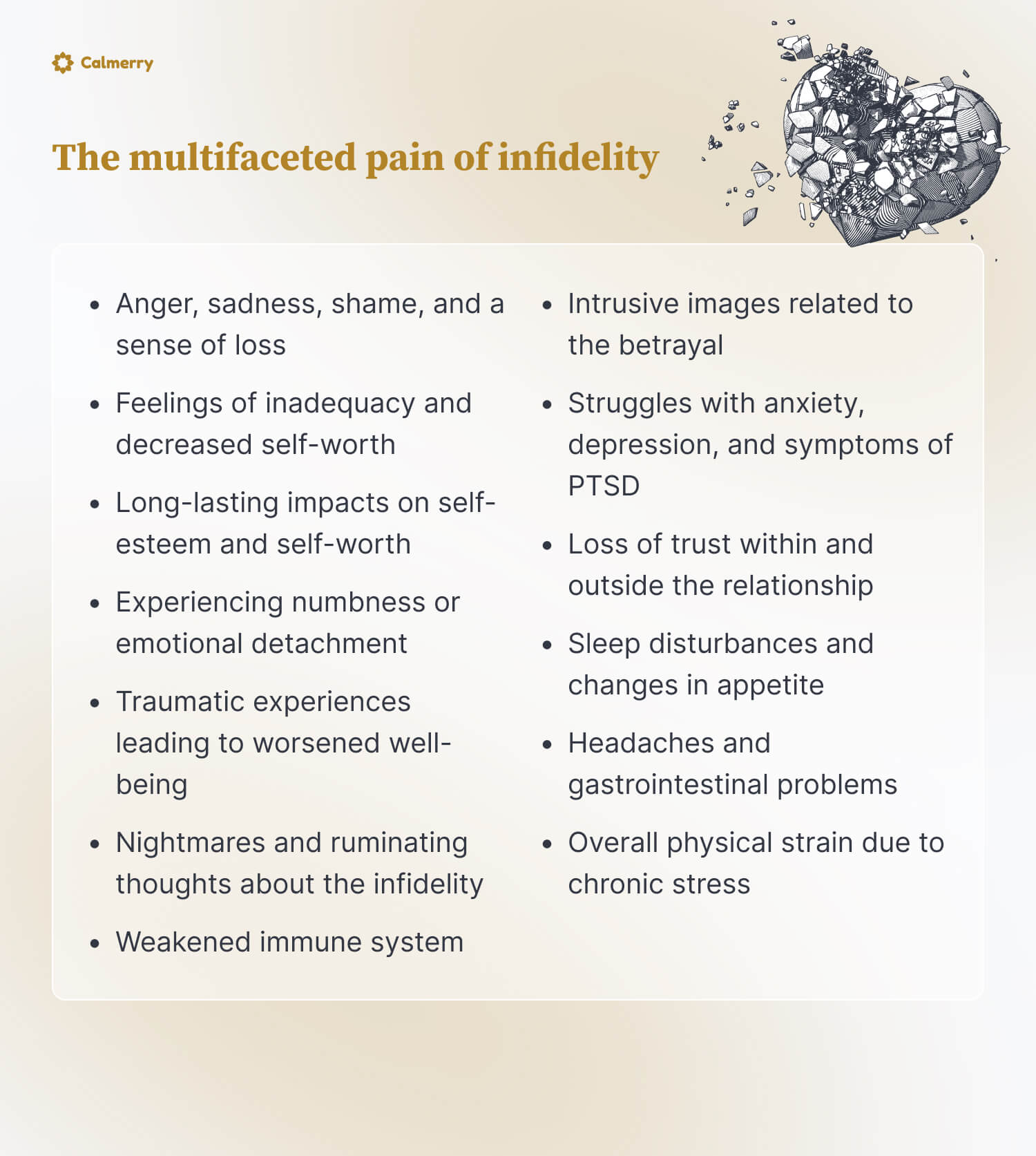 Post-infidelity: the healing journey
While each person's post-infidelity experience is different, recovering from infidelity is rarely easy and almost always requires patience. Coping with difficult emotions, healing residual wounds, and moving forward takes time.
Although there is no specific road map to navigating the post-infidelity effects, there are some important aspects of the healing journey post-infidelity:
1. Acknowledgment and acceptance
A key step in the post-infidelity recovery process is acknowledging the pain and accepting that infidelity has occurred.
Acknowledgment and acceptance do NOT mean saying what has occurred is OK. Put simply, acknowledgment and acceptance mean choosing to see reality for what it is, rather than fighting or denying it.

– Jenna Jarrold, M.S., Licensed Professional Counselor (LPC)
Denial tends to prolong suffering, so the sooner a person can turn toward acceptance, the sooner they can begin to heal.
2. Grieve the loss
Infidelity is akin to a loss (whether a person stays in the relationship or not), and grieving can be a cathartic and essential element post-infidelity.
There is no one way to grieve, and everyone may need to grieve the loss of something different, whether it be through mourning the betrayal and/or the loss of trust, the loss of love, the loss of the relationship, or, in some cases, the loss of all of those things. [1] WORTH. (2023, September 28). Betrayal trauma stages of grief. https://healingwithworth.org/betrayal-trauma-stages-of-grief/
3. Seek support
In the wake of the pain following infidelity, many have the urge to retreat, isolating themselves from friends and family. But, isolating tends to keep people "stuck" in their pain.
Although reaching out may be challenging, do it anyways, as the benefits will likely be worth it. Others can be a shoulder to cry on or a good distraction from the pain. In some cases, others can help normalize the emotions and/or experience of the aftermath of infidelity.
In addition to friends and family (or for those who do not have access to friends or family), finding a support group to join could also be a source of great support and connection with others who have shared experiences.
4. Self-care
Self-care means tending to one's physical and emotional needs. This could be engaging in exercise, getting adequate nourishment, or having ample rest.
Self-care also refers to engagement in activities that bring you peace or relaxation. It's vital for managing the physical and emotional symptoms of infidelity pain. [2] Linda. Coping with Infidelity – Self-Care and Living for Yourself. Emotional Affair Journey. https://www.emotionalaffair.org/coping-with-infidelity-self-care-living/. Published August 22, 2022.
5. Forgiveness
Forgiveness can be a powerful step towards recovering following infidelity, whether one chooses to stay in the relationship or not.
Ultimately, forgiveness is a choice, and does not mean the infidelity was OK.
While the partner who transgressed may feel good to be forgiven, ultimately, forgiveness is for the benefit of the person who was betrayed. Forgiveness can free the mind and relieve emotional burdens that prevent moving forward.
6. Therapy and counseling
Consider seeking professional help. A therapist or counselor can provide a safe space for you to express your feelings, work through the trauma, and develop coping strategies.
They can also help you rebuild your sense of self-worth and self-esteem.
The aftermath of betrayal: can your relationship survive infidelity?
Crucial to navigating the aftermath of betrayal is getting clear on the future of the relationship.
Many people wonder if their relationship can survive infidelity, while others reflect on whether they even want the relationship moving forward. There is no right answer.
The prospects of a relationship surviving infidelity are complex and depend on various factors. Here are some key considerations:
Communication and transparency
Rebuilding trust requires open and honest communication. Both partners must be willing to be transparent about their feelings and actions.
Expressing remorse and forgiveness
Forgiveness may be hard to come by if the person who committed the infidelity is unwilling to own the mistake, and express regret, remorse, etc. When expressed genuinely (and often, more than once may be needed) the betrayed party will more likely be able to work towards forgiveness.
Time and patience
Healing takes time, and it's important not to rush the process. Patience and understanding are vital for both partners.

– Jenna Jarrold, M.S., Licensed Professional Counselor (LPC)
Personal growth
For a relationship to move forward, both partners may need to focus on personal growth and self-improvement. Willingness to engage in the work is essential for a stronger and healthier partnership.
Professional help
While not a requirement, it could be helpful to determine if one's partner is willing to seek professional mental health services (either individually or as a couple).
If the decision is to maintain the relationship post-infidelity, there are certain practical steps that can help restore the trust, love, and overall well-being of the relationship.
Communication
Open and honest communication post-infidelity is key. Discuss the infidelity and its impact on the relationship.
Although difficult, it is an opportunity for both partners to share their perspectives and feelings, explore potential contributing factors to the infidelity, and review relationship expectations/boundaries.
Set boundaries
Setting clear boundaries about what constitutes infidelity is vital for moving forward and preventing repeat betrayals.
Common areas of boundary-setting include [3] VTaylor. (2023, April 5). The Importance of Boundaries in Infidelity Recovery: Setting Guidelines for Rebuilding. Couples Academy. https://couplesacademy.org/boundaries-in-infidelity-recovery/ :
Social boundaries
Emotional boundaries
Physical touch boundaries
Personal space boundaries
Communication boundaries
Seek professional help
Restoring a relationship following infidelity can feel overwhelming, as there is a lot to navigate. For many, couples counseling can be invaluable throughout the process.
A licensed mental health professional will provide guidance, facilitate communication and forgiveness, and help both partners understand and explore the underlying issues.
Talking to a mental health professional
Seeking therapy, especially for those who are new to therapy, can be intimidating.
Yet working with a therapist, whether as a couple or individually on Calmerry, is a crucial step in healing from infidelity.
Mental health professionals can offer several benefits:
Safe space
Therapy provides a safe and non-judgmental environment for individuals to express their feelings and experiences related to infidelity.

– Jenna Jarrold, M.S., Licensed Professional Counselor (LPC)
Many mental health professionals offer both in-person and online therapy, making it more easily accessible.
Expert guidance
Mental health professionals are trained to help individuals navigate the complex emotions and challenges that arise in the aftermath of infidelity. They can offer valuable insights and tools for coping.
Coping strategies
Therapists can teach coping strategies to manage emotional distress, anxiety, and other symptoms associated with infidelity pain.
Improved communication
Therapy can help improve communication between partners, essential for healing and rebuilding trust.
Rebuilding self-esteem
A mental health professional can assist individuals in rebuilding their self-esteem, self-worth, and sense of identity that may have been shaken by infidelity.
Guidance on decision-making
If the individual is considering the future of the relationship, a therapist can help navigate the decision-making process, providing support and insight.
Summing up
In conclusion, surviving infidelity pain is a challenging journey that requires acknowledgment, acceptance, and a commitment to healing.
The emotional and physical pain caused by infidelity can be multifaceted, and the healing process is often a long and complex one.
But through emotional experiencing, seeking support from others, and practicing healthy self-care, restoration, healing, and healthy relationships can be achieved.
We curate our articles with warmth and care, drawing from reputable sources and expert knowledge. Explore our editorial process to understand how we prioritize your trust and keep accuracy in every word we share.
Сheck your mental well-being for free: