Feel calm with Family therapy
A family is a complex unit where all members influence each other. Sometimes, people don't even realize how deep the impact is they have on people around them. If you want to find a better understanding of your family members, improve your relationships, minimize disagreements, and bring harmony, then our family therapist will readily provide you the professional therapy and guidance you might need.
Human-centered therapist matching process
Affordable way to achieve a balanced life
Licensed therapists you can trust
Family therapy is the form of psychotherapy that aims to define each family member's behavioral patterns and discover how it affects the whole family. It will be extremely useful for those who have conflicts, misunderstandings, disagreements that negatively affect the emotional condition and daily life. Our licensed therapists have years of experience working with families, as well as married couples. They have required professional knowledge and skills to apply various psychotherapy approaches to each individual to make the therapy process more effective.
The main goal of online family therapy sessions is to help each member understand their personalities better, become more sympathetic, support each other, and improve the overall relationship. Family relationships are pretty complicated, and only a qualified professional can find the right approach to make them smooth. The main thing you will learn is to talk and hear each other, respect and understand better the feelings of every family member. Just give family therapy a try to feel some positive changes.
How Does the Process of Counseling Families Work?
If you have decided to get started with online family therapy and don't know how everything works, you should know that the process is very simple. All you have to do is sign up and create your personal account where you will be able to schedule sessions, exchange messages with a professional, and have a video call for digital meetings.
The next step will be to complete and submit a questionnaire. Give answers about what challenges you are experiencing in your family life and your preferences for a counselor you want to work with. It's important as, based on your answers, a matching professional will be assigned. Meanwhile, you should choose the pricing plan that fits your budget.
Answer a short survey to get started. Be confident when sharing your thoughts and worries.

Choose a suitable subscription plan
Get a quote based on your answers, compare the offered plans and pick the one that's best for you.
Talk to a therapist online
Сommunicate with your online therapist through messages, worksheets, and live video sessions.
Make the most of online therapy
Follow your long-term therapy objectives and short-term goals, use guidelines, and track progress.
Once a therapist is assigned to you, it's already possible to have an initial consultation and schedule future sessions in the most appropriate form. Whether it's an instant chat or video therapy session, you can connect with a professional at any time. However, keep in mind to schedule sessions beforehand. Mix and match session types to be able to communicate about your problems in the office, at home, or on the go.
Main Benefits of Family Therapy
If you think of reasons to consider online family therapy at Calmerry, then here are a few benefits that set our platform apart.
Our experienced team will connect you with the best online therapist suited to your unique needs.
All therapists are background-checked, verified, trained and hold valid licenses from their state.
Get access to a unique therapy space where you can set up goals and track your progress in real time.
Our friendly support agents are available 24/7 to help you and give accurate answers to your questions.
Select the subscription plan that best suits your needs and budget. Plans start at just $53.
If a new issue arises during therapy, we'll match you with another therapist without charging you anything.
Definition of Family Therapy
Family therapy is one of the forms of psychological treatment used by a professional therapist or counselor to solve a variety of family-related issues. A therapist will work closely with each person to improve the interaction between family members. Considering that all family members are tightly connected, a therapist will work with each person to find out how they influence each other and improve their behavioral patterns to make it work for everyone positively.
Whether you are a married couple or want to solve some issues with your children, parents, siblings, this will be a perfect solution that will change how you communicate, behave, and feel. Family therapy is needed when members feel resentful towards each other, are sad, disconnected, frustrated, angry, disappointed.
Professional qualified help is needed to prevent any potential emotional harm and trauma, address any misunderstanding and let each person move forward, knowing they will have all the support and understanding from their family. It can be effective if one family member has substance abuse issues or other mental issues like anxiety, depression, and grieving.
A therapist will use a variety of evidence-based techniques to offer the most effective treatment. The process might take from a few sessions to months of counseling, depending on the complexity of the issues. Contact our team to guide you through the therapy process and give you advice regarding our service.
Message your therapist whenever you need it. Receive responses daily. From just $53 a week.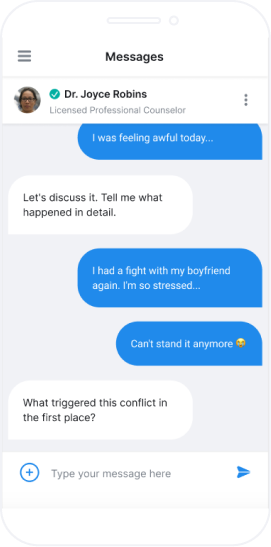 Add Video Sessions to you package to make a deep dive into therapy. From just $90 a week.
What Clients Say After Going Through Family Counseling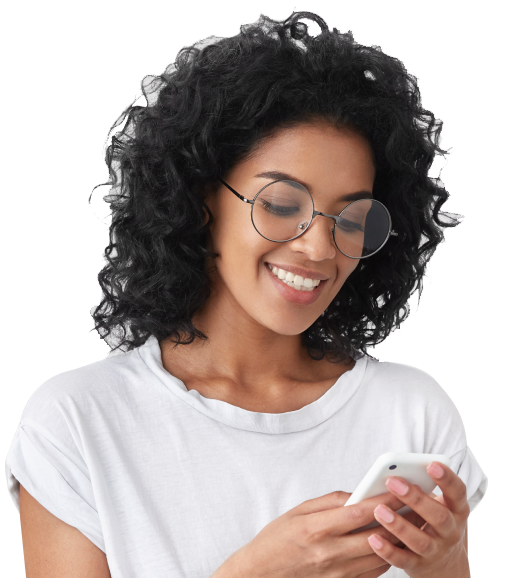 "
"We have a big family, and our three kids drove me crazy as they were uncontrolled. That was the time we realized we needed therapy. I was super satisfied with the service as my therapist helped me better understand my children's behavioral patterns to solve any fights and misunderstandings effectively. In addition, sessions really helped me to improve my relationship with my husband."
Zoe
August, 2020
"
"I am so grateful for your support and emotional help. We went through rough family challenges, and your qualified specialists helped me in this hard time. I really enjoyed video sessions with a therapist assigned. Would recommend this service to everyone."
George
September, 2020
"
"Good job, you guys! The website is so simple in use, and it was very comfortable to have sessions on my smartphone. My therapist was really great and helped me with my family issues."
Thomas
September, 2020
"
"Family problems were hard to resolve, so I decided to get help from a professional therapist. Came across this website a year ago and still have sessions. Very satisfied with our progress and results."
Maisie
September, 2020
"
"This is the perfect website for those who need emotional help. Family therapy was pretty effective for me, and the best thing is that video sessions are much more comfortable than face-to-face meetings."
Ean
September, 2020
Everything You Should Know About Family Therapy
Here are a few important details that you should know about family therapy. Check it out.
What Is Family Therapy?
This is a special form of psychotherapy that helps families improve their relationships and solve any kind of misunderstandings. It can be suitable to deal with marital, parental problems, and any issues with other relatives that negatively affect your physical and spiritual life. Family therapy can help people deal with various emotional challenges. So, it is the perfect solution.
What Is a Family Therapist Qualification?
Each therapist goes through a tough selection process. We always make sure only the most accomplished and skilled professionals join our team. Among a myriad of experts, we have seasoned therapists with years of experience, specifically with families. They have relevant education, certificates, and licenses. So you can be sure you connect with top-notch specialists.
What Is the Main Goal of Family Counseling?
The main goal of this kind of therapy online is to help family members find a better understanding of each other. A specialist will apply all professional skills and knowledge to find out the root of fights and disagreements and provide an effective strategy to reconnect you with your relatives on the emotional level.
Why You Should Consider Family Therapy Help?
Only a professional will be able to find an individual most personalized approach to each family member. It will help to generate an effective treatment plan and make everything to reconcile family members. That's why the assistance of a therapist will make the process very smooth without worsening the situation.
What Are the Advantages of Family Therapy Online?
Everyone can have family problems. Pretty often, these aren't something very easy to handle on your own. With the help of therapy, you will be able to significantly improve the relationships between each member and boost your well-being so everyone can be happy and fulfilled. Speaking of the whole process, the main advantage is its accessibility. You can connect with the best experts online with no need to commute to a doctor's office.
If you have encountered family problems that you cannot resolve by ourselves, call us right now. We will tell you more about the process of using our services so you can get started and improve your personal life.
For more information, please visit our FAQ
Advice For Good Mental Health
Find advice and support from mental health professionals for common problems. Learn about self-help strategies that can help improve your mental well-being. Tips for good mental health from Calmerry.
When it comes to families, conflicts are, at times, inevitable, whether it be in the form of small misunderstandings as a result of varying opinions or in escalated forms of violence. Causal factors for the conflict may be within or external to the family. Again, it...
Start your therapy journey today
88% found Calmerry to be as effective or more effective than traditional therapy.
95% found it to be more convenient than traditional therapy.