Calmerry Is at the Future of Work USA 2023: What the Future Holds for the Workplace?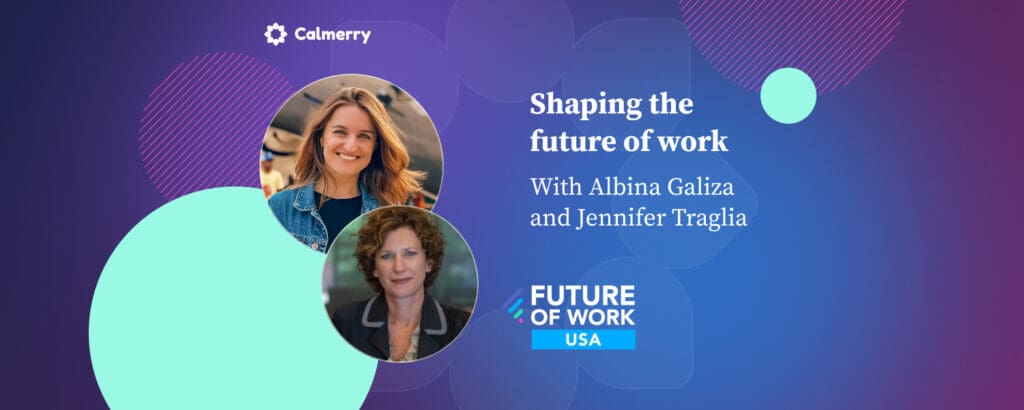 Reading Time:
5
minutes
Calmerry recently participated in the Future of Work USA in Chicago as a Golden Sponsor and contributor to the important discussions.
This event brought together forward-thinking senior executives, visionaries, and industry leaders to discuss the evolving workplace landscape and strategies for increasing employee engagement, fostering inclusive cultures, and promoting well-being.
Let's hear from Albina Galiza, our Partnership Manager, and Jennifer Traglia, our insightful speaker who addressed the critical role of mental well-being in the workplace.
So, what does the future of work look like?
As organizations strive to navigate the ever-evolving work landscape, it becomes crucial to understand the trends, challenges, and opportunities that lie ahead.
Let's have a glimpse into the discussed topics and insights:
HR professionals play a crucial role in preparing organizations for the future of work by aligning people strategy with business operations. They contribute to a culture of high employee engagement and positive employee experience, which fosters productivity and well-being.
Re-engaging disconnected employees requires open communication, understanding individual goals, and making employees feel valued and celebrated.
Prioritizing mental and physical well-being and combating burnout are also essential factors for employee engagement. This can help avoid "quiet-quitting."
Digital fatigue is a real concern. So organizations should strive to drive purpose and meaning in online interactions.
Maintaining employee connection and a sense of community is crucial, even in remote or diverse work environments. Authentic connections and opportunities for informal interactions, similar to water-cooler moments, should be encouraged.
Employers need to adapt their cultural strategies to reflect new ways of working, particularly in hybrid environments.
DEI culture is critical. Future leaders need to embrace a more human leadership style to build inclusive organizations.
Effective communication significantly impacts employee experience and retention.
The companies are questioning the traditional 9-5 five-day week and considering the benefits of adopting a 4-day week. By the way, in our Support for Female Leaders 2023 research, we found that most employees desire shorter working weeks to restore their work-life balance.
With these exciting insights in mind, let's turn to our Albina, who attended the Future of Work event.
Calmerry: Albina, based on your experiences and the discussions at the conference, what the future holds for the workplace?
Albina: The Future of Work is all about learning and networking.
No one was ready for what happened in 2020, and we've been experiencing a major transformation in workforce management ever since.
So community, connection, and belonging are crucial for the corporate culture. And after facing the pros and cons of remote work, we're still looking for effective communication models and standards.
We talk more and more about work-life balance and psychological safety. We're no longer interested solely in career growth – we prioritize a sense of purpose and personal well-being. 
It's also evident that HR leaders play a key role in aligning company goals with employees' personal needs and ambitions.
By attending this event, we got a chance to share our background knowledge and experience and get useful insights on attracting and retaining talent, using data automation for effective workforce planning and predicting talent actions, building trust, and unleashing people's potential to drive business growth.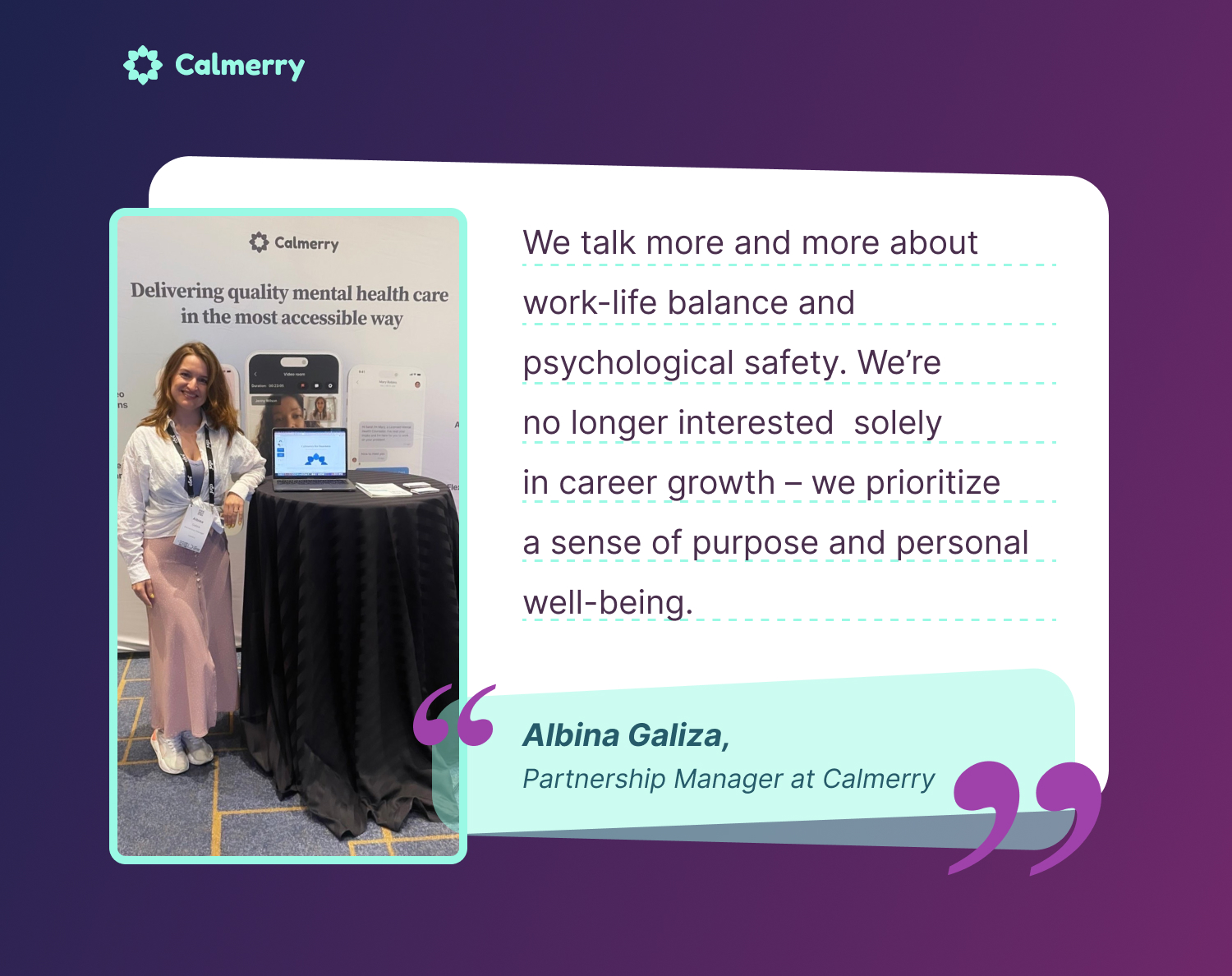 Key insights from Jennifer Traglia – Calmerry's inspiring speaker
Jennifer Traglia represented Calmerry and delivered a pivotal speech, "The Mind Sets the Stage." Her session addressed key wellness issues impacting work productivity and career goals, the importance of creating a culture of well-being within organizations, and trending opportunities to leverage employee benefits.
Here are some statistics or insights from Jennifer's session that can hit hard:
Check this video highlighting a part of Jennifer Traglia's speech:
During the conference, Jennifer emphasized that this is a unique time to reestablish work-life norms.
An important element of the future of work – is providing opportunities for open dialogue and creating connections to professionals that can support those conversations – recognizing that some team members may prefer a group setting while others prefer private, 1:1.
The speaker highlighted that people often hesitate to discuss their challenges and emotional well-being with one another. In this context, HR leaders have a unique opportunity to act as role models and advocates for mental health.
By using the available benefits and speaking up about their emotional struggles, HR professionals can create a safe and supportive environment for employees to open up and seek help when needed.
They can be mental health ambassadors, breaking down the stigma surrounding mental health in the workplace.
In addition, Jennifer shared the helpful Manager's Guide with key strategies:
Fill your tank
Relate by showing empathy, sympathy, compassion, but…
Recognize your limitations
Remember that if you've seen one mental health issue, you've only seen one
Provide options for team member self-awareness
Consider opportunities for intergenerational learning or affinity groups
Encourage leadership to analyze internal needs and review current benefits or offerings. Look for unused solutions and customizable opportunities that meet the needs of your team
Consider a stipend that would allow employees to select from a list of vetted wellness benefits to meet their current needs – à la carte style
Incorporate ongoing communication and education for your employees about their benefits – not just at annual enrollment
Find a sponsor or executive advocate
Get outside help – bring in the experts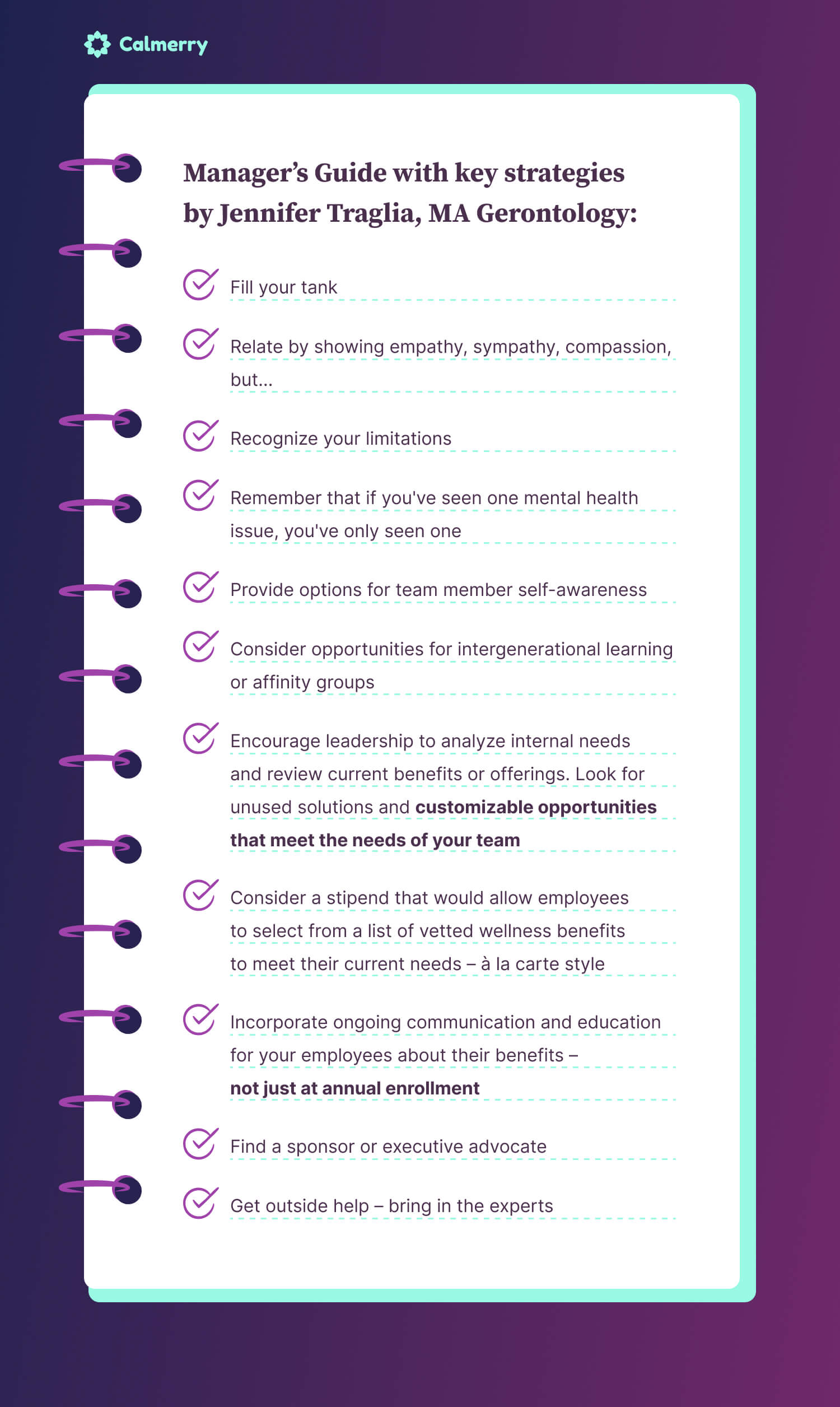 What role does Calmerry play in shaping the future of work?
At Calmerry, we believe that investing in mental health is essential to building a successful and sustainable future of work.
So we make it easy for organizations to incorporate mental health support into their employee benefits programs. And this way, organizations can create a positive work culture, enhance employee engagement, retention, and productivity, and foster healthy work-life balance.
As Jennifer noted, "When employers feel cared for, everyone wins."
Our Partnership Manager Albina adds, "I was excited to discuss how mental health coverage programs help build resilience in times of uncertainty and change.
According to our data, ongoing access to therapy and coaching decreases the level of work-related conflicts, prevents burnout, and boosts productivity.
We all know how difficult it might be to get an appointment with a therapist. So our corporate mental health solution from Calmerry allows getting mental health services provided by fully licensed and thoroughly vetted mental health experts on the exact same day instead of waiting for in-person offline therapy for months.
In addition to asynchronous messaging and live video sessions with a therapist, we offer mood-tracking and journaling tools, assessments, and access to the content libraries of self-help tips and educational resources from mental health experts and coaches for employees, managers, and HR leaders for free.
We provide employers with anonymized, aggregated data of utilization and engagement reports to let them track program performance and growth. This can also help understand the workplace issues and personal challenges employees are working through and the progress they're making."
Let's connect
Book a 30-min demo call with us to learn more about our B2B offering and how Calmerry can help take the pressure off your team through flexible, customizable, and holistic therapy.
See a live demonstration of how platform works
Have an overview of our flexible payment models
Get a tailored offer based on your company needs and number of employees
Сheck your mental well-being for free: