Published February 17, 2023 / Updated April 21, 2023
What Are Mixed Signals, And How to Deal With Them?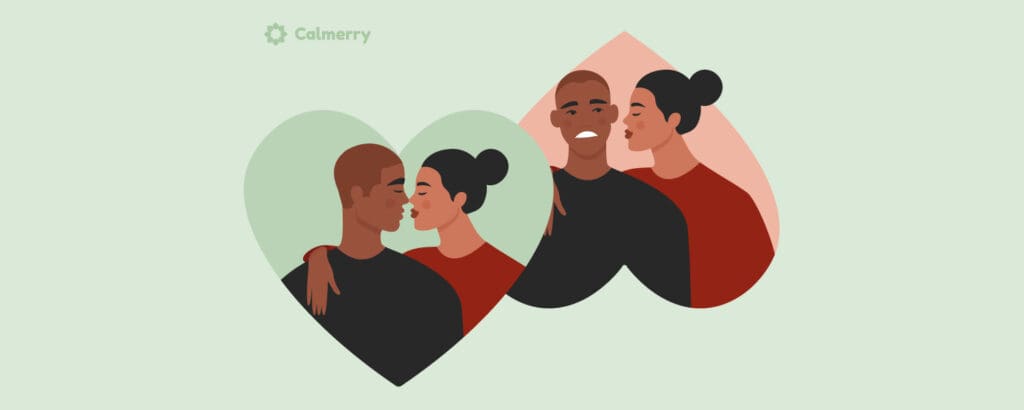 Reading Time:
6
minutes
Mixed signals are when your partner acts inconsistently toward you. They might be "hot" one minute and be all over you and then become "cold" on a turn of the heel, ignoring your concerns and emotional needs.
Communication and honesty are key components of healthy relationships, so when someone gives you mixed signals, you are likely to feel confused and hurt. When you're dealing with mixed signals, you may feel as if your partner is into you one minute, and distant the next.
So, how do you cope when you're in this situation? It's important to learn what mixed signals mean, as well as how you can address them with the person you're dating.
What are mixed signals?
If you want to learn how to deal with mixed signals, it's helpful to understand what this phrase means. In general, mixed signals are acts of inconsistency that occur within a relationship.
For instance, a person may be "hot and cold," seeming really committed to the relationship one moment and then uninterested the next. Or, they may say one thing and then do another.
The bottom line is that mixed signals can leave you confused as to where the relationship stands. When someone is inconsistent, you can become unsure of whether they really want a future with you or if they're just stringing you along until they get bored.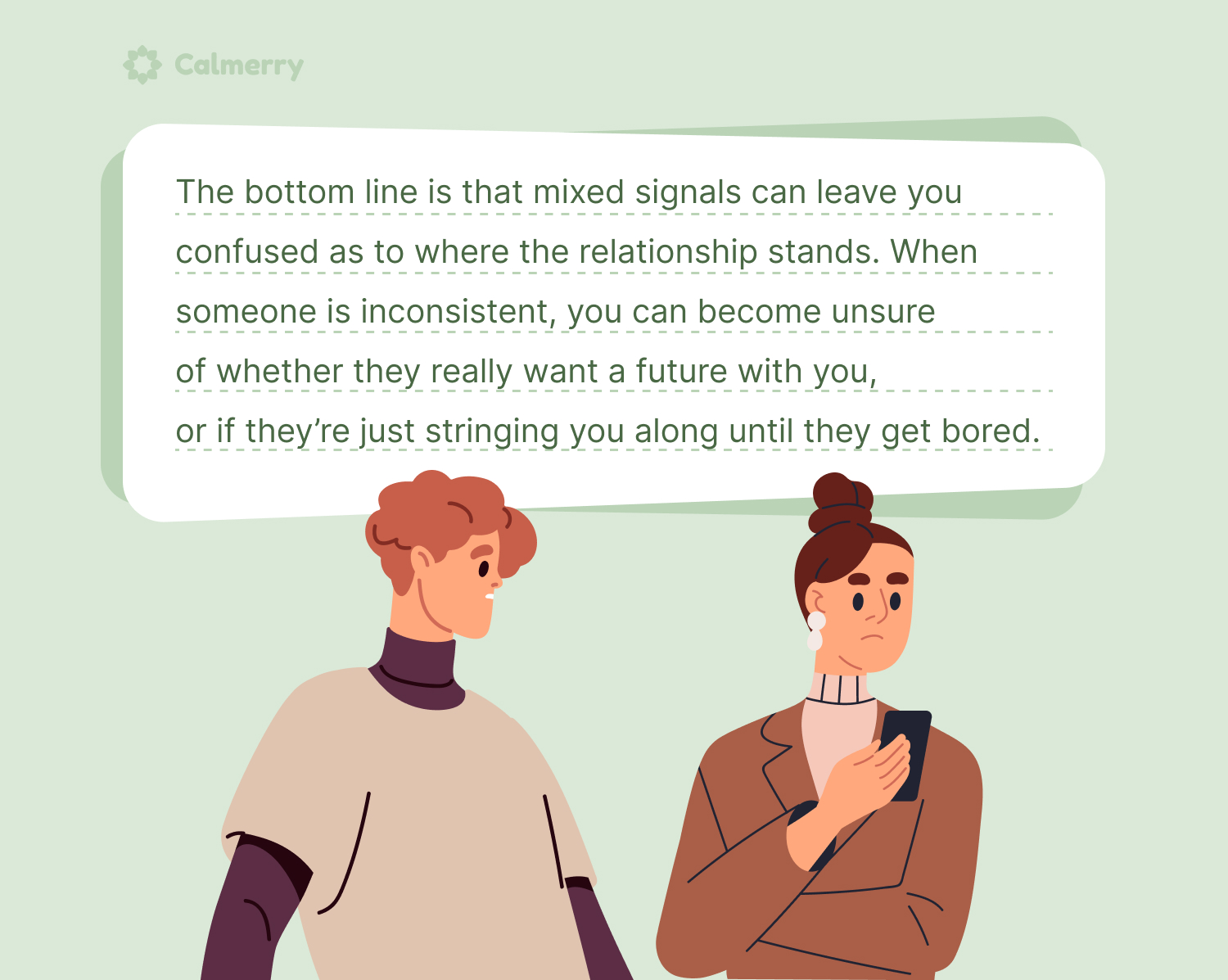 Ultimately, someone who throws inconsistent signals can leave you feeling quite defeated, and your self-esteem may take a hit as you try to figure out what this person's intentions are.
Causes of mixed signals
Love and attraction aren't always easy, so there may be some complex underlying issues that contribute to mixed signals in a relationship. Consider some of the contributing factors below.
Attachment problems
Attachment psychology provides some explanations for mixed signals. This field of psychology centers on the belief that we all develop an attachment style based on our early experiences with caregivers, primarily our parents.
People who grow up with loving, responsive parents who meet their needs will develop a secure attachment style. However, those who have parents who are abusive, neglectful, or who do not bond well with them can develop insecure attachment styles.
An avoidant attachment style emerges in people who do not develop secure attachments during childhood. A person with an avoidant attachment style tends to be emotionally unavailable because they are fearful of opening up to others. This can result in mixed signals, because while the person may claim to want a relationship, they can be quite distant, and they may reject your attempts to connect with them.
In addition, a person with an insecure attachment style may pull away as soon as the relationship starts to get more serious because they become overwhelmed by their attachment-related fears.
Fear of commitment
Inconsistency can also come from a fear of commitment. Someone who isn't sure they're ready to settle down with one person can come across as very hot and cold. You may spend a weekend together and think things are going well, only for the person to back away and seem distant the next week.
In this case, it may be that the person you're dating didn't have an example of a healthy relationship during childhood. Maybe their parents divorced, or perhaps they grew up in a home with parents who fought frequently and never seemed to be happy.
Research has found that young adults who grew up in a home with parents who had a significant amount of conflict between them are less committed and less satisfied in their romantic relationships. A highly conflictual relationship between parents can have lasting effects on a person, leading to commitment problems and mixed signals in adult relationships.
Personality disorders
Childhood programming can lead to difficulty in adult relationships, but sometimes, mixed signals are indicative of an underlying issue like a personality disorder. As the American Psychiatric Association explains, personality disorders are mental health conditions that lead to patterns of thinking and behavior that deviate substantially from what is considered typical, given a person's culture.
Two specific personality disorders – borderline personality disorder and narcissistic personality disorder – may lead to mixed signals in relationships. Individuals who have borderline personality disorder tend to have unstable relationships because their perceptions of others can shift rapidly. They may be hot and cold because of their unstable perceptions and emotions.
On the other hand, a narcissist lacks empathy and is willing to take advantage of other people for their own benefit. A person with a narcissistic personality disorder may treat you like their ideal partner for one moment in order to get what they want from you. As soon as they've gotten what they want, or as soon as you fail to meet their demands, they may become quite cruel and callous.
How to respond to mixed signals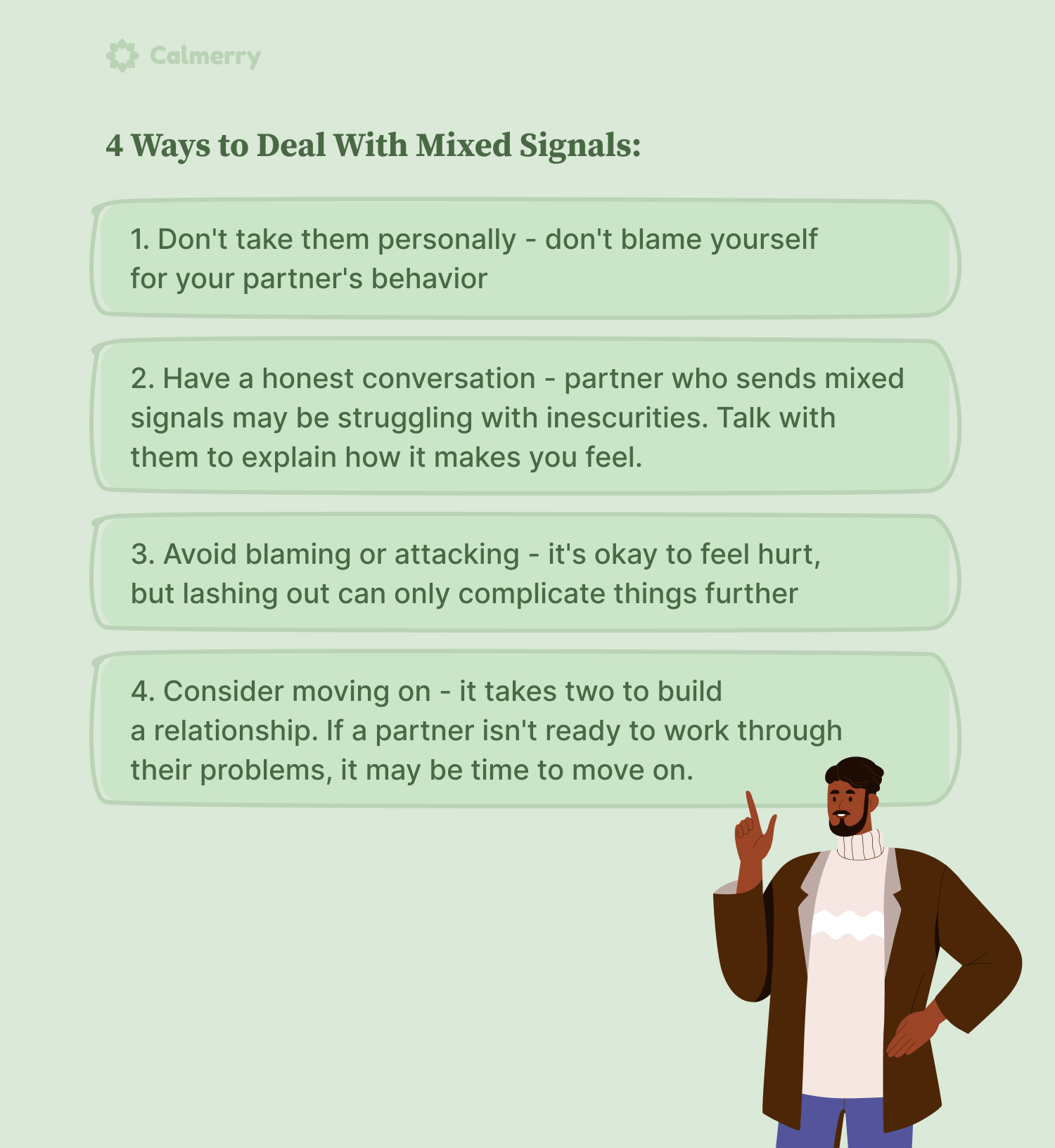 So, what do you do when you're in a relationship or dating someone new and they show mixed signals? The pointers below can help you to manage this dilemma.
Don't take the behavior personally
It's understandable that you may be hurt when your new significant other is sending mixed signals. You may think that there is something wrong with you that leads to their lack of consistency, but this isn't the case.
The truth is that a person who is inconsistent with their words and actions is dealing with their own inner conflict. They may want a committed relationship on the one hand while keeping their freedom on the other. Or, they may be struggling with their fear of getting hurt.
Whatever the case is, you should never blame yourself when someone you're dating shows mixed signals. Allowing their inconsistency to erode your self-esteem will only make matters worse.
Have an honest conversation
If your significant other is showing mixed signals, and it's beginning to interfere with the relationship, the best thing you can do is have an open conversation. If you never bring up the issue, the behavior will most likely continue.
Sit down with your partner and mention that their behavior is inconsistent, and be specific about what is bothering you. You might say, "Sometimes you seem like you want a close relationship, but other times you pull away and we don't talk for days. It confuses me, and I'd like to figure out what's going on." 
It can be scary to have this sort of conversation, but the worst thing that can happen is that your significant other will become angry, defensive, or stonewall you. In this case, it may become clear that this isn't the relationship for you. On the other hand, the conversation could help you to get to the root of the problem and bring the two of you closer.
Avoid blaming or attacking
It's natural to feel hurt when someone you're dating is showing mixed signals, but it's important to avoid blaming or attacking them when you address the issue. Their inconsistency very well may come from a place of fear, or they may be coping with childhood traumas that make it difficult for them to connect with others.
Instead of attacking them, be sure to show empathy, and make it clear that you're trying to understand where they're coming from so that the two of you can have a stronger relationship. They'll be more likely to open up if you come from a place of care and concern rather than attacking their character.
Decide if it's time to move on
Sometimes, mixed signals in a relationship can be a sign of an underlying attachment problem or fear of abandonment, which can be worked through if two people are committed to staying together. However, in the case of a personality disorder or someone who simply isn't ready to commit, you may find that inconsistencies become the norm, and you just aren't happy in the relationship.
If you've attempted to resolve issues related to mixed signals, and your partner still isn't meeting your emotional needs, it may be time to move on. There's no sense wasting time waiting for this person to change if they've shown you that they cannot be consistent.
[test-relationships]
The benefits of relationship therapy
In some instances, you may benefit from seeking therapy with your significant other to improve communication and help you to develop a greater understanding of each other's needs. A relationship counselor can help you and your partner to work through childhood issues and change unhealthy patterns that may be leading to mixed signals.
Therapy can be an excellent option if you or your significant other struggles with attachment problems or abandonment fears that make it difficult for you to develop a strong emotional connection. Or, if you're having a hard time deciding whether you should stay in a relationship where there are mixed signals, you may benefit from working with a therapist on your own.
Therapy can be an excellent resource for working through emotional problems. If you have a busy schedule, you might benefit from working with an online therapist, so you can connect with a professional from the convenience of home, using a web camera and video conferencing technology.
If online therapy is a good fit for you, Calmerry is here to help. We employ credentialed counselors who offer online therapy, and we can match you to a professional who is a good fit for you. Visit our webpage today to learn more.
Сheck your mental well-being for free: