Feel calm with Online Counseling
Calmerry is an innovative and affordable way to get mental health services, no matter where you are at any time. If you feel overwhelmed by the latest life events and feel that you cannot do this on your own, our qualified and licensed counselors are here to help you and provide effective emotional guidance and support.
Human-centered therapist matching process
Affordable way to achieve a balanced life
Licensed therapists you can trust
Joining the dots with online therapy
Calmerry helps open doors to new opportunities by connecting people who want to get the right e-therapy course with licensed therapists nearby, like joining the dots.
Providing mental support on your schedule
Enjoy unlimited messaging therapy and on-demand video sessions with your therapist. At Calmerry, all conversations are carried out in a secure, HIPAA compliant therapy space to keep them completely confidential.
Offering accessibility from any device
With Calmerry, you can send text messages to your online therapist whenever you are near a tablet, PC, laptop, or a mobile phone with a stable internet connection.
Basic Facts About Online Counseling Services
Online therapy is getting more and more popular among people. This kind of service refers to telehealth and is provided via the Internet. You can connect with a wide pool of licensed specialists with no need to limit yourself to only local counselors. In case you are going through a rough period in your life filled with emotional challenges, you can share your deepest thoughts and feelings with a qualified expert from your home.
At Calmerry, you can get in touch with professionals via text messages, phone calls, or even have a video chat if you want to make the counseling process more personalized. The online services provided have the same effects as regular face-to-face sessions, and it gives you all the freedom to have online meetings from any place at any time if you lack free time.
The process is pretty simple and straightforward. The first step will be to complete the registration process, leave some basic contact details and log in to your personal account. The next step will be to fill in the questionnaire and tell more about the problems you experience as well as to mention your preferences regarding a counselor. Keep in mind that based on your answers, a professional will be assigned, so try to be as frank and honest as possible.
Answer a short survey to get started. Be confident when sharing your thoughts and worries.

Choose a suitable subscription plan
Get a quote based on your answers, compare the offered plans and pick the one that's best for you.
Talk to a therapist online
Сommunicate with your online therapist through messages, worksheets, and live video sessions.
Make the most of online therapy
Follow your long-term therapy objectives and short-term goals, use guidelines, and track progress.
Choose the right pricing plan and mind the range of services you want to get. Usually, it takes up to 24 hours once your counselor is selected. Once it happens, you can already start your first consultation to discuss in detail what troubles disrupt your life and what results you want to achieve. The online specialist assigned will then come up with a targeted and personalized treatment plan so you can get better. Schedule text, phone, or video call sessions regularly to feel some positive improvements faster. It's your time to express everything that bothers you and get rid of your inner burdens.
Our Counselors have experience in various fields. Here are their areas of expertise and problems you can solve on our online platform.
       Emotional Abuse Counseling
This is a safe environment for you to share your emotional abuse experience. A professional will help you heal your wounds and improve your emotional well-being, and you will feel mental relief shortly.
If you have encountered some problems with your significant one that you cannot resolve on your own, our specialists will find the right approach to discover the root of your fights and misunderstandings to strengthen relationships.
This type of therapy will help couples to strengthen the bonds between them, find a better understanding of each other. It will result in a healthier relationship that might lead to a future together.
Family hardships can hit everyone, and it's important to seek professional help on time. You will be able to solve your problems online with the assistance of accomplished experts with years of experience in this field. Our marriage and family therapists can help you deal with your problems.
No matter what problem you have faced lately, if you need some qualified support and guidance, individual online sessions might be a perfect solution. Discuss your personal issues, express all deepest thoughts with a therapist to get back on track for a healthy balanced life.
       Grief and Loss Counseling
A loss might be a serious problem for each of us. Grieving that comes after someone significant dies can disrupt a whole life. It's important to use counseling and ask for mental guidance to get through this stage faster and more safely. Don't let this feeling negatively affect your personal and professional life.
Choosing the right career might be a serious issue for some people. If you feel lost and cannot find the right occupation you will like, then our experts will help you discover your career path so you can make your first steps and succeed.
A lot of people have low self-esteem that affects their lives. With the help of our seasoned counselors, you will be able to resolve plenty of mental concerns and look at yourself in a different, much positive way.
What Are the Essential Advantages of Counseling Online?
There are a number of reasons why people choose online psychologist therapy. Here are some of them.
Online therapy costs less than regular in-person sessions. You will be able to save up to half of the cost you would pay for a face-to-face conversation with a therapist. Why overpay if you can have a digital video call meeting for the most reasonable price you can find on the Internet? We have different pricing plans that will be suitable for any budget.
We have gathered the most qualified and experienced professionals on board. They all have relevant education and licensure to provide you the effective treatment and help you achieve tangible results faster. They are knowledgeable in various areas of expertise, so no matter what your issue is, you will find the resolution here.
We have no hidden prices. Everything is clear and transparent. We are not going to add additional costs for the services. Everything is included in our pricing plans, so all you have to do is to complete your monthly payment and use the platform.
This is the most convenient way to receive counseling, especially for those who are trying to juggle work, family, and friends. There is no need to waste time in traffic jams to see a mental health professional. Your specialist is only a few clicks away. Schedule sessions at any time and have a digital meeting with a counselor from your device.
       High Level of Confidentiality
We have our clients' privacy and confidentiality as our main priority. All the data you share with us stay encrypted according to the latest security standards, and communications with a counselor can be seen only by you and a specialist assigned. Moreover, it's possible to use an alias to stay anonymous on the website.
The website has an easy to navigate interface. Even a person with minimal technical skills can easily schedule online sessions, have chats, phone, and video calls. The platform is mobile-friendly, so feel free to use it from your smartphone.
Message your therapist whenever you need it. Receive responses daily. From just $53 a week.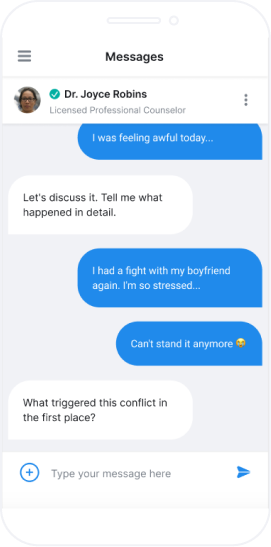 Add Video Sessions to you package to make a deep dive into therapy. From just $90 a week.
What Customers Say About Our Online Counseling Services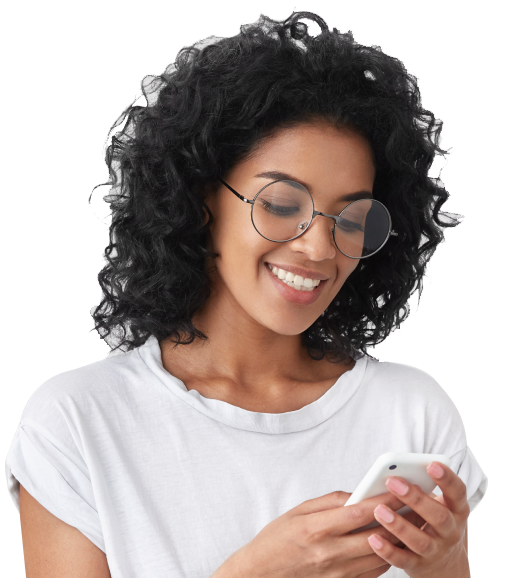 "
This online therapy platform has saved my life. I felt so low and depressed because of problems in my family. I didn't know how to feel better, and no one of my friends could help me. After I tried a few sessions at Calmerry, I felt slight progress, so I kept having my sessions with an amazing and understanding therapist. I am much better right now but still don't want to quit online counseling. Thank you!
Jerry
September 15, 2020
"
Online counseling saved me. I have been able to solve the self-esteem issues that I was dealing with for years. This is one of the best things I've ever done before.
Steve
July 23, 2020
"
I wish Calmerry appeared in my life earlier. Sharing my thoughts via messaging therapy daily and video sessions once a week helped me overcome the depression signs.
Jane
August 10, 2020
"
So happy that my friend recommended this service to me. You guys are the best. I am really satisfied with your support team, and I enjoyed having video calls with my counselor. It helped me a lot.
Helen
August 10, 2020
"
Never thought I would end up in a place when I needed professional counseling. Long story short, I'm so happy I tried individual online counseling as it helped me to resolve plenty of issues that didn't let me live the life I want.
Cole
August 10, 2020
"
I want to say thank you to my counselor and to the whole Calmerry team! You did an incredible job for me; your career counseling was more than effective.
Benjamin
August 10, 2020
"
This online service is certainly the best. I have tried another one and didn't like it at all. Here, I felt some emotional improvements after 3 sessions only. Thanks!
Avery
August 10, 2020
Q&A to Know More About Counseling Online
Down below, you will find everything you need to know about online counseling before you start with the services.
Does Free Online Counseling Exist?
Some services offer a free trial period, though you will have to choose the appropriate pricing plan to keep using online counseling. At Calmerry, prices are pretty low in comparison with face-to-face sessions, so you will be able to get quality service at a reasonable price.
What Is the Best Service?
There are plenty of online platforms available on the market. Calmerry might be the perfect solution as we maintain the top-notch service quality and do our best to improve clients' lives.
Is Online Counseling Effective Enough?
It has been proven that online counseling is as effective as common in-person meetings. Modern technologies have made our lives easier and enabled people to receive efficient emotional support and guidance, with no need to leave their houses.
What Does Online Counselling Mean?
It means having counseling sessions via the Internet. There are different ways to communicate with a professional. You can exchange text messages, have phone calls or live video sessions from your house, office, or even on the go.
Is Online Counseling Therapy Safe?
It's completely safe as the website is encrypted and protected from any leakage. No one can see the messages between you and your therapist, so you have nothing to worry about.
What Are the Benefits of Online Counseling?
Online therapy and counseling is a safe, affordable, and convenient way to get professional treatment. You will be able to save time and money and get access to the best industry experts in this field.
Are There Any Disadvantages of Using Counseling Online?
If you prefer real-life conversations, then this service might not be right for you. However, you can also be tempted to try it out as the benefits are immense.
What Are the Main Types of Counseling Services Online?
There are specialists with different expertise to cover plenty of mental and emotional problems. There are individual and couple therapy options as well as services aimed at solving various personal issues.
Is Online Psychological Counselling Ethical?
Here, at Calmerry, we maintain the highest level of clients' privacy. All online therapists and counselors follow their professional ethics as well as Health Information Patient Privacy Act.
For more information, please visit our FAQ
If you have faced life challenges and seek mental guidance and help, then you can always rely on us. We are here to help, so call us now to learn more about the online platform and start using the services today to feel positive changes.
Ready to Try Online Therapy Services?
Complete a short survey to start your therapy journey with Calmerry
Advice For Good Mental Health
Find advice and support from mental health professionals for common problems. Learn about self-help strategies that can help improve your mental well-being. Tips for good mental health from Calmerry.
According to closure psychology, some people struggle with ambiguous ends to relationships. It is understandable - it's devastating when someone you love leaves with no clear explanation. You feel hurt, rejected, and confused. You want answers that justify the abrupt...