Published November 2, 2021 / Updated March 13, 2023
Is Covid Anxiety a Thing: How to Fight Anxiety During the Pandemic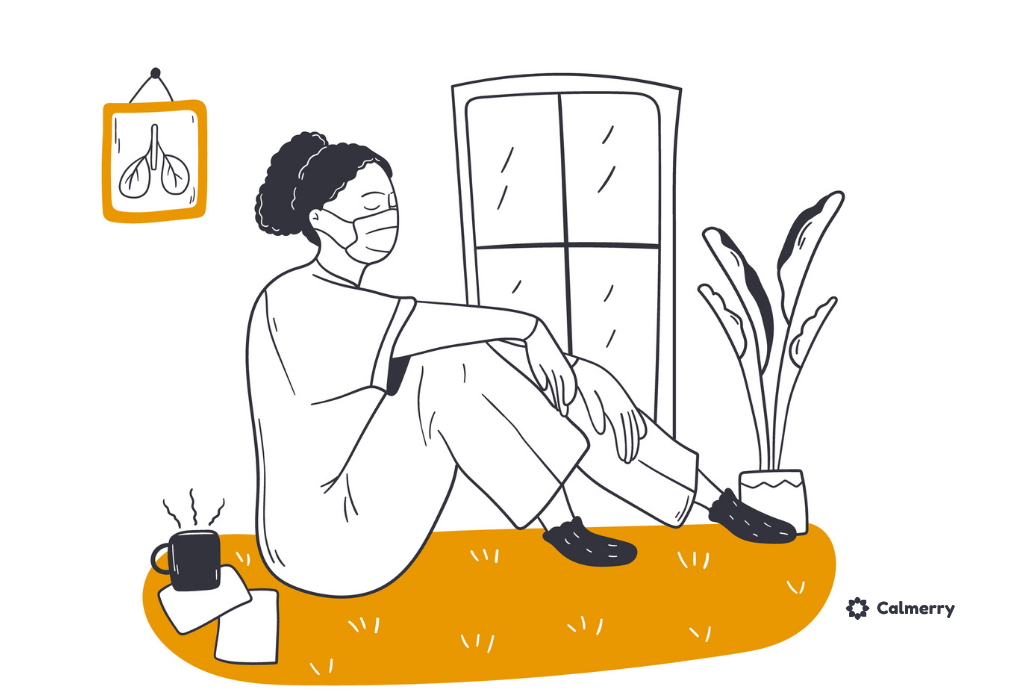 Reading Time:
5
minutes
Winter is coming. The days are getting shorter and colder, the holiday season is nearing, and coronavirus variants are continuing to spread. Deep into the second year of the global pandemic, it's a strange and sometimes frightening new world.
With many places continuing to remain shut down or partially reopened, waning cases in some areas and surges in others, a lot of us are continuing to face logistical questions like whether we should attend that indoor wedding or fly across the country to visit our family. The uncertainty of the pandemic is also affecting many of our longer-term plans, including when to start a family, apply to graduate school, or move somewhere new.
For a lot of people, these profound changes in the way we live have led to pandemic-related stress, anxiety, depression, or other mental health issues.
COVID-19 and mental health
Learning about COVID-19 for the first time may feel like a distant memory. Early on, medical professionals knew very little about the virus or what lay ahead. The rapid spread and subsequent lockdown, restrictions on travel, mask mandates, and social distancing were jarring. In addition, the hundreds of millions of confirmed cases, millions of deaths, and billions of vaccine doses have created a very real and scary experience for so many of us across the globe.
It's not surprising, then, that the pandemic has had a sweeping and negative impact on our mental health. In January 2021, the number of US adults reporting symptoms of anxiety and depression had quadrupled since pre-pandemic 2019.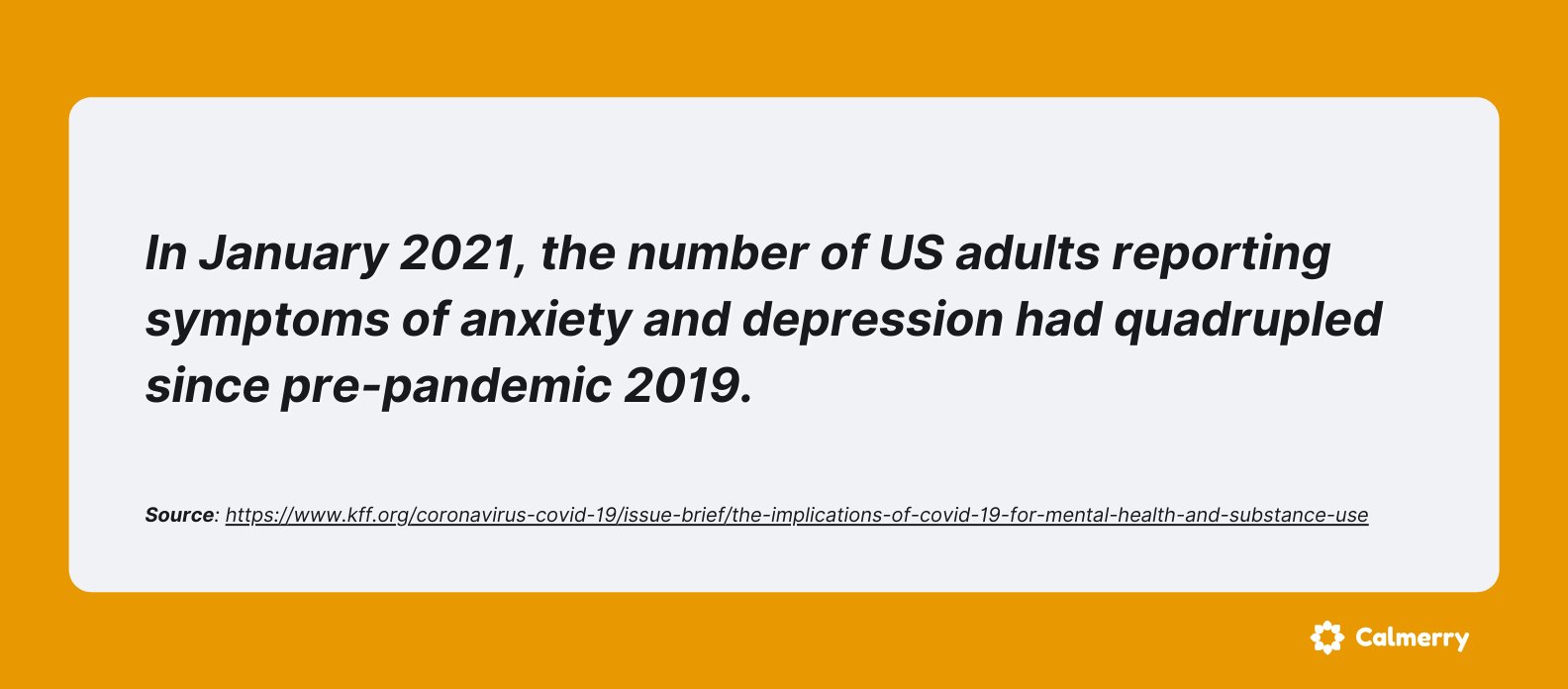 The negative psychological effects impact people from all backgrounds. However, there is a disproportionate impact on Black and Latino adults compared to White adults and essential workers compared to non-essential workers. In addition, 56% of young adults (ages 18 to 24), many of whom have had to complete their schooling from home and have experienced a loss of income, report symptoms of anxiety and depression, while nearly half of the women and 40% of men with children have also reported these symptoms.
In addition to anxiety and depression, health impacts as a result of the worry and stress due to the coronavirus include:
Post-traumatic stress disorder
Loneliness
Low motivation
Increases in alcohol intake and other substance use
Worsening chronic health conditions
COVID-19 and anxiety
Anxiety is an expected reaction to uncertainty or a crisis.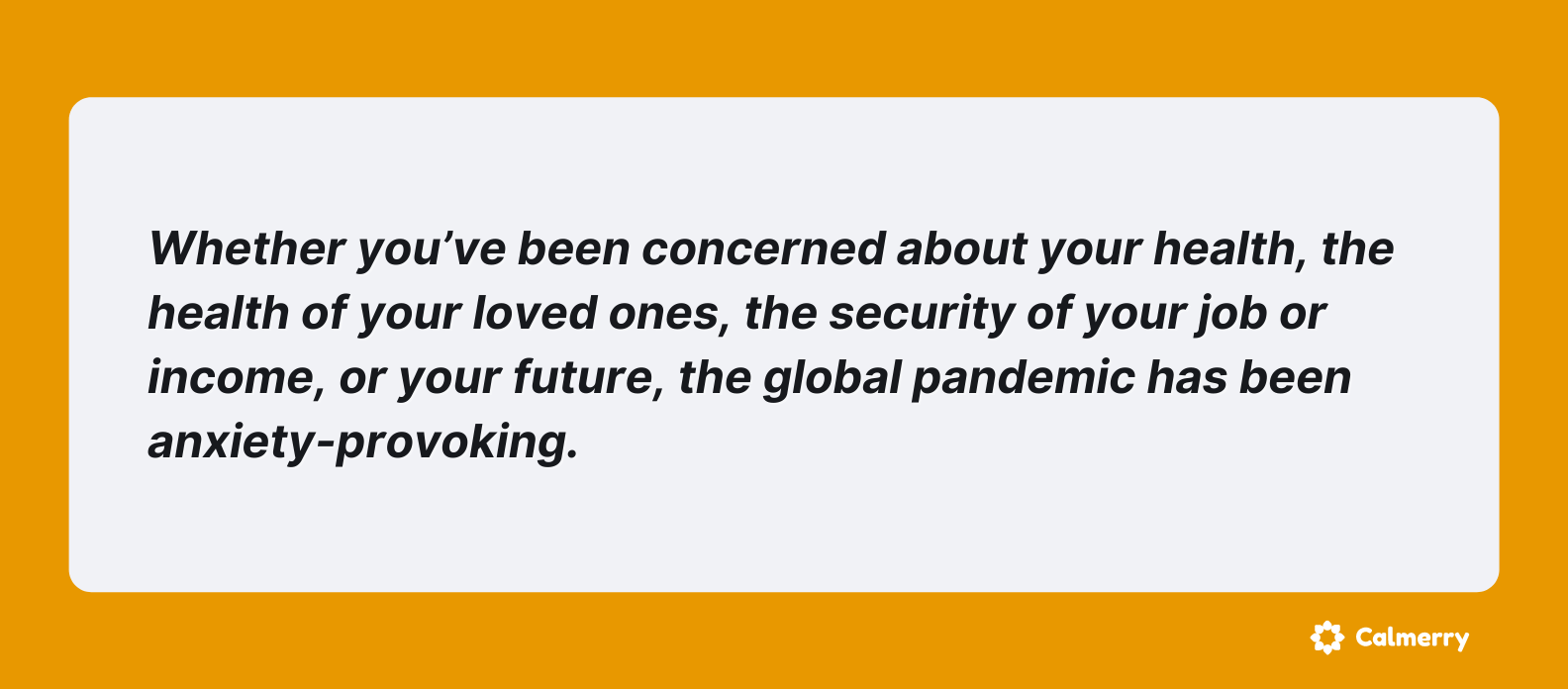 Anxiety itself isn't necessarily negative. It can alert us to danger and threats and prompt us to follow hygiene and safety protocols (e.g., washing hands, physical distancing mandates, and getting vaccinated). However, too much anxiety can ultimately cause physical and psychological harm.
Anxiety related to COVID-19 may show up as:
Avoidance of low-risk situations that interferes with your daily life
An inability to think about anything other than COVID-19
Excessive worry about being infected by others through direct contact or public surfaces
Feelings of hopelessness regarding the pandemic
Compulsive symptom checking
Difficulty sleeping ("coronasomnia")
Nightmares
Not otherwise explainable physical symptoms such as headaches or stomach aches
For people who are already prone to anxiety, being on high alert because of the pandemic may increase their symptoms. Others may experience anxiety for the first time.
In addition, not all pandemic-related anxiety will be focused on COVID-19.
The changes in day-to-day life can also exacerbate symptoms of generalized anxiety which include:
Excessive worry about multiple events or activities
Difficulty controlling the worry
Restlessness or feeling on edge
Exhaustion
Difficulty concentrating
Irritability
Muscle tension
Insomnia or unsatisfying sleep
COVID-19 depression
If you're not experiencing pandemic-related anxiety, but you get the feeling that something is off, you may be experiencing depression. It's also possible to experience both depression and anxiety at the same time.
Symptoms of depression include:
Feeling sad, down, or empty
Loss of interest or pleasure in things you used to enjoy
Weight gain or loss
Difficulty sleeping or sleeping too much
Slowed movement
Loss of energy
Feelings of guilt or worthlessness
Inability to concentrate
Thoughts of death or suicide
How to cope with COVID-19 anxiety
For more than a year, people outside of your bubble have become potential vectors of COVID-19. With the constantly shifting information and pandemic fatigue, it's hard to know what's really safe. What we do know is that untreated and unaddressed anxiety can cause physical and psychological harm.
The good news is, there are things that you can do to manage your anxiety and support your mental health during this extraordinary time.
Slow down
While some people are beyond excited to return to the exact same social lives they had before the pandemic (e.g. restaurants, movie theaters, office work, nights out, concerts), for others, this can create a huge amount of fear and anxiety.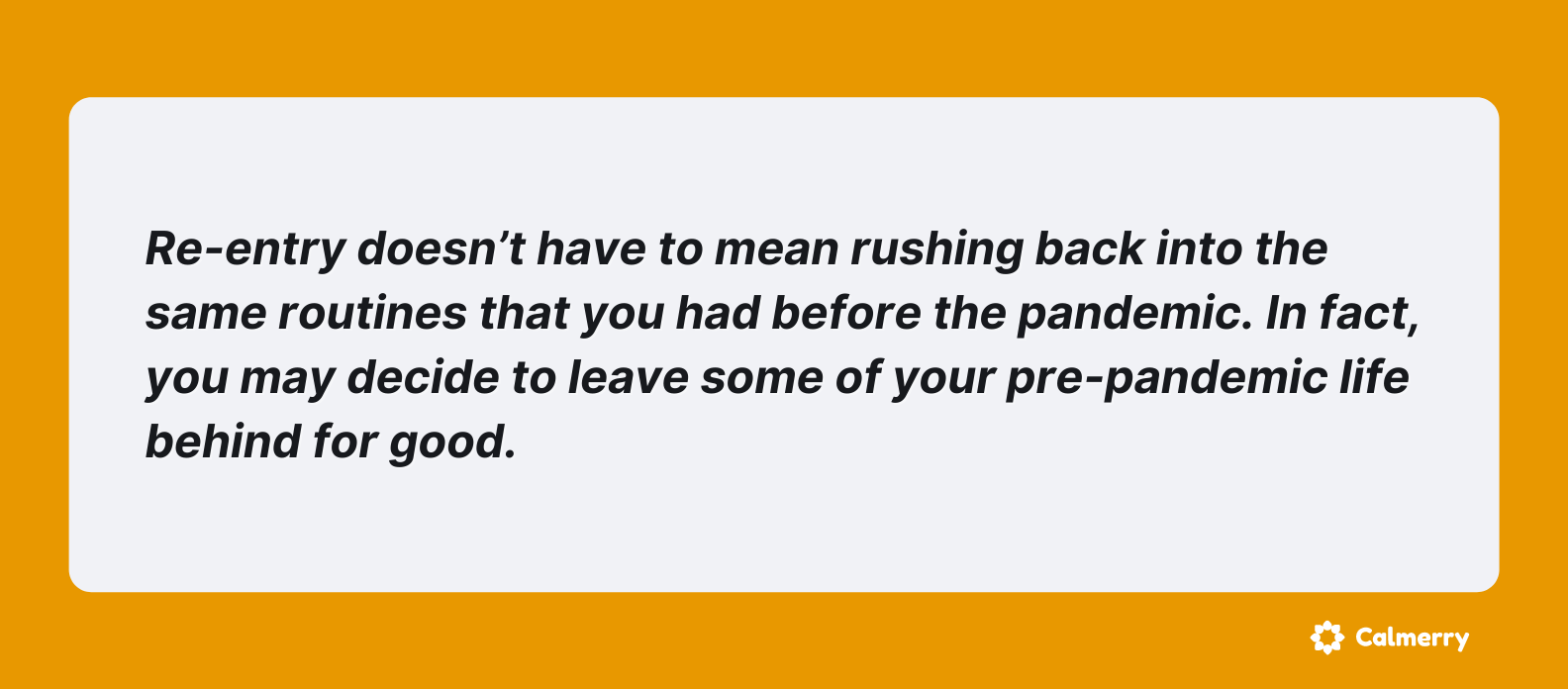 Take this time to re-evaluate what's important to you. Our lives evolve, and that's a good thing.
Continue to follow safety protocols
You can put yourself at ease by doing the things that are in your control to stay safe. If you haven't already, consider getting vaccinated. And while it's important to go outside and breathe fresh air, when you're in crowded places such as a grocery store or theater, you can continue to wear a mask and sanitize your hands, even if that's no longer a requirement.
Take care of yourself
I've said it before, and I'll say it again–one of the best things you can do for your mental health is to follow the basics of self-care, including getting 7-9 hours of sleep each night, eating a balanced diet, and engaging in regular physical activity. Eat things that taste good and do activities that you enjoy, just be sure that there's balance.
Be supportive to others
Being thoughtful and caring towards others can be a great anxiety buster. See if you can help a neighbor, check in on a friend, or volunteer some of your time towards a cause that you care about.
Subscribe
to our mental health digest
Let us support you on the way to better mental well-being. Get expert tips and insights on mental health delivered to your inbox monthly.
Talk to people you trust
The more you isolate, the worse your mental health will become. Opening up to someone you trust about your experience can create a sense of community and connection, which combats anxiety and offers a much-needed outside perspective. If you're not ready to meet in person and need a break from the screen, consider calling or writing letters with a request for a reply.
Try online therapy
Online therapy for anxiety is a great resource for managing your COVID anxiety and developing healthy coping strategies. You may not feel comfortable traveling to or sitting in a small office with another person, and you don't have to. Online therapy is an accessible and research-backed option to access high-quality mental health support from the comfort and safety of your own space.
Сheck your mental well-being for free: