Published November 17, 2023
What to Know About Atelophobia (Fear of Imperfection)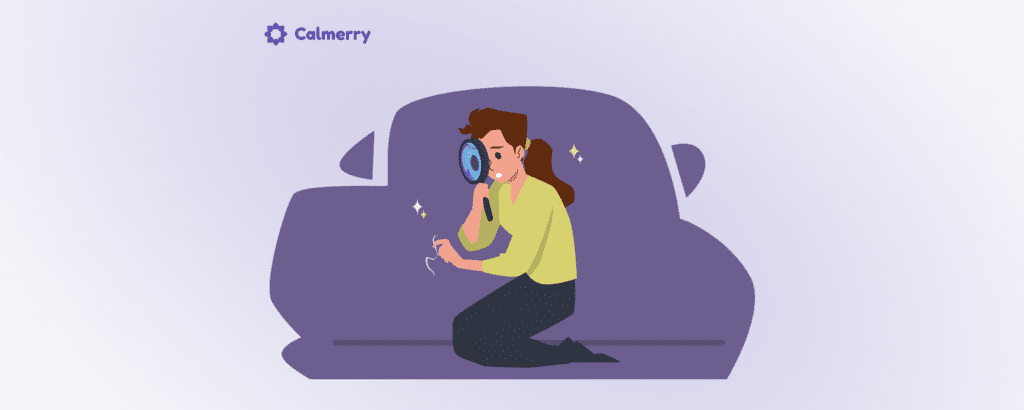 Reading Time:
5
minutes
Everyone focuses on their flaws from time to time, ruminates about past mistakes, or worries about making mistakes in the future. In a society increasingly intolerant of errors or imperfections, it can be hard not to feel inadequate.
For some people, the fear of imperfection can be all-consuming, affecting their work, relationships, and other aspects of daily life. These people are suffering from more than societal pressure to be perfect. They have atelophobia, or the fear of imperfection.
Atelophobia is a real phobia that significantly affects mental health and other aspects of functioning.
This article will discuss the prevalence, causes, symptoms, and treatments of atelophobia.
But first, let's look at some of the characteristics of this often misunderstood condition.
What is atelophobia?
Atelophobia is a persistent, obsessive fear of imperfection. It is an example of a specific phobia, which is a type of anxiety disorder listed in the Diagnostic and Statistical Manual of Mental Disorders (DSM).
Like other phobias, atelophobia can cause people to avoid certain situations or contexts. For example, someone with a fear of imperfection might avoid challenging tasks due to the fear that they won't be able to complete them perfectly.
People with atelophobia are so consumed with their perceived imperfections that it is difficult for them to think about anything else.
Left untreated, atelophobia can lead to symptoms of anxiety and depression.
Is atelophobia common?
Because there has been relatively little research on atelophobia, we don't have good data about its prevalence.
However, studies suggest that between 3% and 15% of adults will experience a phobia at some point in their lives. [1] Eaton, W. W., Bienvenu, O. J., & Miloyan, B. (2018). Specific phobias. The Lancet Psychiatry, 5(8), 678–686. https://doi.org/10.1016/s2215-0366(18)30169-x  
The most common phobias are a fear of heights and a fear of animals such as dogs, snakes, or spiders.
What causes atelophobia?
Like other phobias, atelophobia doesn't always have an identifiable cause.
You may be more prone to developing atelophobia if you have a family history of anxiety, or if you grew up in a critical environment where mistakes or imperfections were met with harsh punishment.
There are also cultural and societal factors that can trigger the fear of being imperfect – for example, an emphasis on overachievement or having a perfect appearance.
Some social scientists are concerned that technology is contributing to an increase in atelophobia. 
Social media, in particular, presents a mirage of perfection that encourages social comparison and can exacerbate feelings of inadequacy. While social media doesn't create atelophobia on its own, it creates an unrealistic and unattainable standard that can cause people to become fixated on their shortcomings. 
Symptoms of atelophobia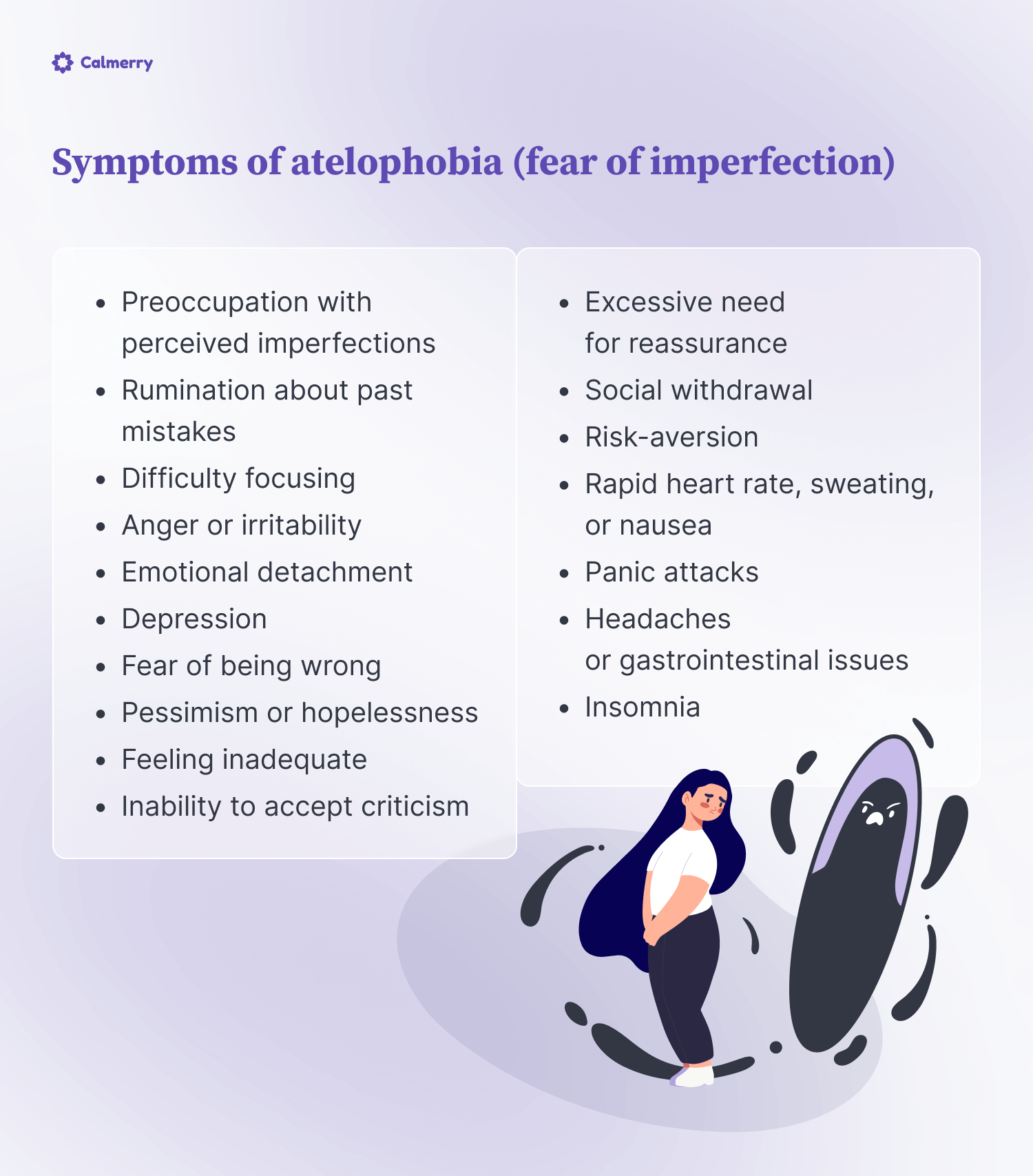 People with a phobia of imperfection can experience a range of cognitive, emotional, behavioral, and physical symptoms.
Not everyone with this condition will present in the same way. For example, while some people with a fear of imperfection are visibly anxious, others may appear irritable or withdrawn.
Here are some other atelophobia symptoms:
Cognitive
Preoccupation with perceived imperfections
Rumination about past mistakes
Difficulty focusing
Emotional
Anger or irritability
Emotional detachment
Depression
Fear of being wrong
Pessimism or hopelessness
Behavioral
Inability to accept criticism
Excessive need for reassurance
Social withdrawal
Risk-aversion
Physical
Symptoms of panic such as rapid heart rate, sweating, or nausea*
Headaches or gastrointestinal issues
Insomnia
*In some cases, people with atelophobia can experience panic attacks, or sudden episodes of intense anxiety that can include shortness of breath, trembling, chest pain, and lightheadedness. These episodes are extremely distressing and often impact daily life.
Atelophobia and relationships
Atelophobia can impact relationships in several ways.
First, people with atelophobia may avoid getting close to others for fear that they will see their imperfections and reject them as a result. They may constantly seek reassurance from their partners, creating stress in the relationship. 
In addition, people with atelophobia often have a hard time accepting criticism. This causes them to become defensive, leading to interpersonal conflict.
Finally, people with a fear of imperfection may have difficulty communicating their true thoughts and feelings for fear of judgment. This can result in misunderstandings with friends, family, and romantic partners.
Over time, these dynamics can hinder intimacy and trust, making it difficult to develop and maintain fulfilling relationships.
Atelophobia at work
Just as a fear of imperfection can interfere with personal relationships, so can atelophobia affect interpersonal dynamics at work.
For example, the constant need for reassurance can create strain with coworkers.
People with atelophobia may avoid sharing ideas or asking for help, fearing that they will be negatively judged. 
Also, people with this type of phobia may have a hard time accepting constructive criticism from supervisors and peers, hindering both their work relationships and their professional growth.
People with atelophobia often avoid taking on new challenges or opportunities due to a phobia of making mistakes. They may suffer from performance anxiety and have a hard time giving presentations or participating in other activities where they might be negatively evaluated.

– Lindsay Renner Schwartz, Licensed Clinical Social Worker (LICSW)
The fear of imperfection can cause them to obsess over small details or procrastinate such that they fail to meet deadlines.
Finally, the persistent anxiety associated with atelophobia can lead to workplace burnout. 
Atelophobia vs. perfectionism
At this point, you may be thinking that atelophobia is just another word for perfectionism, but they are two different things.
Perfectionism is a personality trait, while atelophobia is a mental health condition.
While perfectionists strive for excellence, their flaws or mistakes don't provoke fear and avoidance.
Perfectionists experience distress when they fall short of their ideals, but they aren't incapacitated by the fear of not being perfect in the way that someone with atelophobia is.
How to overcome atelophobia
Overcoming atelophobia is not easy, but it is possible with a combination of self-awareness, cognitive-behavioral techniques, and therapeutic support.
Acknowledging that perfection is an unattainable standard is the first step.
Self-compassion exercises can help you accept that flaws and mistakes are natural parts of the human experience. For example, you could try writing yourself a letter of forgiveness or talking to yourself as you would a dear friend.

– Lindsay Renner Schwartz, Licensed Clinical Social Worker (LICSW)
Here are some other techniques that can help to combat atelophobia:
Challenge your thoughts
People with a fear of imperfection often have distorted thoughts like "I can't be happy unless I am perfect." You can challenge these thoughts by thinking of exceptions to the rule.
Get mindful
Mindfulness, which involves focusing on the present moment without judgment, can help you become more aware of your thoughts and feelings so that you can more effectively challenge negative self-talk. 
Use your support system
You might find your imperfections intolerable, but there are others in your life who love and accept you just as you are. Connecting with friends and family members can help to provide perspective, encouragement, and reassurance.
Embrace the concept of "good enough"
Have you ever heard the saying, "Perfect is the enemy of good?" Striving for perfection keeps us trapped in a cycle of inadequacy. Instead, try aiming for what is "good enough."
Research suggests that doing so can help you lead a more purposeful and contented life. [2] Thomas Curran. The Perfection Trap: Embracing the Power of Good Enough, 288. https://www.amazon.com/Perfection-Trap-Embracing-Power-Enough/
Make mistakes on purpose
Yes, you read that correctly! Confronting your fear of imperfection head-on will help to reduce its power. It will be uncomfortable at first, but over time, you will be less bothered by it.
Treatment of atelophobia
There are several therapeutic approaches that can be helpful in alleviating the fear of not being perfect. One is cognitive-behavioral therapy, which helps you identify and challenge negative thought patterns. 
Here are some other treatments that can be effective for atelophobia:
Exposure therapy involves gradually confronting situations that trigger your fear of imperfection and using relaxation techniques to build resilience. For example, you might start by leaving home with your shirt partially untucked or your pants wrinkled. Over time, you can build up to more challenging situations.
Mindfulness-based stress reduction (MBSR) is a therapeutic approach that uses mindfulness meditation and other techniques to increase self-awareness, improve emotion regulation, and reduce stress. Although there are no studies of MBSR for atelophobia specifically, it has been shown to help increase self-acceptance and reduce shame among university students with evaluation anxiety. [3] Hjeltnes, A., Binder, P., Moltu, C., & Dundas, I. (2015). Facing the fear of failure: An explorative qualitative study of client experiences in a mindfulness-based stress reduction program for university students with academic evaluation anxiety. International Journal of Qualitative Studies on Health and Well-being, 10(1), 27990. https://doi.org/10.3402/qhw.v10.27990
Dialectical-behavioral therapy (DBT) is another type of treatment that can benefit people with atelophobia. DBT uses elements of mindfulness to build emotion regulation and distress tolerance skills. One such skill is radical acceptance, which can help you to accept imperfection without resisting or trying to change it.
Medication can be helpful to manage the symptoms of anxiety associated with atelophobia. However,

medication is typically not the first line of treatment for phobias.

A psychiatrist or psychiatric nurse practitioner can help determine whether medication is right for you.
Often, treatment for atelophobia involves combining two or more of the above therapies.
Whether you opt for in-person treatment or online therapy, a licensed therapist can create a treatment plan that meets your specific needs and circumstances. 
Takeaways
Atelophobia is a specific phobia that is characterized by an intense fear of imperfection. People with this condition often have difficulty at work, in relationships, and other aspects of daily life. Symptoms vary from person to person but can include difficulty focusing, feelings of worthlessness, social withdrawal, and panic attacks.
If you think you may be experiencing atelophobia, a licensed mental health provider on Calmerry can help you determine the best course of treatment.
We curate our articles with warmth and care, drawing from reputable sources and expert knowledge. Explore our editorial process to understand how we prioritize your trust and keep accuracy in every word we share.
Thomas Curran. The Perfection Trap: Embracing the Power of Good Enough, 288. https://www.amazon.com/Perfection-Trap-Embracing-Power-Enough/

Hjeltnes, A., Binder, P., Moltu, C., & Dundas, I. (2015). Facing the fear of failure: An explorative qualitative study of client experiences in a mindfulness-based stress reduction program for university students with academic evaluation anxiety. International Journal of Qualitative Studies on Health and Well-being, 10(1), 27990. https://doi.org/10.3402/qhw.v10.27990
Сheck your mental well-being for free: