Published September 29, 2023
Latinx and Hispanic Communities and Mental Health: Challenges, Prevalence, and Barriers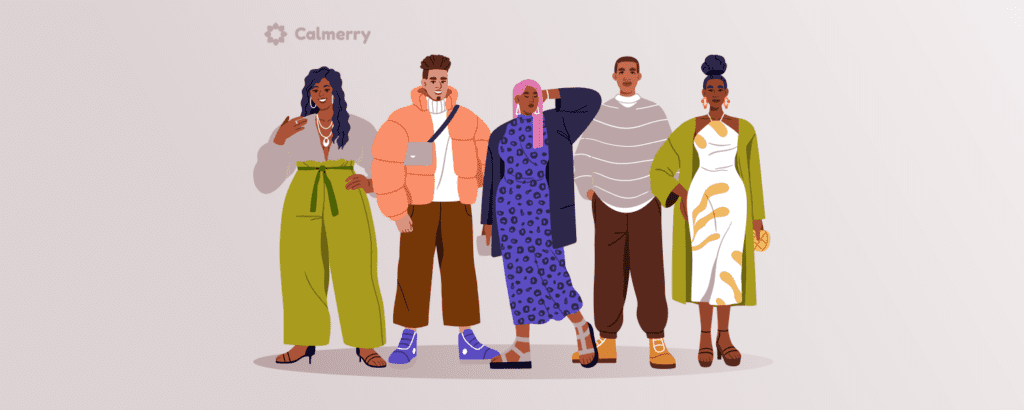 Reading Time:
7
minutes
The U.S. Hispanic/Latino community is very diverse and includes people from many different nations and races.
People within Hispanic/Latino communities in the United States may experience challenges with their mental health. Mental health conditions don't discriminate based on race, color, gender, or identity.
Understanding terminology: Latinx vs. Hispanic
Hispanic refers to a person who is a native of or descends from a Spanish-speaking country.
Latino/Latina refers to a person who is native of or descends from a Latin American country, including Mexico, Central and South America, and the Caribbean. This also includes people from Brazil, where Portuguese is spoken.
Latinx is a gender-neutral or non-binary alternative to Latino or Latina.
In simple words, Hispanic refers more to language, while Latino/Latina refers more to culture.
The Hispanic/Latinx communities in the U.S. are very diverse. They consist of people from many countries, including Mexico, Puerto Rico, Cuba, Central America, the Dominican Republic, Spain, and South America, among others.
These groups have been a significant part of the U.S. for a long time.
The cultural, historical, and individual identities within these groups are rich and diverse, with each country and region having its own unique traditions, languages or dialects, and experiences.
It's crucial to recognize these distinctions and comprehend how individuals within a community identify themselves based on race, ethnicity, and/or national origin.
Just like in any community, the mental health needs and experiences of Hispanic/Latinx individuals differ across subgroups.
Hispanic and Latinx mental health statistics and prevalence
Challenges and mental health issues in Latinx and Hispanic communities
Understanding the distinct mental health challenges within Latinx and Hispanic communities is crucial for healthcare professionals and policymakers, community leaders, and the broader society.
Awareness and education on these challenges can create a more inclusive and supportive environment for individuals facing mental health issues.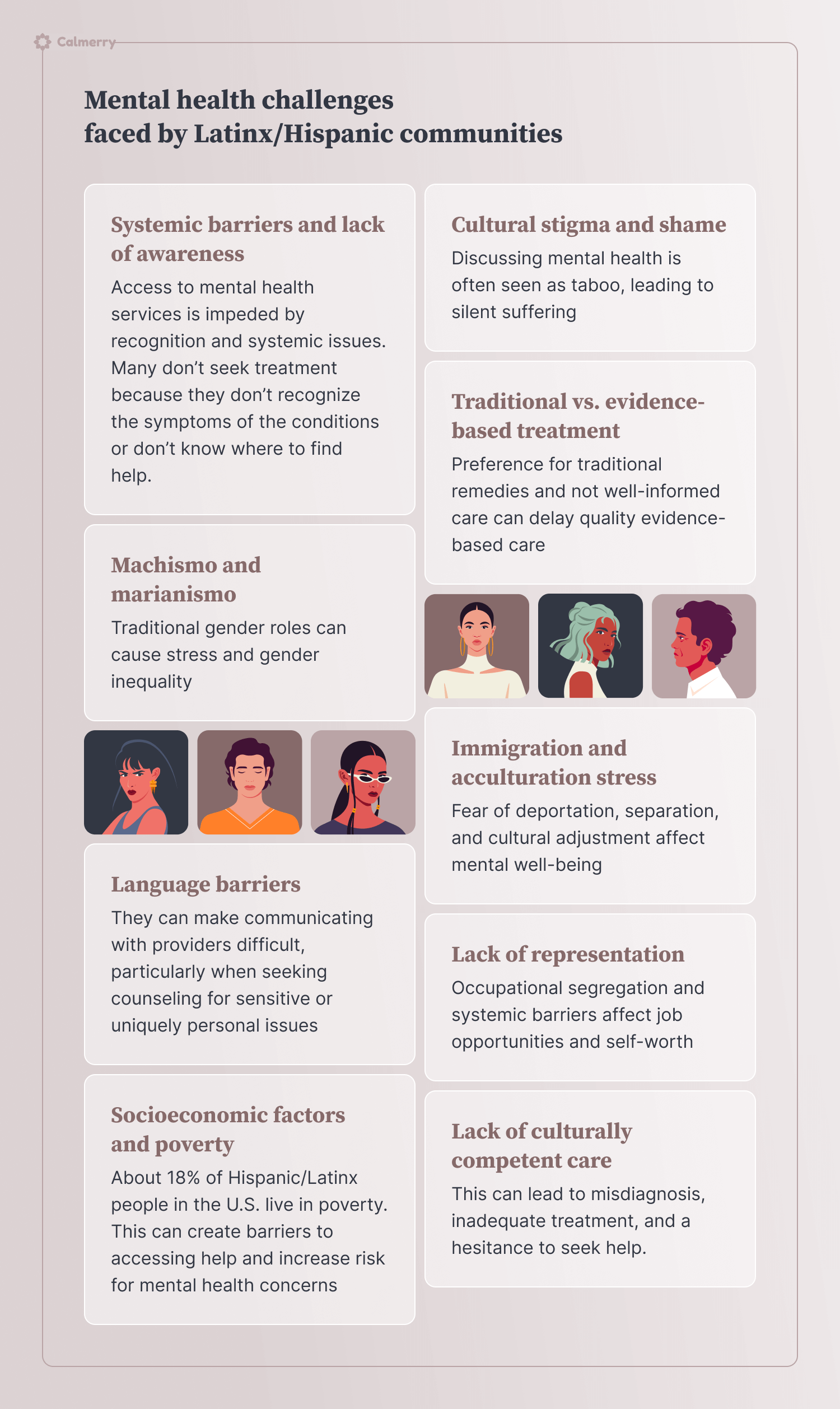 Cultural stigma and shame
Generally, the Latino/Hispanic community does not talk about mental health issues. For them, mental health and mental illness are often stigmatized topics, resulting in prolonged suffering in silence.
People in the Hispanic/Latino community can be very private and may not want to talk publicly about challenges at home or in their lives. For them, talking about mental health can be viewed as taboo.
Many in the community know the saying "la ropa sucia se lava en casa," akin to "don't air your dirty laundry in public." Some individuals avoid seeking mental health treatment for fear of being deemed "locos" (crazy) or bringing shame and unwanted scrutiny to their families. [4] Hispanic/Latinx – NAMI Butler County PA. (n.d.). https://namibutler.org/hispanic-latinx/
Unique institutional and systemic barriers
The Latino/Hispanic community faces unique institutional and systemic challenges that can obstruct access to mental health services, resulting in fewer individuals seeking help.
Many Latinos don't seek treatment because they don't recognize the symptoms of the conditions or because they do not know where to find help.
Machismo and marianismo
Machismo and marianismo are traditional gender role concepts that are linked to the culture in Latin America. These concepts reflect traditional gender expectations and social structures.
Marianismo (the term derived from the Virgin Mary) is a "behavior pattern in which the traditional Latin female perceives herself as morally and spiritually superior to the man in direct proportion to his sexual behavior" [5] Mendoza. (2009, October 15). Machismo Literature Review. Retrieved September 29, 2023, from https://www.rit.edu/liberalarts/sites/rit.edu.liberalarts/files/documents/our-work/2009-12.pdf Marianismo is often seen as the female counterpart to machismo, embodying traditional female virtues such as purity, moral superiority, self-sacrifice, and the role of women as caregivers. 
Immigration and acculturation stress
For undocumented immigrants, the fear of deportation can deter them from seeking help. [6] Pinedo, M., Beltrán-Girón, J., Corrêa, Z. M., & Valdez, C. R. (2021). A Qualitative view of Migration-Related Stressors on the mental health of Latinx Americans in the current sociopolitical climate of hostility towards migrants. Journal of Immigrant and Minority Health, 23(5), 1053–1064. https://doi.org/10.1007/s10903-021-01207-6 Also, many families may not know about their eligibility for health insurance or be afraid to register due to fear of separation and deportation.
On the other hand, the level of a person's acculturation and how they have embraced or adopted the predominant culture of the place they live can play a role in mental health and access to care.
Hispanic/Latino communities face an increased risk of mental health issues due to the stress of facing discrimination while also navigating through different cultures.
Lack of representation (including at work)
The Hispanic and Latino community has little representation within North American society. And Hispanic workers are also more occupationally segregated than any other ethnic group.
For example, Hispanic workers are notably underrepresented in professional or managerial roles in the U.S. They are often found in specific sectors such as farming, building, grounds cleaning, and maintenance.
This is often because of the "arbitrary" degree requirements workplaces have that may not be directly related to the skills needed to perform the job. And these requirements might serve as barriers for many workers who have the necessary skills for the job but may not have the specific degree or certification.
This could be due to a variety of systemic factors, including educational inequality or financial barriers to higher education.
This pattern reflects broader systemic issues rather than individual capabilities. It also emphasizes the need for greater diversity and inclusivity across all job levels and sectors.
Exposure to violence and trauma
Trauma exposure is frequently overlooked as a risk factor for mental health issues. When it comes to trauma, Latinos are at higher risk.
They are at higher risk of developing post-traumatic stress disorder symptoms due to the increased challenges that their families face.
Latino families who have migrated to the U.S. are at higher risk of experiencing traumatic events, as they tend to experience trauma in their home country and during their migration and settlement to the U.S.
Traditional vs. evidence-based treatment
Some Latinos may prefer traditional healers and home remedies to deal with health-related issues. [7] Mental Health Challenges and Support: Latinx Communities – NAMI California. (2020, October 22). NAMI California. https://namica.org/mental-health-challenges-in-latino-communities/
Spiritual leaders and faith communities might be able to provide emotional, spiritual, and sometimes material support, which can be incredibly beneficial during difficult times. But sometimes, faith communities can be a source of additional distress if they are not well-informed and do not know how to support families or individuals dealing with certain conditions.
They might not fully understand certain medical conditions, particularly mental health conditions, or have stigmatizing attitudes toward them. This lack of understanding could lead to misinformation, inadequate support, or potentially harmful advice.
Barriers to mental health care
Some systemic obstacles that limit access to care for the Hispanic/Latino community include the following:
Language barriers
The language barrier is one of the most common disconnects that Hispanic and Latino people face. It can make communicating with providers difficult, particularly when a person is seeking counseling for sensitive or uniquely personal issues.
For example, a common miscommunication that occurs in the mental health sphere is with the diagnosis of nerves, a form of depression.
Also, finding a mental health provider fluent in a person's primary language can be challenging.
Socioeconomic factors and poverty
About 18% of Hispanic/Latinx people in the U.S. live in poverty compared to 8% of non-U.S.
Living in poverty can not only create a barrier to accessing mental health but also increase the risk for mental health concerns.
According to the Kaiser Family Foundation, in 2019, 20% of non-elderly Hispanic people had no form of health insurance. In addition to facing an already limited pool of providers due to language barriers, people identifying as Hispanic/Latinx have even fewer options when uninsured.
Legal status
The fear of deportation or separation may keep families from even trying to gain access to these resources.
Acculturation
Becoming familiar with a different culture can be a challenge for people coming from other countries. Families whose children were born in the U.S. while their parents were born elsewhere encounter the challenge of youths and adults acculturating to the U.S. at a different pace.
Cultural mistrust of mental health services
Some Latinx families mistrust the mental health system, and some do not believe in the concept of mental health. They may feel embarrassed or guilty. Others may be afraid of what others will think or of being judged.
These may stem from historical mistreatment, systemic biases, cultural stigma, or lack of culturally competent care within healthcare systems.
Take care of yourself
Self-care means taking the time to do things that help you live well and improve your physical and mental health. Self-care activities can help you manage stress, lower your risk of illness, and increase your energy.
Here are some tips to help you get started with self-care:
Live healthy: eat healthy foods, get enough sleep, exercise regularly, and avoid drug and alcohol misuse.
See friends to build your sense of belonging. Consider joining a support group to make new, meaningful relationships.
Try to do something you enjoy every day. That might mean dancing, watching a favorite TV show, working in the garden, painting, or reading.
Focus on positivity. Identify and challenge your negative thoughts.
Find ways to relax: meditation, yoga, getting a massage, taking a bath, or walking in the woods.
Mental health resources for Latinx and Hispanic communities
Get culturally and linguistically competent care
It is important that you take care of your mental health regardless of any barriers. Whether you seek assistance from a primary care doctor or a mental health professional, you should conclude your sessions feeling heard and respected by the healthcare professionals.
You may want to ask yourself:
Do I feel like my provider understands and relates well with me?
Is my provider willing to integrate my beliefs, practices, identity, and cultural background into my treatment plan?
If English isn't your preferred language, inform the office staff when you schedule your appointment; this will enable them to arrange an interpreter for your visit.
One of the most prevailing misconceptions about therapy is that it's exclusively for individuals who are "crazy" or have severe mental health issues.
In reality, therapy is beneficial for a wide range of concerns, from everyday stress and relationship difficulties to personal growth and self-exploration. Therapy provides a safe, non-judgmental space where individuals can gain insight, develop coping strategies, and improve their overall well-being.

– Yozaira León-Santiago, Licensed Professional Counselor (LPC)
A word from Calmerry
We recognize that providing culturally competent care – care that is respectful of and responsive to the cultural and linguistic needs of individuals – is essential for building trust and effectively supporting diverse communities.
At Calmerry, you have access to online therapists who not only speak your language but also understand cultural nuances and your experiences.
Our platform is here to bridge the gap between culturally competent care and the Latinx/Hispanic communities, ensuring that mental health support is accessible, respectful, and inclusive.
Taking care of your mental health is a crucial step towards achieving a balanced and fulfilling life. And you're not alone in this.
We curate our articles with warmth and care, drawing from reputable sources and expert knowledge. Explore our editorial process to understand how we prioritize your trust and keep accuracy in every word we share.
Сheck your mental well-being for free: