Published April 5, 2022 / Updated March 23, 2023
Know the Signs of Emotional Dependency So That You Can Recover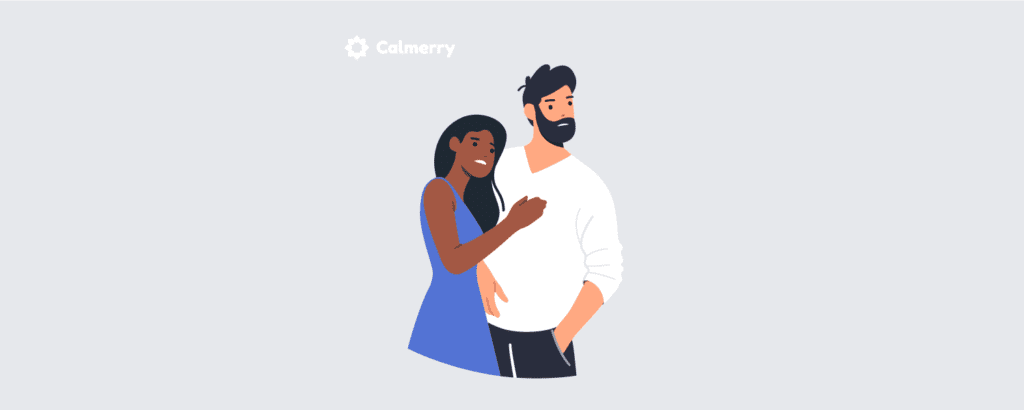 Reading Time:
5
minutes
It takes a village, as the saying goes. We all rely on other people to get by. And one of the best things about healthy relationships is that they offer much-needed connection and support, especially when times get tough. When you mess up at work, lose out on your dream job, or experience a serious illness, the people closest to you will be by your side to shepherd you through even the darkest of times.
If you're in a romantic relationship, chances are that you rely on your partner to offer this support and vice versa. That's normal and healthy. In fact, supportive, long-lasting partnerships have the potential to change your brain and promote a sense of satisfaction and ease.
However, if your partner, or anyone else close to you, becomes the sole proprietor of your self-esteem and you start to rely on them to feel happy and complete, you've likely crossed into emotional dependency territory.
As chemical dependencies can harm your physical and psychological health, this form of dependency is damaging to your emotional health. It puts you at risk of losing your ability to care for and soothe yourself. It also takes a heavy toll on your partner, which can put your entire relationship in jeopardy.

Signs of emotional dependency
If you notice yourself always leaning on another person to manage your challenging emotions, you may be experiencing emotional dependency.
Signs of emotional dependency to keep an eye out for include:
Constantly feeling like you need the other person's reassurance and approval
Not trusting that the other person truly cares for you
Harboring a deep fear of rejection
Finding yourself feeling jealous or possessive
Thinking that your happiness depends on that person
Relying on them to boost your self-esteem and sense of worth
Idealizing the other person and putting them on a pedestal
Feeling empty and anxious when you spend time alone
All of these feelings and experiences can trigger a great amount of anxiety and stress. You might find yourself worrying about what the other person is doing or fixating on whether their feelings for you have changed. This can cause mood swings, outbursts, depression, and even physical expressions of chronic stress like stomachaches, headaches, and the suppression of your immune system.
Relying on someone else for your complete emotional fulfillment can also lead to deep fears of abandonment, which can, in turn, cause you to lash out, attempt to control, or manipulate the other person to stay with you. This is usually quite disastrous for a relationship, as no one likes to feel boxed in or toyed with.
Emotional dependency vs. love
Because emotional dependency can generate intense feelings, it is sometimes confused with love. In actuality, they couldn't be more different.
Emotional dependency is based on need, fear, and lack. You crave the care, attention, and validation that you are not able to give to yourself. It can even get to the point where your very survival feels like it hinges on the other person's recognition and affection. Your idealization of them is merely a projection of your needs.
In contrast, your love for another person arises from a place of valuing and caring for them as they are, and for their own sake. It is an offering, not a taking, and it comes from a place of generosity and abundance, not fear, control, or need. Indian mystic and philosopher Osho Rajneesh put it perfectly when he said, "The first ripple of love has to be around yourself."

What causes emotional dependency?
Emotional dependency is usually a pattern that repeats over and over throughout your life. But what causes it? While there is no single definitive answer to this question, there are things in your past that might be contributing to this tendency.
It's possible that you have low self-esteem stemming from challenging family dynamics or critical parents, issues with your weight or body image, work or academic challenges, negative feedback from your peers or having been bullied, or behaviors that you observed from an early age.
You might have experienced abusive relationships in the past or have an underlying mental health issue. It's also possible that you experienced neglect or trauma in your childhood, including verbal or physical abuse, that disrupted your development from the full dependence of infancy towards the interdependence of adulthood.
How to stop being emotionally dependent
Imagine someone who always says no when you offer a shoulder to lean on. When it's at the other end of the spectrum, too much emotional independence can also be unhealthy. As with most things, the goal here is to find balance, being capable of meeting some of your emotional needs on your own, and relying on your partner and close relationships to help meet others.
If this article is resonating with you, you may be struggling with emotional dependence. There are things that you can do to address the issue to build healthier relationships while also taking better care of yourself.

Get to know your needs and learn how to meet them
If, up until now, you haven't spent very much time strengthening the inner bond that you have to yourself, now's the time to start. This not only means making space for your feelings but also validating them.
If you're jealous that your best friend is excelling in their career, rather than pushing that feeling down out of shame, acknowledge it and let it surface. See how it feels in your body. Are your muscles tightened? Are there flutters in your chest? Notice your negative self-talk and make space to shift your inner dialogue to one that is more compassionate.
Be kind to yourself and curious. We all have a whole range of emotions, and the only way to process and move beyond them is to get to know them.
Deepening your relationship with yourself can be fun. Take yourself on a date. Write in your journal. Block out alone time to do whatever feels soothing and nourishing. Take care of yourself.
Subscribe
to our mental health digest
Let us support you on the way to better mental well-being. Get expert tips and insights on mental health delivered to your inbox monthly.
Make space to listen to your inner narratives
When you're exhausted, you might not have much room to care for yourself. And it can be hard to recognize when there's too much weight on your shoulders, rendering you emotionally depleted. One way to start is by asking yourself how you are doing with all of life's demands.
It can be tempting to stuff your feelings down or to beat yourself up for your negative thinking, but try to be real with yourself. Once you have a sense of how things are going for you, start to notice and reflect on the narratives that arise in your mind.
Do I feel to blame?
Do I feel lacking?
Do I feel alone and helpless?
Do I blame someone else?
Where did I learn these narratives?
How online therapy can help
Social pain is no less serious or severe than physical pain. And relationships have an incredible potential for healing. Research tells us that the relationship between the therapist and client can support and promote many positive transformations in your life.
Working with an online therapist can help you to build your self-confidence, develop coping strategies, and re-write some of your personal narratives to ones that are more healing, positive, and self-affirming. You can overcome your emotional dependence and build a network of healthy and sustaining relationships, beginning with yourself.
Сheck your mental well-being for free: