Reading Time:
3
minutes
Starting therapy can be nerve-wracking even for people who have no trouble opening up. You see, it's one thing to talk to a loved one about our troubles, and it's an entirely different thing to talk to a complete stranger. Where do you start? What are you expected to share? These and many more questions may be going through your mind.
If you're anxious about your first session or yet to make the decision, it helps to know what to expect. Contrary to popular belief, your therapist won't expect you to share everything in your first session. The counselor goes with your pace and works to make you feel comfortable to share. Therefore, you shouldn't worry about opening up, just show up, and let the process unfold naturally.
You also don't have to wait until you're in a real crisis to start seeing a therapist. You can see a therapist for a plethora of reasons, from maintaining good mental health to staying on top of your goals. Therapy is as much preventative as it is curative.
What to Expect in Your Initial Therapy Consultation
Your first counseling session is just a picture of what you should expect in your next sessions. During your first visit, the therapist will be interested in getting to know you as a patient. They'll want to know what has brought you to their office and which problems you'd like to tackle. The therapist may also want to know your expectations from the process to offer holistic treatment. It's also okay to see a therapist even if you can't put the finger on what the real issue is. The therapist will help you figure it out. Here are some of the essential things to keep in mind during your initial visit.
Pay Attention to How the Therapist Makes You Feel
While you'll be sharing some deeply personal information with your therapist, you shouldn't expect them to be your best friend. The counselor's job is to listen and give you the help you need. Nonetheless, you should prioritize finding a therapist you mesh easily with. This is someone you're going to be seeing quite often when you begin counseling. Therefore, take note of how you feel around the person before committing.
Don't Be Embarrassed to Wear Your Heart On Your Sleeve
If you're like most people, you've probably been bottling up a lot of emotions before finally deciding to seek professional help. Therefore, do not be alarmed when you can't keep it together when talking to your therapist. The sense of relief from finally opening up can yield multiple emotions and be accompanied by tears. Go with the flow and don't fight it. It's a good sign and part of the process.
Subscribe to our mental health digest
Let us support you on the way to better mental well-being. Get expert tips and insights on mental health delivered to your inbox monthly.
Remember the Doctor-Patient Confidentiality Advantage
In most cases, people don't share what they're going through because of fear of judgment or that what they say may fall in the wrong ears. That shouldn't be a concern in therapy because the doctor is obliged to keep everything you say confidential. So don't hold anything back. Tell it all, the good, the bad, and the ugly. Your therapist has probably already seen and heard it all already.
Remember Your Therapist is Also Human
Most patients go into therapy, expecting an overnight change. Don't go in with these expectations. While your therapist has undergone lots of training to give you the help you need, they're still human. The best they can do is to use their judgment and expertise to give you the support you need. So trust the process and don't rush it.
Prepare Before You See Your Therapist
Before you begin therapy, it's crucial to have an idea of what you want to gain in the process. Do you want to deal with unresolved emotions, trauma, a bad relationship, or another area of your life?
Journaling and brainstorming issues you'd like to address is a good way to prepare for the initial visit.
This way, your therapist will know the kind of support they need to offer. However, don't be discouraged if you have no clear path of where you want the therapy sessions to go. It's totally fine to discover such issues as you continue with your therapy sessions.
Vital Questions to Ask Your Therapist
If you want to go in prepared (again, this isn't a necessity), it may also be a good idea to write down some questions to ask the therapist. Doing so will give you an idea of how the specialist can help and what to expect from your sessions.
Some examples of excellent questions to ask include:
Do you have experience with a case like mine?
What approach would you use for my treatment?
How long can I expect to see results?
That said, every patient is different. Some patients see results faster than others. Therefore, do not expect a one-size-fits-all approach. One thing you'll learn from your first session is what to expect during your visits. You'll also get a feel of the therapist and decide whether your chemistry is good. Congratulate yourself for taking that bold first step and let the process unfold naturally. Everything good takes time to perfect.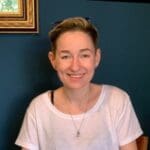 Kate Skurat
Licensed Mental Health Counselor
|
Washington, USA
Kate has a B.S. in Psychology and M.A. in Clinical Psychology from Pepperdine University and has worked in healthcare since 2017. She primarily treated depression, anxiety, eating disorders, trauma, and grief, as well as identity, relationship and adjustment issues. Her clinical experience has focused on individual and group counseling, emergency counseling and outreach.
Read more