Published December 25, 2021 / Updated March 23, 2023
XII Ways to Get Into the Christmas Spirit If You're Not Quite Feeling It Yet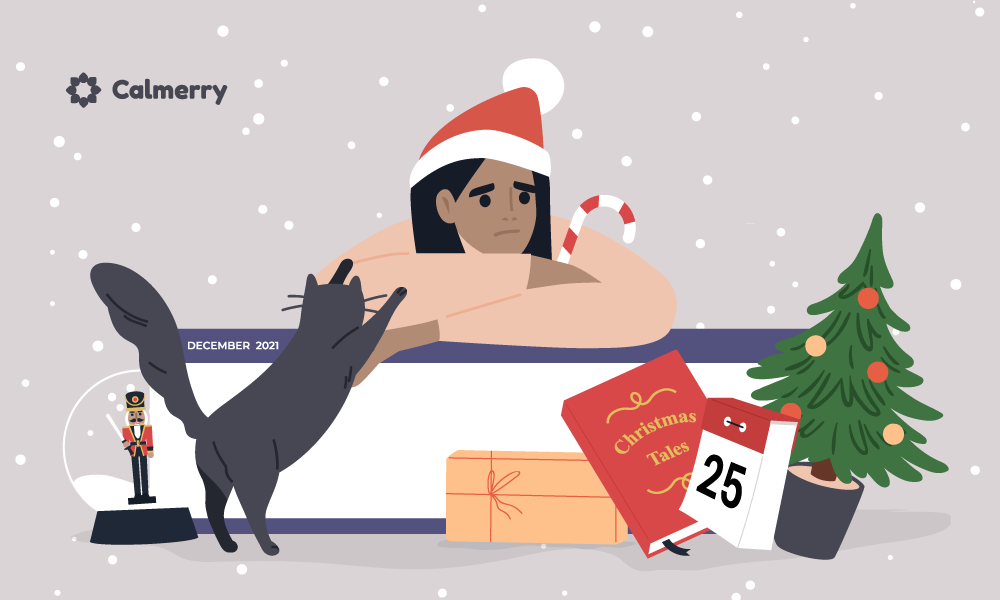 Reading Time:
11
minutes
It's the most wonderful time of the year! We can all agree that the atmosphere in December feels emotionally and physically a bit magical. It's that joy and nostalgia when, wrapped in silly sweaters, we enjoy our cozy evenings near the Christmas tree, music fills the air, shopping malls bustle, and our hearts sing under the Christmas lights.
But what if you're not quite feeling the Christmas cheer yet?
You're not alone. Unfortunately, the festive spirit we're supposed to feel during the holidays isn't always there. Actually, there's no shame in admitting you aren't in the holiday mood or you feel a bit more Scrooge than Santa.
If you're struggling to get into the holiday spirit and want to improve your "Grinchy" mood, there are some beneficial ways for your mental health to feel more Christmassy.
I. Get inspired by the festive atmosphere
This recommendation may seem intuitive, but there's a suggested correlation between happiness and festive imagery. There are regions in the brain responsible for recalling joyful emotions and pleasant ingestive behavior (eating and drinking). When we see holiday-related images or things, these regions increasingly activate. This makes the Christmas cheer real.
Just take a look at the following image. How does it make you feel?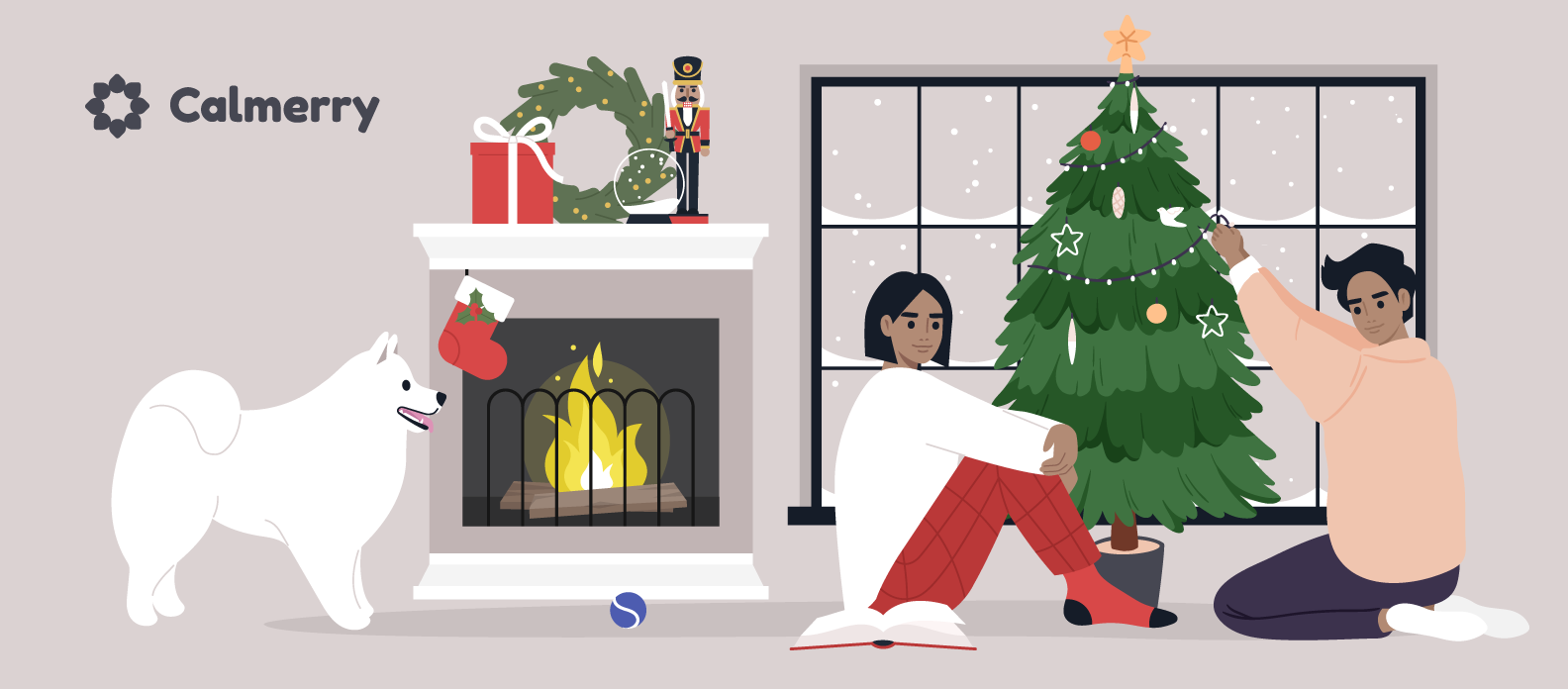 If you feel a bit joyful, that's evidence that just thinking about the holidays has a positive effect on your mood. This is especially true if you have a lot of happy memories associated with the holiday. Shops and stores regularly use this trick by playing Michael Bublé music to trigger positive emotions and prompt you to buy more.
December is a magical time to enjoy. So why not get inspired by the festive atmosphere that's all around?
Here are some little things to try: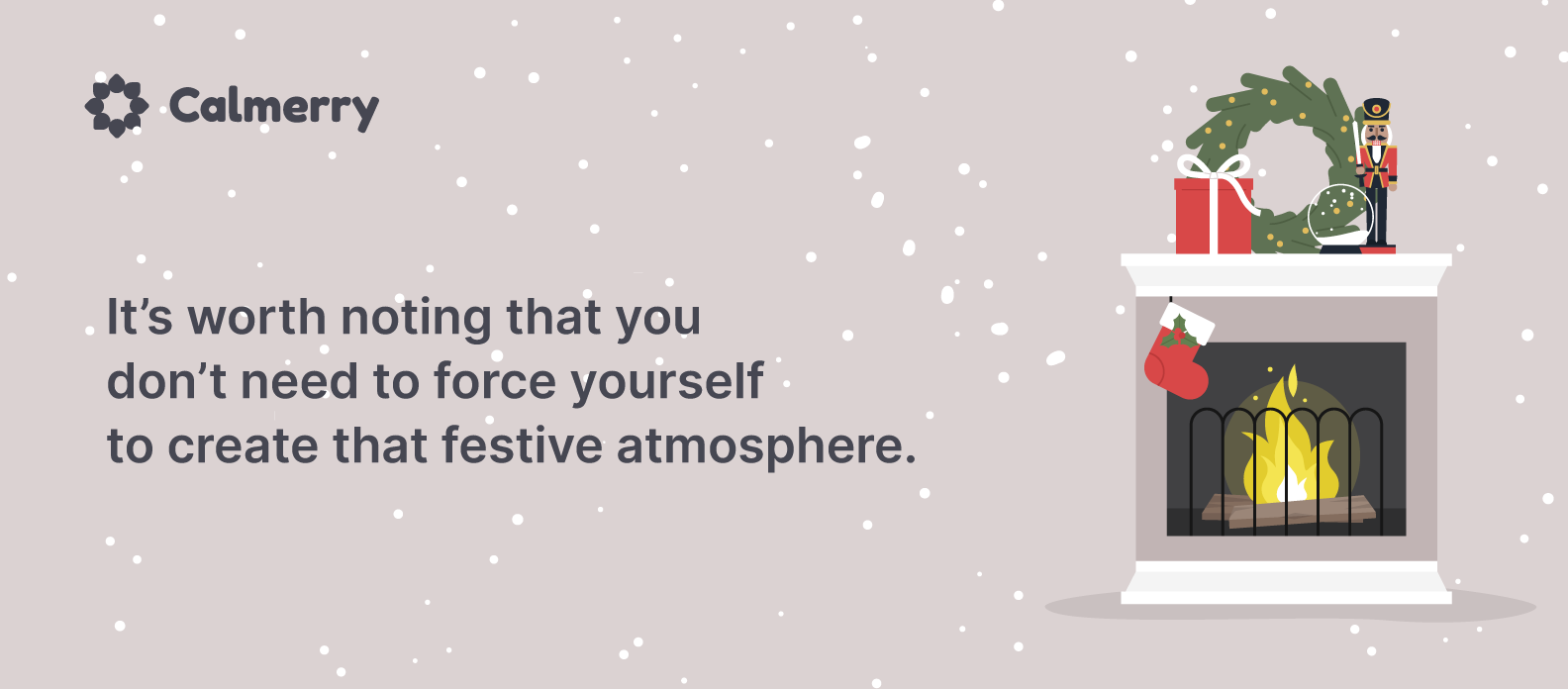 The media's portrayal of the "perfect" Christmas often adds to heightened anxiety, turning holiday cheer into pressure. Only if you want, surround yourself with the little magic moments evoking strong positive feelings — at your pace, at peace, and without stress.
II. Be mindful during the holiday fuss
The stress of shopping, planning, and preparing for the holidays can make it incredibly hard to feel joy. However, when you start practicing mindfulness, you become able to take a moment to stop the rush of anxiety and enjoy the magical moments of the holiday season in the present. Mindfulness helps to be fully aware of what's happening around and inside you.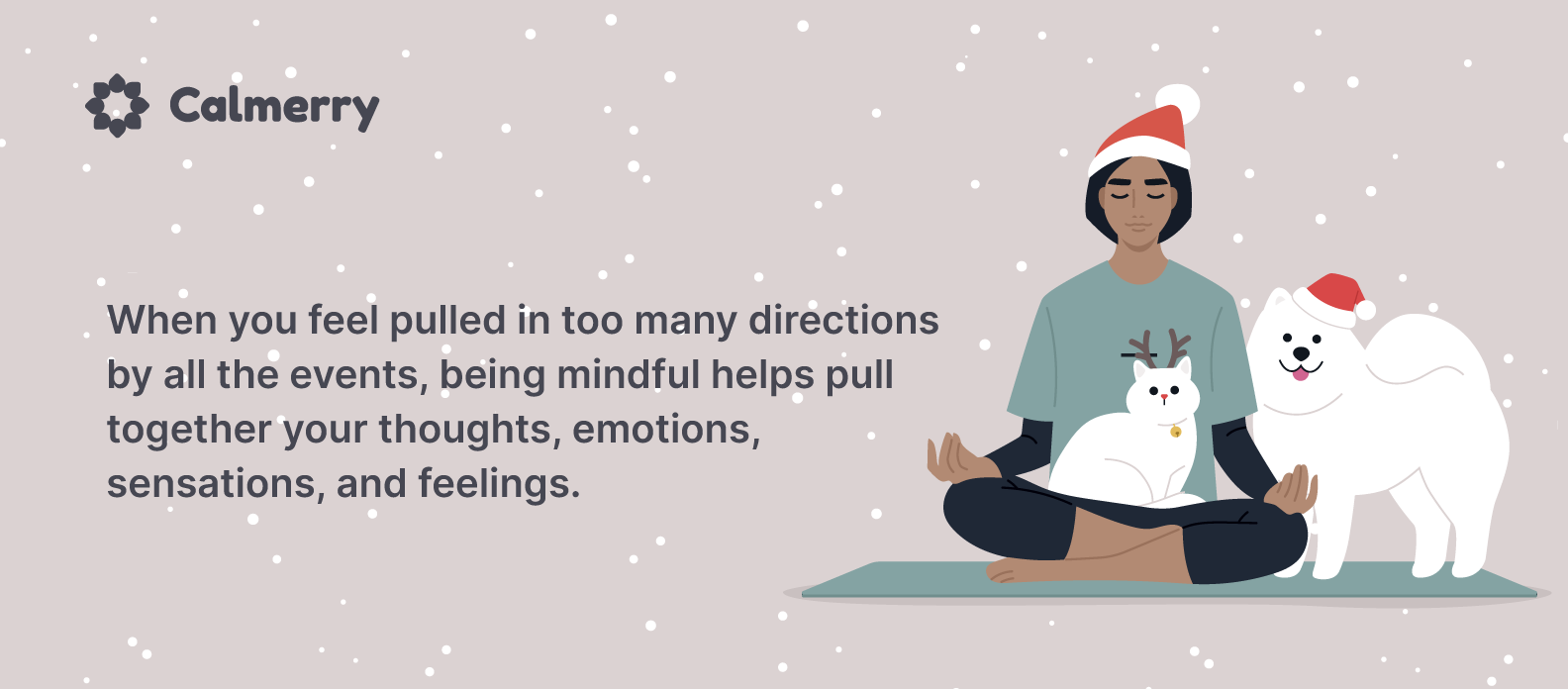 And when just contemplating a Christmas tree isn't enough, use all of your senses to catch the vibe. How does the tree smell? Is it artificial or natural? How many colors are there? Carefully touch the fallen needles. Lightly tap the glass ornament with your fingernail.
Or, you can actively participate in the gift-wrapping process and think about the person you're wrapping for. Consider how you're feeling at this moment — excited, intrigued, anxious, peaceful, or everything at once. Take a moment to focus on what is inside the present and anticipate the reaction of the person. Pay attention to any tiny detail you add to the wrapping and what makes the present extra special.
When you feel pulled in too many directions by events, being mindful helps pull together your thoughts, emotions, sensations, and feelings. You start living in the moment and stop ruminating over the past or worrying about the future.
III. Create your New Year's resolution list
It's also the time to make New Year's resolutions! Unfortunately, a new year doesn't mean that problems will magically disappear. But it's an important psychological starting point for some healthy changes. Resolutions, as positive intentions, can translate into the best ways to take care of yourself, remove some things from your emotional baggage, and improve your well-being.
Yet, there's a bit of science behind making resolutions. Many people create such a long list of unattainable goals that they give up on them at the very start, ending up depressed or disappointed with themselves. Instead, it's better to prioritize and focus on the most desirable outcomes, even the smallest ones. Come up with the goals that you really want to work on, and that will make you happier and healthier this year and beyond.
You can consider the ideas below and include some of them on your resolution list:
This year, I will…
IV. Reflect on what was good
Our minds tend to focus on negative events and neglect the positives of life. This is especially true during the month leading up to the holiday when we tend to be consumed by the preparation fuss, unmet goals, or things that didn't go quite our way.
In those moments that feel a little less than magical, it's good to pause and reflect on what was good — especially in a year that's been more challenging than some of us expected.
Focusing on what was good can help you acknowledge all the big, small, and happy moments you experienced. And keeping a gratitude journal can help easily review these positives throughout the year. If you don't have one, it's never too late to start and celebrate the best things about the past year. So slow down and write the five coolest things that happened to you in 2021.
Or, think about what you're grateful for:
"I'm grateful for my husband and my two best friends, who I see as my sisters. They make me so happy, and I love spending time with them."
"I love that I was able to travel to different countries this year. It was so nice getting a little break from Chicago."
"Thanks to my friends for these amazing holidays."
"I'm grateful for meeting my therapist, who helps me deal with anxiety."
V. Go back to the meaning of Christmas
Christmas has become so commercialized that it can be really easy to get caught up in the chaos and stress of the season, trying to buy all the presents, decorations, and food and preparing the perfect celebration. It seems that holiday anxiety often overshadows the traditional meaning of Christmas.
Everyone fills this holiday with their own meanings. It's okay if you're a non-believer and don't share the religious part of the celebration. For some, it's about love, peace, healing, renewal, gratitude, forgiveness, hope, and kindness. Others also love Christmas for the sense of togetherness and the opportunity to spend quality time with loved ones.
Remember what Christmas means for you and what personal reasons it brings for you to rejoice.
If you're overwhelmed and can't focus on the positive meaning of the holiday, some posItive affirmations can help let go of negative feelings and enjoy this time of year.
Here are some of them to try:
VI. Spend quality time with the people who lift you up and beat loneliness
It's okay if you prefer to spend celebrations and relaxation in solitude. But if you don't want to feel lonely on holidays or you want to find ways to allay the darkness around your holiday mood, hang out with people who make you feel good. Sometimes it takes just one person to help you find the light again.
It might be a good idea to find time for little get-togethers with friends over a cup of hot chocolate or to set up a video call with loved ones. This will let you connect with people and get energized by their presence in your life. All in all, Christmas and winter holidays are a great time to deepen bonding and enjoy family relationships.
If you feel lonely during the holiday, try reaching out to someone to talk about how you feel. It can be a family member, friend, or therapist. You can also talk to your co-workers, join in a neighborhood gathering, or search for events on social media. It's okay to call someone and say, "I'm feeling lonely, and I'd like to spend time with you this Christmas." Or, "Guys, let's decorate the tree together and share a Christmas dinner!"
Don't be ashamed when sharing your feelings and vulnerabilities.
VII. Set up a Secret Santa
It's a fun way to establish stronger connections and share positive emotions. If you've ever played this game, you know the intense feelings of joy and thrill when you're surprising someone and getting a surprise in return without ever knowing who you receive the gift from.
If you feel it's for you, you can engage family members, organize a physically-distanced Secret Santa with your coworkers, or partake in this activity worldwide. Know that the main idea is not to impress someone with a gift but to enrich their and your own December with positive vibes.
VIII. Take good care of yourself
The Christmas holidays put us all under a sheer amount of stress. This not only prevents us from getting in a festive mood but also can affect our well-being. So it's essential to know how to prevent and manage this pressure and take good care of yourself this season.
Here are some tips:
There's always too much going on during the holidays. But it doesn't have to be a negative experience. Be kind to yourself and remember that holidays are also about you — your pleasure, warm memories, and positive emotions.
IX. Make someone else's Christmas merry
Numerous studies suggest that volunteering not only makes an immeasurable difference in people's lives but also offers many mental health benefits to volunteers. For example, it promotes increased life satisfaction and self-confidence. In addition, it reduces stress levels and provides a sense of purpose.
Volunteering your time or resources is a good way to help others and catch the Christmas spirit of compassion and generosity. There are many wonderful things you can do to make someone else's Christmas merry and even inspire others to do the same:
X. Think of mindful presents
At this time of year, the spirit of giving fills the air, and we start to think of all the ways we can make others happy. Giving gifts is an old tradition that brings joy to both givers and receivers. You know those euphoric feelings of awe, satisfaction, and pleasure you experience when coming up with gift ideas, picking the best wrapping, and signing the card? That's it. Knowing that you'll brighten someone else's days causes intense positive emotions in you and helps catch the holiday cheer.
But giving gifts isn't always easy if you're not sure what a person might like. In this case, try moving from generic or expensive presents to mindful ones. Take a moment to think about someone's hobbies, with whom or what they identify, what they want, and what they need. Or, you can always just ask them.
Remember that there's no "perfect" gift — save yourself from placing pressing expectations on yourself. And note another healthy boundary to establish: be kind to your wallet. The best presents are made with love, care, and attention.
Consider some of these self-care gift ideas for your loved ones: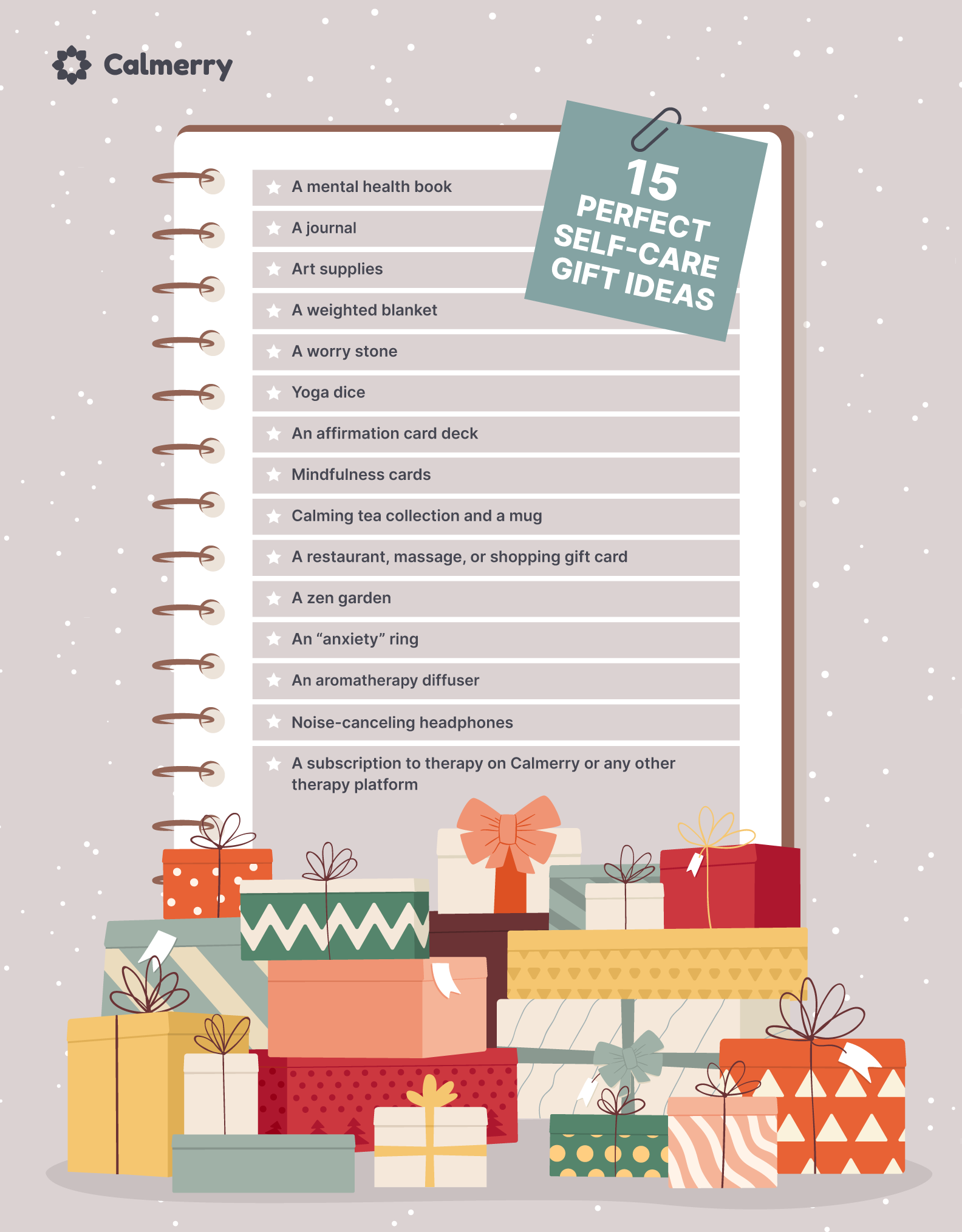 XI. Treat yourself to a gift, too
So much of the holiday season is based on the idea of giving and not receiving. But as they say, you need to take care of yourself before you can take care of others. And, of course, you always deserve love, attention, and care from others and yourself. So think about treating yourself. All in all, you deserve a gift, too! And you don't need anyone's approval (including Santa's) to get it.
Treating yourself is an important act of self-care. Big or small, the best gifts are the things, emotions, and impressions you give yourself that you need most or have always wanted to have.
Even if you're not to the point of pulling your Christmas decorations out of storage and feeling super festive, think of the things that make you feel good — or would make you feel good — and treat yourself to them. Challenge your urges to be Scrooge to yourself and detect the thoughts that make you want to take your most desired item of the year out of your cart. If it will help you boost your mood or improve your emotional well-being, most likely, it's not "a waste of time and money."
So go ahead and buy that lipstick you've been wanting or book that first therapy session you've been planning.
XII. Engage in the old and create your own holiday traditions
According to research, partaking in rituals can help us cope with grief and provide us with a sense of control. So engaging in traditions — both old and new — may be beneficial for our mental health, especially when we need emotional support the most.
The holidays are a great time to create your own traditions that convey the meanings you need and bring a sense of connection and fresh beginnings. This year, think about what you like to do and what makes you happiest, and then create a new tradition around it!
New traditions don't always have to be big or expensive: they just have to feel meaningful to you so that they become an important part of your holiday routine.
Know that it's okay not to celebrate
Everyone has different relationships with holidays. Perhaps some don't share the same meaning or belief about the origin of a holiday. Others may not be at their best to enjoy the festive season. Also, many are battling grief, job insecurity, and financial issues caused by the COVID-19 pandemic. And unfortunately, this season can be especially difficult for people who are struggling with mental health issues that don't take a holiday break.
It's okay to be sad or anxious during the holidays. After all, our lives — with their adversities and struggles, victories and healing — go on during holidays too, however magical these days seem. And the stigmatizing, "Cheer up, it's Christmas!" may not work and may cause us more harm than good.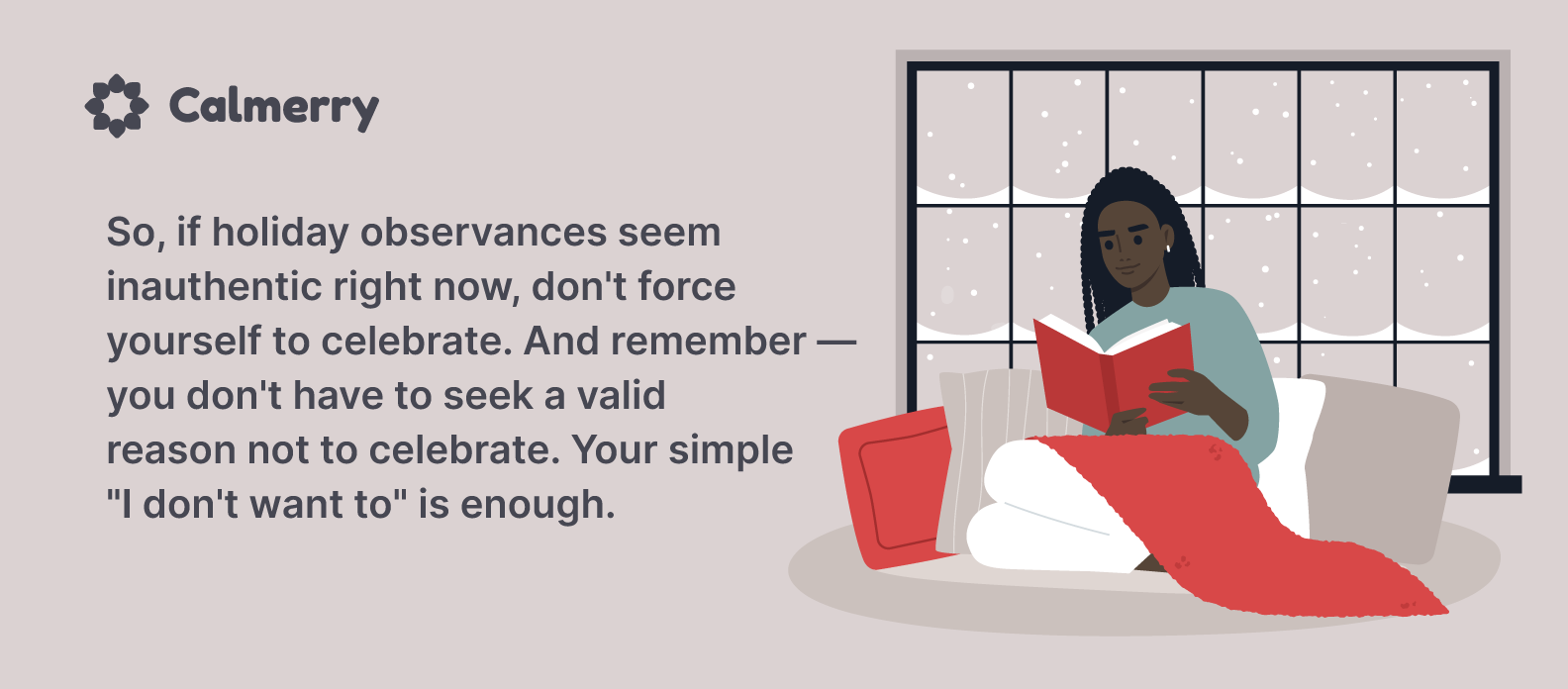 Take care of yourself this holiday season:
Subscribe
to our mental health digest
Let us support you on the way to better mental well-being. Get expert tips and insights on mental health delivered to your inbox monthly.
Tis the season!
December is supposed to be the month that brings us the most wonderful time of the year. But for some people, it can also bring about extra pressure and increased feelings of loneliness and despair. Finding solace in the excitement of the holidays may not be enough to help get through a tough period of life.
If you feel low despite all the decorations and festivities, it may be helpful to talk to a licensed therapist on Calmerry. They can help you find the root cause of your struggles, process your feelings and emotions, and get the support you need.
Finding happiness in this season isn't about pretending that you're happy when you're not. It's about taking time to re-evaluate what's going on and finding healthy ways to regain the joy in your life.
We wish you a Calm & Merry Christmas and a Happy New Year! 🎄
Сheck your mental well-being for free: