Published December 13, 2021 / Updated March 10, 2023
Here's How To Make This Holiday Season with Your Family Enjoyable and Stress-Free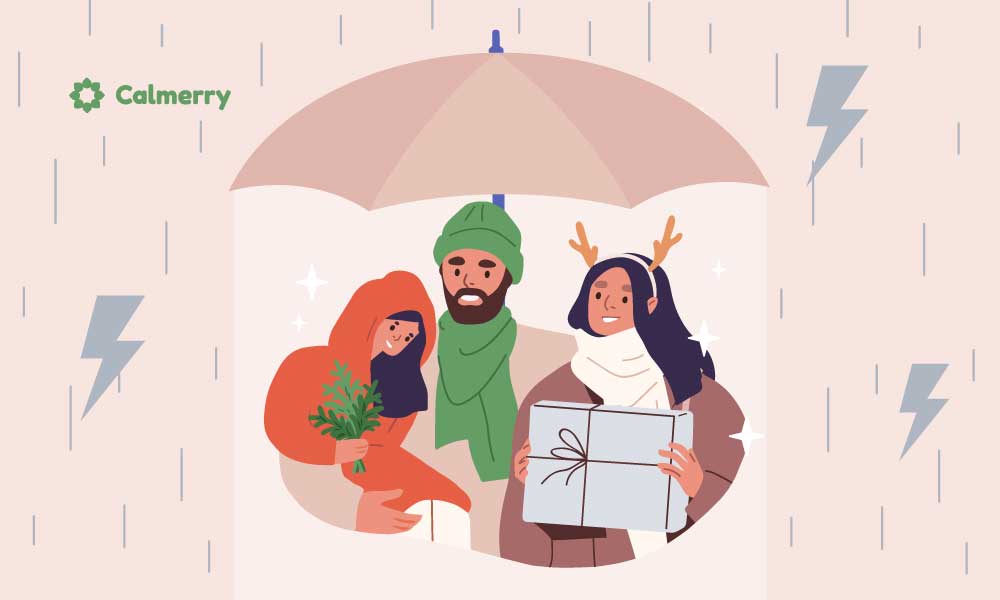 Reading Time:
5
minutes
What comes to your mind when you think of holidays? Do you associate them with joy and family time, or is it the most stressful time of the year? If it's the latter, you aren't alone. Without the right approach, holidays can be nerve-wracking and far from magical.
Luckily, there's a way to learn to manage family-related stress and avoid burnout. Check out the tips below.
1. Let go of high expectations
Even though we all secretly wish we could have Christmas straight out of a commercial, you should remember that the celebration you see on the TV doesn't reflect most people's reality. If you're asking yourself, "How can I enjoy a holiday without stress?" the first step is to lower your expectations.
Avoid taking on too many responsibilities
It's true that holidays only come once a year, and the festive season is about sharing happy moments with your loved ones. But before you sacrifice your health and put other people's needs above your own, consider taking a step back this year. Holiday stress can easily turn into a long-term problem that doesn't go away once the celebrations are over.
To avoid negatively affecting your well-being, you have to learn to say 'no' and set boundaries. Your family will understand if you can't devote all of your attention to them or fulfill their expectations. Similarly, you can cultivate social connections when the season is over; catching up with an old friend can wait.
Show yourself compassion
If you're planning a big family gathering, chances are there will be at least one person who isn't as appreciative of your effort as others. Plus, things don't always go according to plan. It's easy to see not meeting those expectations as a failure but try to be kind to yourself. As long as you have good intentions, that's all that matters.
Lastly, remember that someone else's behavior doesn't reflect who you are. If your family member criticizes your efforts, it says a lot about them, not about you.
Remember that comparison is a killer of joy
It might be tempting to browse social media to see what your friends are up to. Unfortunately, when your stress levels are high, you're most likely to get stuck in a cycle of comparing your celebration to other people's. This can add to your stress and increase your expectations as a result.
Consider taking a break from electronics and devoting the free time you have to your family. For example, you could plan a short family gateway or propose a game night.
Learn to be mindful
Your holidays might not be completely stress-free, but there's always a way to ease your worries. Mindfulness is an approach used in psychotherapy that can help you relieve tension and symptoms of stress by encouraging you to be present in the moment.
You can start by practicing meditation, which involves concentrating on your breath. When negative thoughts arise, simply observe them without engaging in them. If you're wondering how to control holiday stress, the answer is to avoid pushing negative emotions away and embrace them instead.
2. Plan in advance
With so many responsibilities and so little time, being organized is half of the success. Don't leave planning to the last minute – it's a recipe for disaster.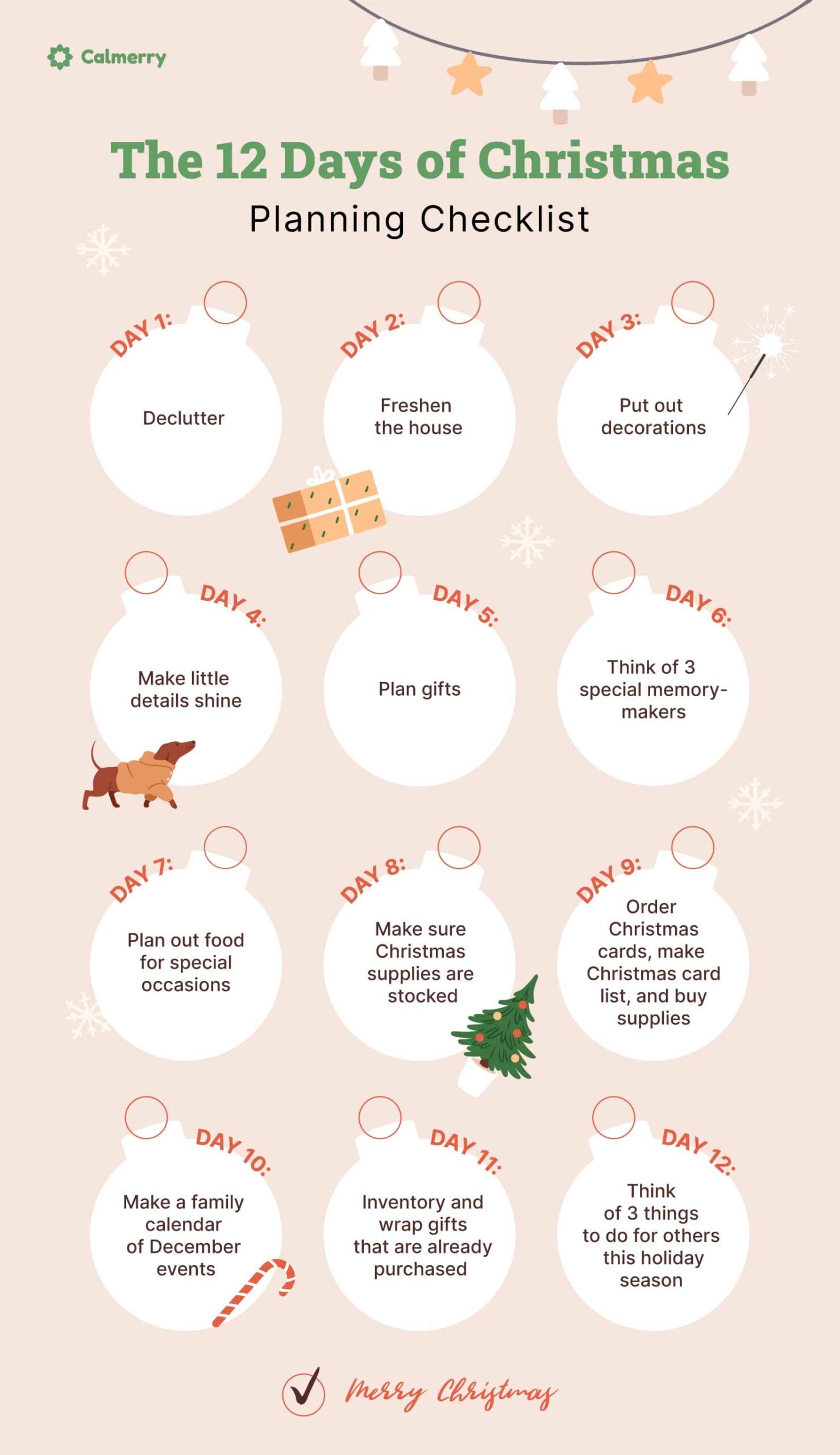 Make a to-do list
Making a to-do list is an essential step of every holiday preparation. It can help you make a plan ahead of time and allow your mind to get used to an idea of what's to come. List all the tasks you have to do and cross out the positions you can do without. For example, do you have to send Christmas cards to everyone you know? Wouldn't it be easier if you didn't cook every dish yourself?
Discuss responsibilities with your partner
If you're planning a holiday with your partner, it's only fair to share your responsibilities. Make sure you set some time aside for open communication and have this conversation as early as possible. It will help you avoid confusion and unnecessary disagreements.
Additionally, make sure you're on the same page when it comes to the Christmas dinner itself; your partner might want to spend the evening at their parents' house instead of yours.
Work smart, not hard
Think about how you can make preparations more efficient. For example, instead of visiting a local supermarket to hunt for decorations, consider placing an order online. Similarly, if your mind is set on sending Christmas cards, buy readymade cards.
3. Focus on positives
As commercialized as Christmas is, it's not about presents or decorations but about spending time with your loved ones. Even though having stress-free family holidays isn't always possible, your perspective matters.
Pay attention to your inner dialogue
When you experience daily stress, it's difficult to notice the damage it does to your body and mind. Try to pay attention to the thoughts that arise when you're feeling on edge; do you tend to put yourself down? Do you feel like a failure just because you haven't completed your to-do list? Unfortunately, thoughts are powerful, and it's easy to condition your brain to believe them.
The good news is, however, that you can turn this around by practicing a technique known as cognitive reframing, which is an important part of Cognitive Behavioral Therapy that aims to modify negative thoughts. For example, you can replace "I'm not good at anything" with "I've done my best, and I can't expect myself to be perfect."
Additionally, you can set an intention to enjoy this holiday season. Just like your body releases feel-good hormones when you stretch your lips in a smile, your thoughts can help you manifest a positive mood. Tell yourself everything's going to be fine, and do your best to believe it.
Remember your priorities
When was the last time you enjoyed the holiday season? Perhaps you've already started associating it with stress, and you can't wait for it to end. With all this preparation madness, it's easy to forget what your priorities are, but it's never too late to shift your perspective. Start practicing gratitude by writing down what you're grateful for this season; having family around, being healthy, etc.
4. Include self-care in your routine
Christmas is about showing your loved ones you care about them, but there's another form of love that's even more important: self-love. To manage family-related stress, take care of yourself first.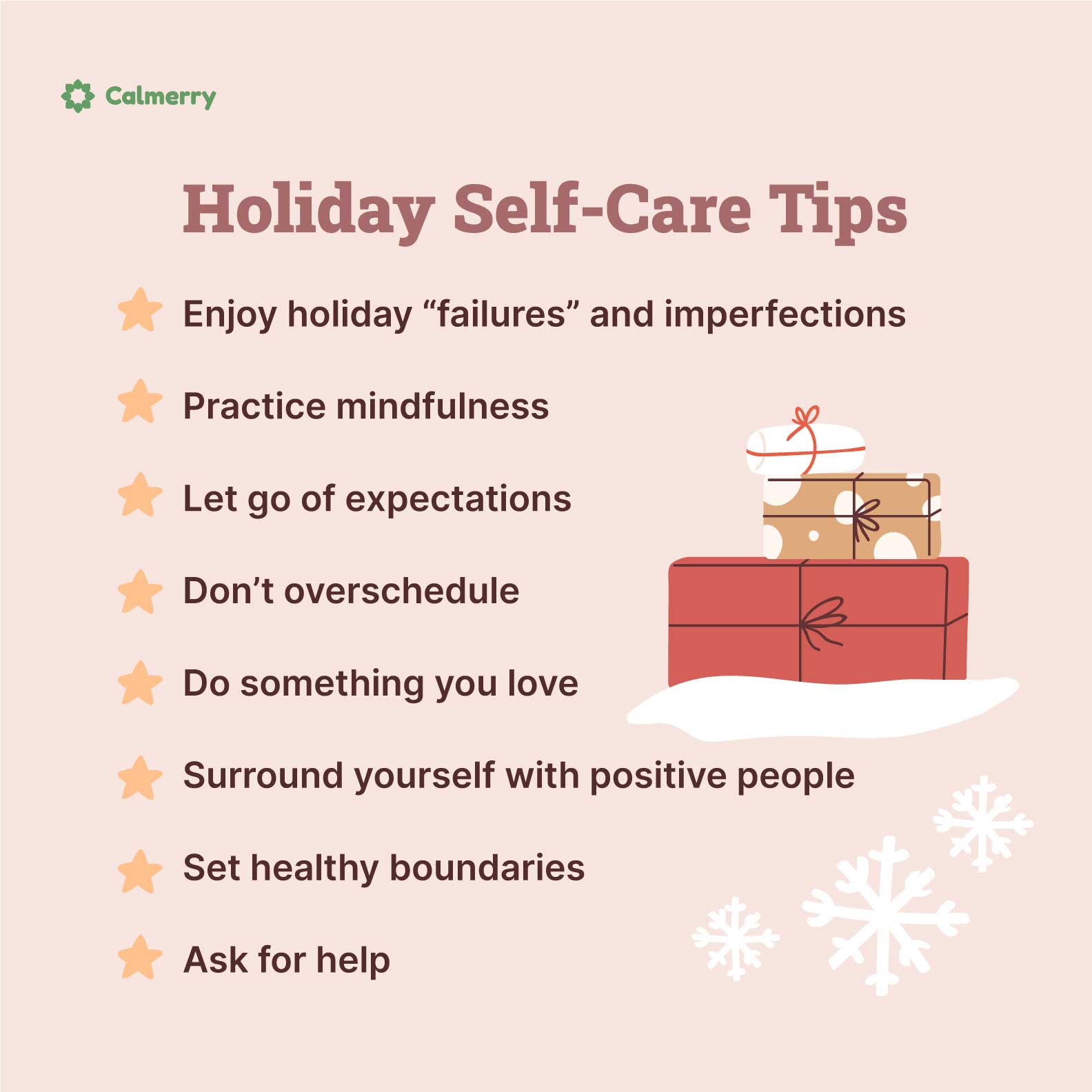 Treat yourself
When was the last time you did something nice for yourself? As the holidays are approaching, make sure to include self-care in your daily routine to recharge your batteries and enter the season with a more positive outlook.
For example, you can reward yourself with your favorite meal, enjoy a hot bath, or set time aside for reading a book. You can also pair it up with developing healthy habits, such as putting your phone away two hours before bed.
Learn the difference between self-care and relying on distractions
Taking the edge off with alcohol might seem to be a great idea, but it can prolong your stress and negatively affect your mental health in the long run. If, despite your best efforts to include enjoyable activities in your schedule, keeping stress at bay is still challenging, it's time to learn relaxation techniques.
Subscribe
to our mental health digest
Let us support you on the way to better mental well-being. Get expert tips and insights on mental health delivered to your inbox monthly.
One of the best methods is visualizing yourself in a happy place, which is a skill often taught in therapy. You can give it a go by closing your eyes, focusing on your breath, and imagining that you're somewhere you feel safe.
And if it all becomes too much, don't be ashamed to ask for help and consider online therapy. It can give you the support you need to survive this holiday season and beyond.
Сheck your mental well-being for free: