Feel Calm With Emotional Abuse Therapy
Emotional abuse can happen to anyone. It can affect your whole life; don't wait and start your way towards a healthier life with us. Emotional abuse therapy is the only effective solution to such a serious problem. Get started with us right now to improve your life!
Human-centered therapist matching process
Affordable way to achieve a balanced life
Licensed therapists you can trust
What Is Emotional Abuse Treatment?
Emotional abuse can happen in multiple ways, and this problem is so widespread. It is considered a form of manipulation that people might use in their relationships with family, friends, spouses, or coworkers. It includes verbal attacks, threats, bullying, public humiliation, and so on. All this can have a detrimental effect on your life and cause many other mental issues like self-esteem issues, depression, and anxiety, so it's important to turn for professional help.
Many of our clients were able to let this problem go, so it's your time to get over this. Emotional abuse therapy is the treatment type that will be suitable for this traumatic experience. In fact, this is a specific approach used by professionals who implement various techniques to help you overcome your past as a victim.
A therapist will work closely with you to identify all the mindsets that hinder your way to a normal balanced life. They will apply a variety of psychological techniques to alleviate the mental tension connected with your traumatic past. You will be able to acknowledge the harmful attitude of people around you and be more confident to make it stop.
How Does Emotional Abuse Therapy Work?
Now, it's time to learn more about how online therapy works, so you can make the first step to treat emotional abuse trauma. Everything is very simple and made for your convenience. At first, you have to create your personal account, where you will connect with a specialist later. You don't necessarily have to mention your real name. If you would prefer to stay anonymous, it's possible to use an alias.
An important step will be to fill out the brief survey form and frankly answer all questions. You will be asked about the problems that brought you to us, as well as about the main requirements for a professional you want to collaborate with. Based on your answers, the most matching expert will be assigned to you.
Answer a short survey to get started. Be confident when sharing your thoughts and worries.

Choose a suitable subscription plan
Get a quote based on your answers, compare the offered plans and pick the one that's best for you.
Talk to a therapist online
Сommunicate with your online therapist through messages, worksheets, and live video sessions.
Make the most of online therapy
Follow your long-term therapy objectives and short-term goals, use guidelines, and track progress.
Choose the pricing plan that fits your preferences, and it will define the communication channels between you and a therapist. Your therapist will get acquainted with you through a welcoming letter, and you will be able to schedule sessions and start the treatment process. You can choose the most appropriate time, mix and match the text and phone/video sessions based on your current needs.
What Are the Benefits of Emotional Abuse Counseling?
Online counseling shows the same effects as common in-person therapy. In addition, it has plenty of other advantages that set digital services apart.
Our experienced team will connect you with the best online therapist suited to your unique needs.
All therapists are background-checked, verified, trained and hold valid licenses from their state.
Get access to a unique therapy space where you can set up goals and track your progress in real time.
Our friendly support agents are available 24/7 to help you and give accurate answers to your questions.
Select the subscription plan that best suits your needs and budget. Plans start at just $53.
If a new issue arises during therapy, we'll match you with another therapist without charging you anything.
What Is the Treatment Strategy of Emotional Abuse Counselors?
Getting help from a qualified and skilled professional is crucial as they will help you to discern abuse in the early stages and don't let it become an issue. A therapist will help you improve your self-esteem and confidence. They will also work on improving your communication skills and teach you how to effectively resolve conflicts to prevent any potential harm to your emotional condition. You will find out all active and passive behavior patterns of an emotional abuser to quickly recognize them and let this person out of your life. A therapist will teach you how to do it.
It's pretty challenging to get better after abusive relationships. We also recommend not to limit yourself to only emotional abuse therapy to enhance the results. It will be beneficial to get art therapy, start attending meditation classes, as well as join support groups for those who experienced emotional violence. By combining it with online abuse therapy, you will make your progress even faster and get relieved emotionally.
Message your therapist whenever you need it. Receive responses daily. From just $53 a week.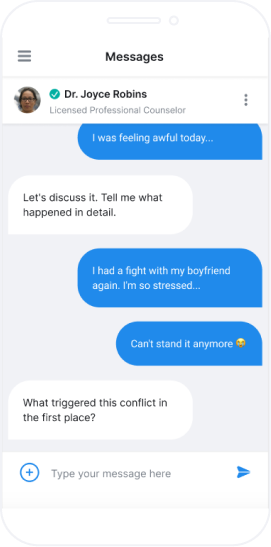 Add Video Sessions to you package to make a deep dive into therapy. From just $90 a week.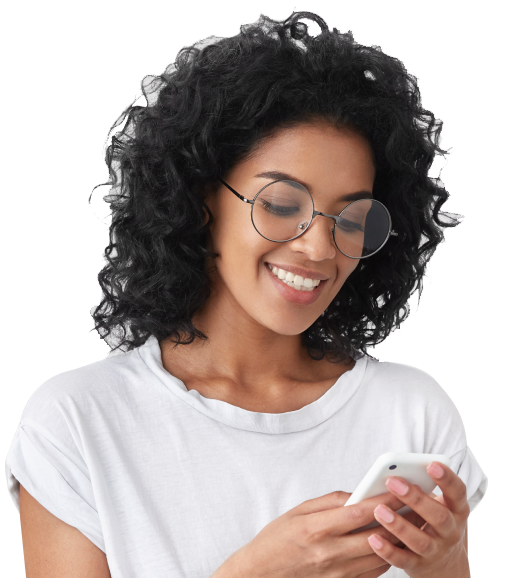 "
It was too much to cope with my condition resulting from continuous emotional abuse episodes. Grateful that I came across this website. My therapist really helped me a lot, and now I feel so much better.
Lily
September, 2020
"
Thank you for your professionalism and amazing customer support. I am satisfied with the service, and I felt some changes after a few therapy sessions. Will still continue my therapy experience with you.
Austin
August, 2020
"
I was afraid to tell someone about my problem, but my therapist here made me trust him from the first therapy session. I could share all my feelings and tell more about my previous life experience that affected my life. We are still coping with my emotional abuse issues, but I feel improvements.
Parker
September, 2020
"
Everything is very professional, and I get along with a therapist pretty well. I would recommend this therapy service to anyone who seeks some emotional help and wants to deal with emotional abuse.
Hailey
September, 2020
"
I found out about Calmerry in one review and decided to give it a try. Never even regretted as I felt that this was a safe environment to tell everything that bothers me. I have passed through the most difficult period in my life with the help of this therapy website.
Carter
September, 2020
Brief Q&A About Emotional Abuse Counseling
Here is everything you need to know about the process of treatment for emotional abuse. Check it out before getting started with therapy.
What Is the Therapist's Rate for Service?
We offer the most affordable pricing plan that is pretty reasonable in comparison with other services in this industry. Speaking of the therapist's rate, it's individual. It might vary from xx to yy per mental abuse therapy session. If you are interested in more details, then you can contact our support team to get a detailed answer.
What Is Emotional Abuse Counselors' Experience?
We have a wide range of specialists on board. All of them possess experience in different areas of professional therapy expertise. There are professionals who have hands-on experience in therapy for emotional abuse. If it's something that spurred you to look for qualified help, then you will find it here. Each therapy specialist has all the skills, knowledge, and licensure needed to provide you with relevant and highly effective abuse treatment.
What Therapy to Consider to Treat PTSD Resulted After Long-Term Emotional Abuse?
Emotional abuse is a serious issue that can undermine the normal life of a person. PTSD is a normal reaction to traumatic events, and it should be treated altogether. The therapy specialist will come up with the relevant treatment plan that will be appropriate in your specific case to make the process even more effective.
What Therapy to Consider for Emotional Abuse?
The best therapy type that will work in this case will be the emotional abuse therapy that is aimed specifically at this problem. Our seasoned specialists have all the expertise and knowledge needed to help you heal from such trauma and feel better.
For more information, please visit our FAQ
Advice For Good Mental Health
Find advice and support from mental health professionals for common problems. Learn about self-help strategies that can help improve your mental well-being. Tips for good mental health from Calmerry.
Career counseling involves getting advice on matters regarding choosing, leaving, or changing your career at any stage of life. Many factors come in when making such a crucial decision, and it makes perfect sense when you make your final verdict based on professional...
Start your therapy journey today
88% found Calmerry to be as effective or more effective than traditional therapy.
95% found it to be more convenient than traditional therapy.