Feel Calm With Individual Therapy
Individual therapy will help you make quality changes in your life. Every person has different needs, so it's important to provide each customer with the most personalized approach and treatment. We will connect you with the best industry specialists so you can change your life for the better and become a new version of yourself.
Human-centered therapist matching process
Affordable way to achieve a balanced life
Licensed therapists you can trust
What Is Individual Therapy?
If you are wondering, "what is individual therapy," then you should know that this is one of the psychotherapy forms applied for each person to get the most tailored and personalized treatment, mental guidance, and support. Individual therapy allows people to achieve tangible results faster and helps cope with a wide range of mental issues and emotional challenges. Unlike group therapy sessions, all attention and focus of a therapist are placed on improving your well-being and changing your life for the better.
A licensed professional will apply psychotherapy methods, techniques, and approaches that suit your personality to advance in the treatment process faster. During a session, you will be able to discuss everything that bothers you and negatively impact your emotional condition. Whether it's anxiety, depression, self-esteem issues, relationship problems, phobias, or any other mental challenge, you can always share your thoughts, feelings with a counselor to find relief and become a healthier person.
How Does Individual Psychotherapy Work?
If you are willing to get started with individual therapy, you should know more about the process. On our platform, everything is very simple, so that you can benefit from qualified help right away. First, you have to create your personal account to get access to the services and scheduled sessions. Provide us with some basic contact information to sign up. If you want to stay anonymous, you can always use an alias instead of a real name, as we respect your desire to be private.
Once you are done, you will have to complete and submit a brief questionnaire. Here, you need to tell more about issues you want to resolve with individual online therapy, as well as mention what your expectations are regarding a future therapist.
Answer a short survey to get started. Be confident when sharing your thoughts and worries.

Choose a suitable subscription plan
Get a quote based on your answers, compare the offered plans and pick the one that's best for you.
Talk to a therapist online
Сommunicate with your online therapist through messages, worksheets, and live video sessions.
Make the most of online therapy
Follow your long-term therapy objectives and short-term goals, use guidelines, and track progress.
Meanwhile, get familiar with the pricing plan options available and choose the one that suits your budget and includes all services you would love to get. The best matching specialist will be assigned within one day, and after this, you can already have an initial consultation and start scheduling text or video sessions to achieve progress and get better soon.
Main Benefits of Individual Psychotherapy Online
Individual therapy provided online has plenty of benefits in comparison with usual in-person sessions. Here are a few reasons we are the best on the market.
Our experienced team will connect you with the best online therapist suited to your unique needs.
All therapists are background-checked, verified, trained and hold valid licenses from their state.
Get access to a unique therapy space where you can set up goals and track your progress in real time.
Our friendly support agents are available 24/7 to help you and give accurate answers to your questions.
Select the subscription plan that best suits your needs and budget. Plans start at just $53.
If a new issue arises during therapy, we'll match you with another therapist without charging you anything.
Individual Therapy With Licensed Psychologists
Connecting with the right professional therapist is very important to achieve tangible results and progress. Instead of dealing with all your problems on your own, you have a chance to rely on our certified and licensed professionals who are here to offer you the most effective solution, advice, and guidance. Having sessions online is a great way to get a consistent treatment that will positively impact your life. A therapist will be able to come up with a solid treatment plan to address all problems that disrupt your daily life.
A professional counselor will make everything possible to identify your unhealthy behaviors and change your mindset to solve many problems. The main advantage of getting individual therapy online is that you can connect with local specialists and the best professionals throughout the country. Suppose you have a challenging period in your life that makes you worry all the time. In that case, individual therapy will help you make the right lifestyle and mindset changes under the qualified guidance of our specialists.
Message your therapist whenever you need it. Receive responses daily. From just $53 a week.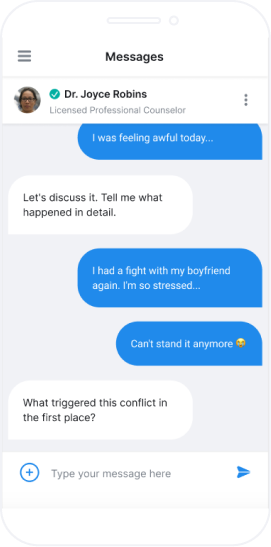 Add Video Sessions to you package to make a deep dive into therapy. From just $90 a week.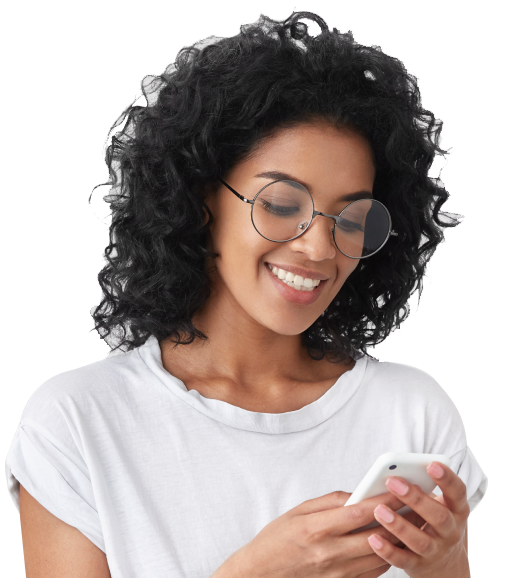 "
"I hesitated before having my first individual therapy session, but I am really happy I made this decision that changed my life. My therapist helped me overcome plenty of my fears, reduce anxiety, and solve plenty of other personal issues. Thank you for your professional service."
Jerry
September, 2020
"
"Thanks to Calmerry, I have improved my emotional condition. I enjoyed communicating with my counselor. Everything was smooth and professional. I would recommend this individual therapy service to everyone. Great job you guys!"
Alison
August, 2020
"
"I found this platform online more than a year ago and still have regular sessions with my counselor. It's a safe environment to talk about my feelings and everything that's going on in my life. It's great when you have someone that can always give you professional advice that positively affects my life."
Helen
September, 2020
"
"I felt really low lately, and it started getting worse. None of my friends could cheer me up, so they recommended me to turn to a qualified specialist. This website had lots of positive reviews. I decided to try it out and never regretted it. Now I got my peace of mind back and enjoy my life all over again."
Freddie
September, 2020
"
"I have tried individual therapy a year ago and didn't like it. 3 months ago, I gave it a second chance with Calmerry. You have exceeded my expectations, and I feel incredible progress."
Kayla
September, 2020
If you have some questions left about individual therapy, then check out a brief Q&A below to get an even deeper insight into the whole process.
What Are the Advantages of Individual Therapy?
Individual therapy is a perfect way to solve all a variety of personal issues and problems. In case you are going through a challenging period in your life and feel that some additional support and guidance won't hurt, then this is certainly for you. Online services have extreme advantages in comparison with in-person individual therapy, as you can have sessions and communicate with a licensed specialist while staying at home. It's your chance to have professional treatment in the most comfortable environment.
What Are the Three Types of Therapy?
There are individual, couples, and family therapy suitable in different cases. Couples therapy is a perfect choice if romantic partners have some fights. Family therapy will be needed to enhance the connection and understanding between members. Individual therapy focuses solely on your personal problems. You will be able to share all your feelings and tell about life events that have negatively affected your life.
What Is More Effective: Individual or Group Therapy?
Group therapy is a more affordable way to get professional help. However, considering that a therapist will have to work with a few individuals during a session, you can get less attention that you might require. Individual therapy will let a counselor focus on your issues fully and provide effective treatment. The last option will let you achieve progress much faster.
What Is the Main Distinction Between Family Therapy and Individual Therapy?
A few family members are involved in the therapy process, whereas individual therapy is designated for a separate individual to cope with personal issues and emotional problems.
For more information, please visit our FAQ
Advice For Good Mental Health
Find advice and support from mental health professionals for common problems. Learn about self-help strategies that can help improve your mental well-being. Tips for good mental health from Calmerry.
Even when we clearly understand that we need to see a counselor, we might postpone this decision simply because we don't know what's going to happen during the session. Moreover, prior to coming to the session, we need to find a therapist that would fit our...
Get Professional Help
If you have faced life challenges that disrupt your daily life and make you struggle on the emotional level, then don't hesitate to get professional help as soon as possible. Call us now to learn more about our services and get started with individual online therapy. Rely on us as we are here to help you improve your life and solve all problems that bother you.
Start your therapy journey today
88% found Calmerry to be as effective or more effective than traditional therapy.
95% found it to be more convenient than traditional therapy.